By Joe Bliss on
11/12/2015
Materials Converting 101: What Is Compound Die-Cutting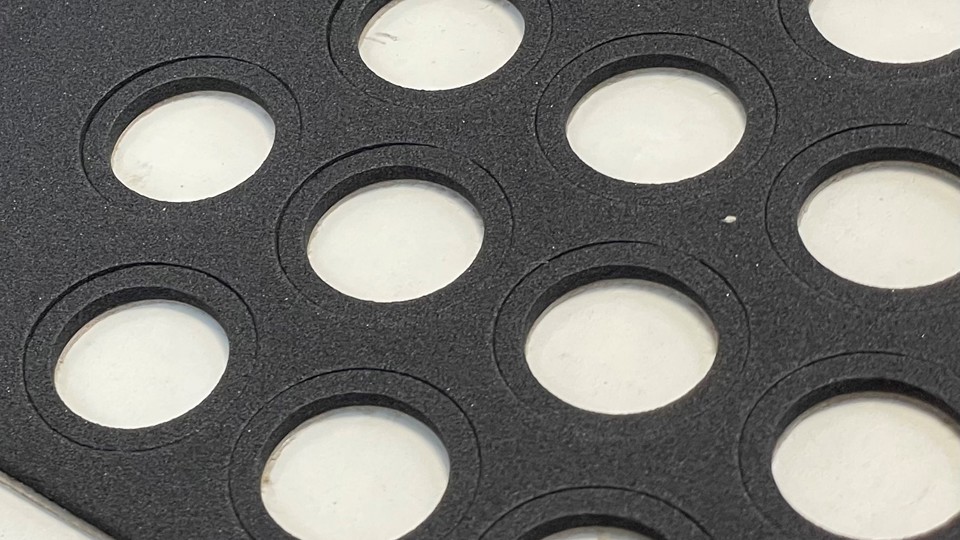 Die cutting isn't a one size fits all process. Depending on the quantity and type of material your project requires, your precision die-cutting professional might recommend one of several die cutting processes. Learning about these processes at a basic level will arm you to ask great questions and become a better partner with your die-cutting professional. Understanding the fundamentals will also help you save time and money. To kick start your educational journey, allow us to introduce you to one of the lesser-known types of die cutting called compound die cutting.
What is a Compound Die?
Compound (or hybrid) dies are created by combining steel rule components with matched metal components (common in metal stamping). The steel rule component is used to cut the less detailed part of the shape (the outer perimeter for example) and the matched metal components are used to cut the inner, more detailed shapes. Once tooled and assembled, the compound die is placed inside a press and will be used for long run, high output programs.
Compound dies produce a complete blank in one station at every stroke of the press. Basically, these dies perform one or more operations at the same time. For instance, they can blank (cut the outer form) and pierce (cut the inner form) of a shape simultaneously.
As a result, the cut shape will come out of the press in its completed, finished form. Additionally, compound die cuts remove the slug from the shape during the cutting process. Value is increased because there's no need for a secondary slug removal process or manual inspection of pieces as they're completed.
What Makes Up a Compound Die-Cutting Die?
Structure wise, compound dies are comprised of a male and female component. The female die, or cavity, is typically mounted to the lower shoe. On the opposite end, the punch and steel cutting rule are mounted on the upper shoe. When engaged, the press brings the two together.
Like conventional steel rule dies, compound dies can produce several parts with each stroke by increasing the number of cavities. Moreover, they can achieve flatness by adding heavy pressure behind the knockout pad.
Compound Die Cutting Versus Steel Rule Die Cutting
Steel rule die cutting is a common and inexpensive way to cut a shape. It uses a wedge-like blade to punch down through a hard material, like an ax cutting through wood. Steel rule cutting displaces the material as it cuts. Compound dies shear the material, rather than displacing it. Shearing eliminates material bunching around the edges and produces a more finished, flattened part right out of the press.
Compound dies are more expensive to create, but will typically last the life of the program. Steel rule dies often need to be re-ruled multiple times for a high volume program, which makes compound dies preferable for high volume projects.
Unlike steel rule dies, compound dies can cut through thick, heavy materials that aren't well suited for steel rule or rotary dies.
When to Use Compound Dies
Less than 50% of die cutters use or are able to use compound dies. Most die cutters are specialized in an industry and don't employ a wide variety of cutting processes. The mechanical accuracy combined with the ability to very effectively manage scrap makes compound dies ideal for use in high-volume, complex projects.
Most commonly, compound die-cutting is used for cutting very hard materials like fish paper, plastic, rigid films, shims, and fiberboard. It's also preferred for use with electrical insulation due to its high degree of mechanical accuracy and ability to cut very intricate shapes. It will also run the parts faster and will assure slug-free, completed pieces off the press.
While compound die-cutting isn't the best choice for every job, it can be a cost-effective option for producing high volume, high-quality pieces that run with minimal maintenance. Your die-cutting professional will be able to guide and advise you as to the best die-cutting process for your project.
Expert die-cutting shops will also have engineers on staff with technical expertise in your field. These engineering resources will not only complement your engineering team but may contribute to better innovating the piece to best fit your application.
Compound Die-Cutting at JBC Technologies
At JBC Technologies we pride ourselves in our ability to offer our customers options. In order to ensure that we can make our customers' custom solutions in the most efficient and economical ways possible, we have to be able to present our customers with a wide variety of performance materials and manufacturing process options. Custom die-cutting is only one of those manufacturing options.
We have over 30 years of custom manufacturing and die-cutting experience and we're ready to put them to work for you today. If you have more questions about custom die-cutting, performance materials or would like to review your project requirements with our engineers, we'd love to hear from you today. Let's fill out our simple new customer contact form and get the process started!