By Mark Swanson on
4/27/2017
Die Cut Silicones: Advantages and Applications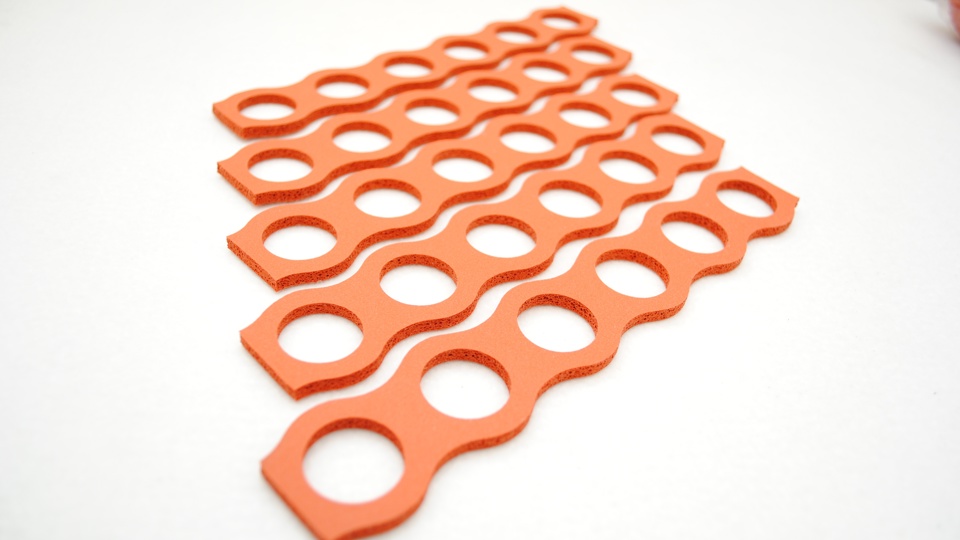 Silicones are synthetic elastomers that work well in high-temperature and low-temperature applications. They can resist temperatures as high as 600° F, but remain flexible at low temperatures and have excellent resistance to extreme temperature fluctuations. Silicones also resist ozone, sunlight, oxidation, water, and chemicals. Through the use of curing agents and additives, silicone rubber is extremely customizable. In addition to commercial grades, silicones include medical materials and filled compounds for EMI shielding. 
Silicones are a large family of elastomers, but they generally provide low compression set, excellent electrical insulation, and superior color stability. Engineers and sourcing managers can specify foamed or solid silicones in various durometers (hardness) for applications that require sealing and gasketing, impact and vibration dampening, or color matching. JBC Technologies can convert silicone rolls and die cut silicone sheets, but our capabilities with die cut parts and die cut products don't end there. We also treat silicones for adhesive lamination.
Die Cut Silicones and Adhesive Lamination
Silicones offer numerous advantages, but they can be difficult to adhere to because of their low surface energy as measured in dynes. By treating the silicone's surface, however, JBC can increase the material's surface energy so that an adhesive will more readily and reliably stick. This is critical in adhesive lamination, the process of sticking two things together. To support reliable attachment, an adhesive must stick not just to the substrate, but to the silicone itself.
Applications for Die Cut Silicone Products
Silicone products are used in a wide variety of applications, including die cut gaskets for furnaces and die cut seals for convection ovens.
In furnaces, die cut silicone gaskets are used on heat exchangers, where temperatures can be significant. They provide a reliable seal in order to vent combustion gasses, like carbon monoxide, safely out of the living area.
The convection ovens used in kitchens don't reach the same temperatures as furnaces, but still require a high temperature seal. Silicone seals withstand baking temperatures and also resist contact with food products, water, and oils.
Die cut silicone products are also used in medical gaskets, and for shielding against electromagnetic interference (EMI) that can disrupt electronic devices and equipment.
Choose Die Cut Silicones from JBC
JBC Technologies converts silicone rolls cost-effectively and die cuts silicone products with speed and precision. The value-added services we provide include help with material selection. Next week, we'll take a look at silicone suppliers. Subsequent blog entries will examine platinum-cured silicones for medical applications and EMI silicones that are filled with metal or metal-coated particles. The conclusion to our silicones series will feature a case study.
Do you have questions about die cut silicones or value-added services such as adhesive lamination? The JBC Sales Team is ready to help. For more information, contact us.