By Mark Swanson on
7/6/2017
Die Cut Solid Rubber and Die Cut Cork: Trade Names and Materials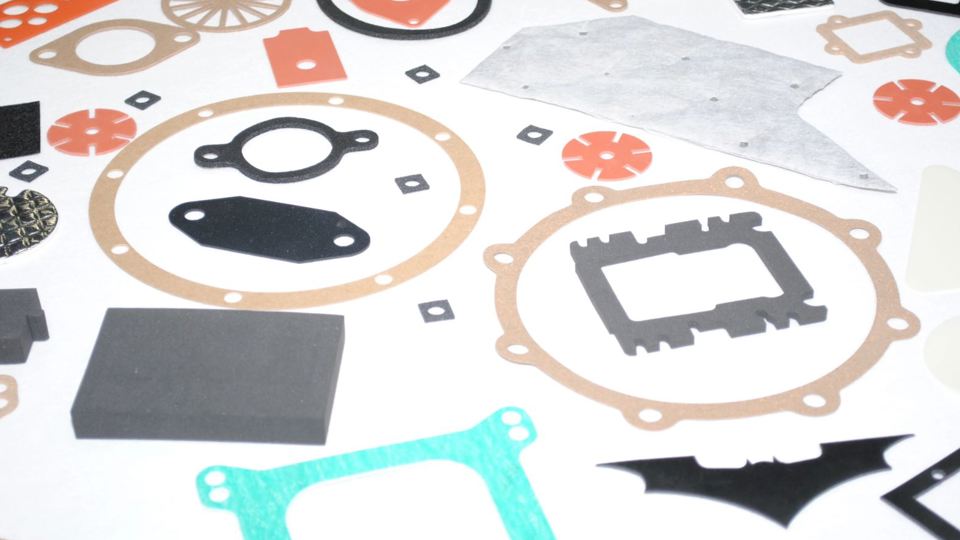 Die cut solid rubber and die cut cork are used to seal out air, liquid, dust, light, and sound. In die cut gaskets, these compressible materials provide fluid sealing, vibration dampening, and acoustic insulation. Choosing the right materials for die cutting is important, but engineers and sourcing managers also need a die cutter with a strategic sourcing network. That's why JBC Technologies sources solid rubber and cork materials from leading suppliers and distributors.
Die Cut Solid Rubber from BRP Manufacturing
JBC sources solid rubber materials from BRP Manufacturing, a leading U.S. supplier of neoprene, nitrile, EPDM, FKM Viton® (fluoroelastomers), ECH, and polymers such as butyl rubber, SBR, and CSM. Neoprene, which was originally a DuPont® trade name, comes in commercial, premium, ultra-strength, and flame and smoke-resistant grades. Nitrile or Buna-N rubber comes in general-purpose and specialized grades such as peroxide-cured nitrile and white vinyl nitrile with FDA-approved ingredients.
EPDM rubber from BRP Manufacturing comes in commercial, premium, peroxide-cured, and FDA-approved grades for applications that require weather resistance. FKM Viton® rubber provides excellent oil and high-temperature resistance for commercial and military applications. FKM Viton® is available in brown and black sheets, while EPDM can have a smooth, gray finish. JBC can also die cut ECH rubber, an elastomer with similar properties to nitrile, but with better resistance to heat, oil, and gasoline. 
Die Cut Solid Rubber from Rubberite Cypress Sponge and Midwest Rubber Sales
JBC Technologies also sources rubber products from Rubberite Cypress Sponge and Midwest Rubber Sales, two leading fabricators and distributors of sheet and roll materials. Both companies supply neoprene and EPDM in various colors, durometers, thicknesses, standard sizes, and grades. Rubberite Cypress Sponge also provides nitrile sheets and rolls, while Midwest Rubber Sales offers cross-link PE, PVC/nitrile blends, SBR, silicone, and urethane. MIL-SPEC and ASTM grade compounds are available.
Cross-linked polyethylene (PEX, XLPE) is used in building services such as die cut gaskets for HVAC applications. PVC/nitrile blends provide increased resistance to ozone and abrasion. SBR rubber sheets have good abrasion resistance, too. Silicone sheet materials from Midwest Rubber Sales include commercial-grade and FDA-ingredient approved elastomers that are red, black, or gray in color. Urethane offers excellent load-bearing and shock-absorbing qualities.
Die Cut Cork from Amorim
For applications that require die cut cork gaskets, JBC sources Accoseal® materials such as NC-710 and other blended cork composites from Amorim. The Accoseal® family of products combines compressible cork with a synthetic rubber that resists oil or aromatic fuels. For example, NC-710 is a UL-listed gasket material with high cork content that's oil and solvent resistant. To learn more about die cut cork, or to discuss the right die cut solid rubber for your application, contact JBC Technologies.
Viton® is a registered trademark of The Chemours Company.
DuPont® is a registered trademark of E.I. du Pont de Nemours and Company.
Accoseal® is a registered trademark of Corticeira Amorim S.G.P.S., S.A.