By Bob Lesher on
5/5/2020
Die-Cutting Materials Spotlight: PET Plastic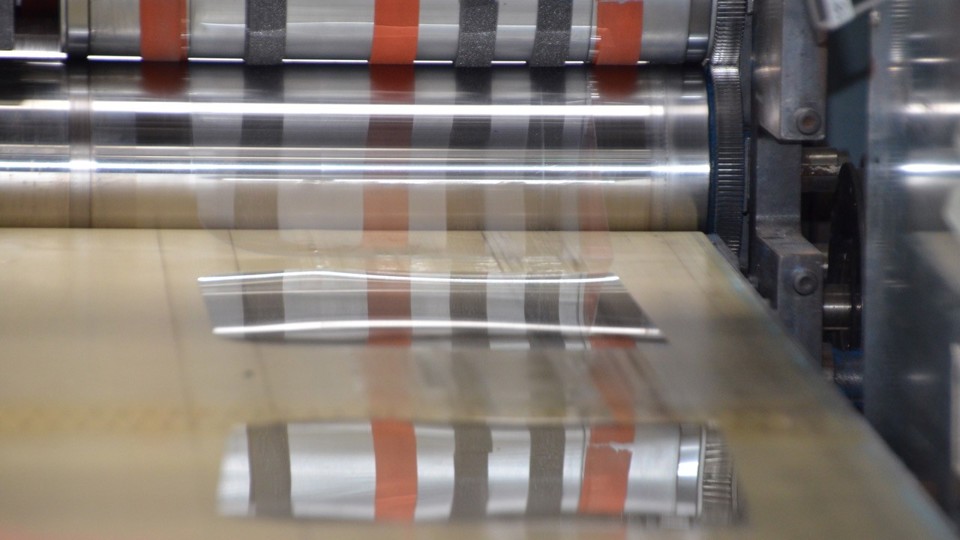 As a flexible materials converter and die-cutter with nearly 40 years of experience under our collective belt, JBC has worked with thousands of customers and hundreds of different materials. Part of our job is to put this experience to work by helping our customers choose the right materials for their projects. In this new series we'll choose a material to spotlight for each post, looking at things like its history, physical properties, potential applications and even its limitations. Our goal is to provide our customers with a solid foundational knowledge that will guide their next material selection project and put them on the path to success.
PET: Three Letters, Numerous Possibilities
To chemists and polymer engineers it's known by its full name, polyethylene terephthalate - (C10H8O4)n for short. Fabric weavers and clothing manufacturers prefer to call it Polyester, a trade name given to it by its inventors. But to just about everyone else, this ubiquitous material is known simply by its initials – PET. 
In today's post, we'll get to know more about PET and it's a nearly 80-year rise from specialty fibers to ubiquitous blow-molded bottles. Just what makes PET the world's most widely used and recycled plastic and why is PET the plastic of choice for use in the medical face shields now protecting the hundreds of thousands of frontline healthcare workers battling the COVID-19 pandemic? PET has had a storied rise over the last 80 years or so, and with no signs that its popularity is waning it's poised to continue its reign as the king of the plastics hill.
History of PET
Many of today's most popular polymers, including PET, can trace their roots back to the laboratories of DuPont Chemical and to a brilliant and reserved polymer chemist named Wallace Carothers. In 1930, Carothers, an American organic chemist specializing in polymer synthesis, was working as the lead researcher at the DuPont Experimental Station. It was then that he made the discovery that alcohols and acids could be combined to create fibers. It was this discovery that led to the creation of a polymer called polyamide 6-6 aka Nylon.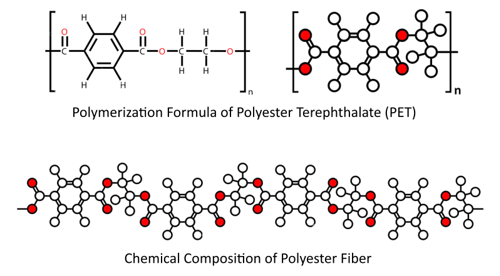 While Carothers and the DuPont company continued to focus their efforts mainly on the production of Nylon, it was this work that ultimately was essential to the discovery of many other synthetic materials including Neoprene and Polyester. In 1941, British chemists John Rex Whinfield and James Tennant Dickson drew on Carothers' research to create and patent the first polyester fiber, which they named Terylene.
Patent rights were granted to ICI and Du Pont in the mid and late 1940s. Terylene fibers were introduced by ICI in 1947, and later as a film (Melinex). The film found use as a base for magnetic recording tape as well as electrical insulation and capacitor dielectric. Molding powder was not generally available until the 1960s. A great boost to polyester high-volume application came in 1977 when oriented controlled structure blow-molded bottles were introduced in the USA.
Properties of PET
There's a reason that PET is so popular... well, actually several of them. PET has excellent impact resistance and stiffness, it can be molded very quickly and it can be used in a wide range of temperatures from -40°F to 150°F (-40°C to 65°C). Another unique feature of PET is that it can be cold-formed or shaped by bending. When PET is combined with other materials like glass fibers or carbon nanotubes, it can be transformed into a high-performance engineered material with enhanced durability, strength, and other properties.

According to PETRA, the PET Resin Association, "PET is a very inert material that is resistant to attack by microorganisms and does not react with food products, which is why it is widely preferred for packaging foods, beverages, and pharmaceuticals. Health-safety agencies around the world have approved PET as safe for use with foods and beverages."

Best of all, when it comes to being a plastic that's easier on our planet, few can hold a candle to PET. PET is among the most recyclable and sustainable plastics being manufactured in the world today. It's quite commonplace today to find recycled PET being used to make everything from food and beverage containers to clothing and even carpet.
The Many Varieties of PET
Given the overall versatility of PET, it should come as no big surprise that it can also be tweaked both mechanically and chemically to meet a variety of end-use requirements. By changing the way the PET polymer is processed or by using specialty additives, the finished plastic can be made into several useful variations. Some of the most common forms of PET and their characteristics are described below.
PET or PETE
This is your basic, boilerplate version of PET plastic. Once known as PETE, PET is the most commonly used variation of this popular thermoplastic polymer resin. Among the main reasons for this are the base polymer's inherent and natural clarity and generally high performance to cost ratio. White while in pellet form, once heated and processed PET has an excellent optical quality, making it great for use in applications where clear visibility is critical (goggles, medical face shields, windows, and display cases) and is considered to be among the best jack-of-all-trades plastics with very good chemical resistance and overall durability.
PETG
Among the most commonly used variations of PET is PETG. Polyethylene Terephthalate Glycol or PETG is an amorphous copolymer of PET that, while slightly more expensive and less durable than its PET parent, finds wide use across a broad range of processing technologies. PETG is used widely in extrusion and injection blow molding and, because it's slightly softer than traditional PET, it works well with conventional die-cutting processes. PETG's combination of extrusion-friendliness and relative heat-stability (less prone to smoking and unpleasant odor) it's also used to make 3D printing filament.
APET
There are two main types of PET: Amorphous PET (APET) and crystalline PET (CPET), the most important difference being that CPET is partially crystallized, while APET is amorphous. Due in part to its semi-crystalline structure, CPET is typically opaque. APET with its less ordered, amorphous structure, is transparent upon processing. Amorphous PET or APET) is, in most cases, what you get when you ask for PET.  It's so common, in fact, that the A is often dropped from the name altogether.
OPET
OPET, or oriented PET, is created as a result of the standard 2-step injection stretch blow molding process. When PET is in the preform stage, the polymer molecule starts as an unbalanced chain, when the polymer is heated and stretched with a pin the molecule is oriented, or arranged, in parallel with the direction it is stretched. After the preform is stretched with a pin it is blown to the dimensions of the final container. Oriented PET has the benefit of increased durability, improved clarity, and better overall barrier properties.
EPET
EPET or extrudable PET is an extrusion-grade version of the base resin PET. With its higher molecular weight, EPET is ideally suited for extrusion blow molding. Finished goods made with EPET have a slight increase in wear resistance compared to standard grade PET while its chemical resistance and clarity are on par with PET. Another unique feature of EPET compared to other PET variants is that it can be recycled under the standard "1" designation just like traditional PET.
PET Plastic Isn't Just for Bottles
As we've already learned, PET is one versatile plastic. That's why it shouldn't surprise you to learn that the list of items that can be manufactured out of PET is a pretty long one. As a matter of fact, chances are pretty good that there's some PET in the room you're in right now. Here are just a few examples:
🔹 Water and fruit juice bottles
🔹 Food packaging containers
🔹 Running shoes
🔹 Medical face shields
🔹 Dog beds
🔹 Carpet
🔹 Board shorts
🔹 Cosmetics packaging
🔹 Boat sails
🔹 Screen protectors
🔹 Lipstick tubes

🔹 Dollhouse windows
🔹 Valves
🔹 Insulation
🔹 Water pipes
🔹 Fans
🔹 Park benches
🔹 Gaskets
🔹 Leisure suits
🔹 Neckties
🔹 Hazmat gloves
🔹 Reusable Grocery Bags
Let's Create Something Great Together
Are you looking for a die-cut PET plastic component for your next application? For nearly 40 years, JBC has been converting materials into solutions. We've built our reputation on our ability to help our customers meet their most demanding project requirements on time and on budget and our wide range of in-house capabilities gives us a distinct advantage over our competition. Contact us today to find out how we can put our rigid materials die-cutting expertise to work for you.
Sources: