By Bob Lesher on
2/3/2023
Faces of JBC: Bill Chmelka, General Manager of JBC Madison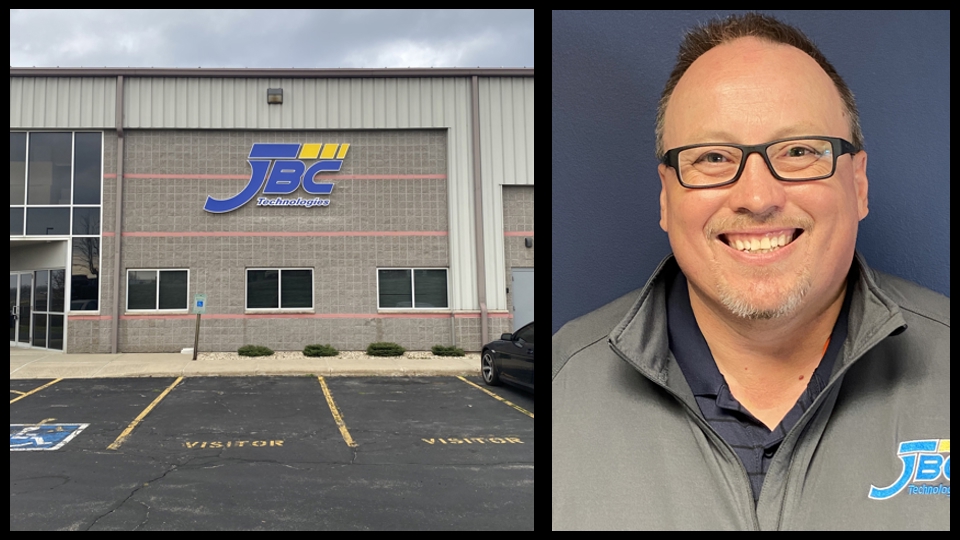 Welcome to the newest edition of Faces of JBC. In this series, we take the time to introduce you to the team members responsible for making JBC one of the leading die-cutters and material converters in the country.
Our goal is to share the names behind the roles here at Team JBC and hopefully teach you more about the people and their stories.
Today, we're headed north — 493 miles northwest of our Northeast Ohio headquarters, to be exact — all the way to our Madison, Wisconsin Center of Excellence.
Introducing JBC Madison General Manager, Bill Chmelka.
Where did you work before JBC?
I spent most of my 26-year career working at Goodyear/Continental, leaving there as the Plant Manager in 2018. I also spent time as a Senior Supply Chain Manager for Teel Plastics. Right before I joined JBC Technologies,  I worked as a Plant Manager at Springs Window Fashions.
Why did you decide to go into manufacturing and what do you like most about it?
Manufacturing is in my blood. I enjoy the fast pace and different challenges daily that manufacturing provides. There's never, ever a boring day!
Describe your role at JBC and how it fits with the big picture.
I'm the General Manager of the JBC-Madison plant — the Center of Excellence for HVAC/Appliance. In that role, I'm responsible for all day-to-day Madison operations including strategic planning for tomorrow.
What attracted you to JBC Technologies and what's your favorite part of your job?
The strategic position of JBC in the Madison area and the potential for continued growth were the two main reasons I joined JBC Technologies. The ability to build a team from the ground up also intrigued me.
There was a small team in Madison when I joined, and I was able to come in and immediately begin developing a culture of family, quality, and customer satisfaction.
Tell us a bit about your JBC team.
We have a great team in Madison. We focus on doing whatever is needed to ensure our customers are delighted. We are all very diverse in our knowledge which allows me to rely on their expertise in their given area. This is the team I want to "put on the field" every day. I couldn't have asked for a better group.
What is the best part or most unique aspect of working for JBC?
There's never, ever a dull day. Since our team is so small, I touch almost every aspect of our business every day — from HR to purchasing to customer service, planning, production, and even community involvement.
What has been your favorite project at JBC?
My favorite project was developing strategic plans for 2023 and beyond for all of the facilities. Being able to work as a part of a team, surrounded by unbelievably intelligent business people, was extremely inspiring.
Just witnessing the knowledge and expertise of the Leadership Team and the other GMs was something special. It made me proud to be a part of the group.
How have you grown professionally at JBC & what are your expectations for the future?
My career path has been a long and winding road. I started as an operator on the production floor at Goodyear, working the third shift making radiator hoses. It was a hot, physical job, and I knew I wanted more out of my career.
I've had numerous job titles over the years, yet one thing remains the same. It's all about people and building relationships. About 20 years ago, a mentor of mine repeatedly told me this.
When I first heard it from him, I heard the words but honestly didn't hear them. As my career has continued, I think about what he taught me and realize that regardless of position at a company, building relationships and treating people with respect is vital.
I look forward to continuing my career path at JBC Technologies and to continuing to build relationships every day.
What are you most proud of working at JBC?
I'm most proud of the culture here in Madison. We've progressed quite a bit in the year that I've been here, but we still have a long ways to go to reach my vision. I've said it to my team many times, and I tell everyone I meet in the interview process the same thing.
We are family. On any given day, I may not like my brother, but at the end of the day, I love my brother. My definition… we may not get along with every person on any given day, but we always treat each other with respect.
At the same time, we realize that we're all working for the same things every day; ensure that JBC Technologies is growing and profitable so that all of us have long, fruitful careers that enable us to provide for our families.
What's your greatest motivation?
My family. Being able to make my wife and daughter proud of what I do every day is why I get up in the morning.
The second is helping to develop the people around me. I genuinely enjoy looking on LinkedIn at people that have worked for me in the past to see their career growth and know that I may have played a role in getting them to the next step.
Even today, I know there are some people I work with closely that will undoubtedly have careers that skyrocket. I hope I can teach them a thing or two from a bit of my experience and knowledge so that someday they can look back at me the same way I look back at my mentors.
What are some of your outside interests?
Sports, sports, and more sports. I'm a die-hard Nebraska Cornhuskers, Cleveland Guardians, and Chicago Bears fan.
I'm not sure there's anything better than sitting in Progressive Field on a hot summer night, drinking a cold beer, and eating a hot dog… simply taking in all the sounds and smells of the ballpark.
I'm also big into sports memorabilia collecting – mostly autographed baseballs. My wife and I also turned into golf junkies over the past two years.
What is something about you that most people don't know?
Back before my hip replacement, I was quite the bowler. I was bowling 3 nights a week with an average of around 220. Back in the 2000s, I was invited to bowl in a professional tournament in Milwaukee. Unfortunately, I didn't do it but wish I'd given it a chance.