By Bob Lesher on
6/24/2022
Faces of JBC: Get to Know Conor Clifford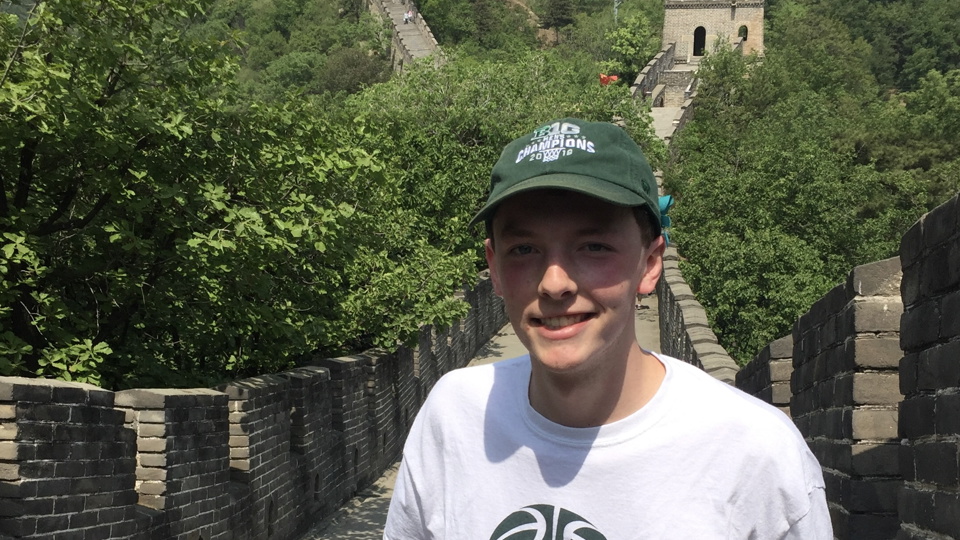 Well done. You've just made your way to the June 2022 edition of JBC's "Faces of JBC" blog series. In this should-be award-winning series we shine the spotlight on one of the dedicated and talented people behind the scenes at America's favorite precision die-cutter, JBC Technologies. They're the group solely responsible for ensuring that our happy customers continue to remain delighted and that those that are less than pleased don't remain so for long.
Conor Clifford, JBC Madison Logistics Manager
Today it is our pleasure to introduce to you Conor Clifford. Conor joined JBC Technologies back in the spring of 2021 as a production scheduler at our Madison, Wisconsin branch. Today, Conor is the Logistics Manager for JBC Madison.
Let's get to know him a little better.
What were you doing professionally before JBC Technologies?
In 2020 I graduated from the Michigan State Eli Broad College of Business with a bachelor's degree in Logistics, Materials, and Supply Chain Management. While in college, I interned at Dart Container as a production planner and at KTM Industries, where I sharpened my cross-functional skills and logistics talents. Since graduating, I've also worked as a supply chain manager at RockAuto - a large automotive parts distributor and reseller.
When first meeting someone, what is your favorite ice-breaker question?
Asking "Where are you from originally?", is a great way to break the ice. I've traveled quite a bit and knowing more about where someone is from or where they've been can really help to open the door to even more questions. Maybe we've been to the same place? Maybe I've been somewhere close-by a place they've visited recently.
Why did you choose JBC Technologies?
I chose to make JBC my next professional home because of the interview process. The interview reminded of an internship I had, and I liked that the company was ambitious and growing. I also like the culture of JBC and that they treat their employees well. Everyone has a hands-on approach and isn't afraid to get dirty. They also explained the role to me in a way that made it seem like I could truly make it my own.
What are some of your favorite things to do outside of work?
Being a Michigan State alumnus and a big sports fan, I enjoy attending Michigan State football and basketball games or even watching them on TV outside of work. I'm also a big fan of trying new restaurants and breweries and checking out minor league sports teams. A few more of my favorite extracurricular activities are hanging out with friends, playing pickleball and cornhole.
Your current job in one sentence.
Always changing, never dull - anything logistics comes through me.
What causes or organizations do you support or are you passionate about?
I'm passionate about veterans' causes and helping veterans re-adapt to life at the end of their tours and enlistments. On any night, 40,000 veterans are without a roof over their heads. Roughly a quarter-million are unemployed. I support building the programs that help veterans get the medical care, jobs, and shelter they'll need when returning to civilian life.
We owe those who've served a serious debt of gratitude, and I think we should do everything in our power to help them upon returning to society when their service has ended. Unfortunately, that isn't always the case, and the people that have done so much to help us, don't see the favor returned.
What's the most rewarding part about being a Logistics Manager at JBC?
One of the most rewarding parts of being in charge of logistics at JBC Madison is knowing that there's room to learn, grow, and gain new experiences.
If money were no object, what would you be doing?
The million-dollar question! If money weren't a consideration, I'd be traveling. I love to experience new places and am very interested in ancient civilizations. It also goes along with my love of trying new foods. The number one travel spot on my bucket list is Machu Picchu in Peru. 
Tell us a few things about yourself that most people might not know.
| | |
| --- | --- |
| Before becoming a business major at college, I was a journalism student. | I was a member of the Michigan State student-run radio station, IMPACT 89FM |
| I won 1st place as play-by-play announcer in Michigan from MIPA (Michigan Interscholastic Press Association) | I studied abroad in Beijing, China |
Can you share a little bit with us about your family?
I'm an East Lansing, Michigan native and recently engaged. My fiancé's name is Cara. I have two younger brothers, one just graduated from Michigan State, and the other is still a student there. You could say that being a Spartan is in my blood - my dad also went to Michigan State.
Quickies
Favorite color – Green
Favorite movie – Dumb and Dumber
Last book you read - 1984
Least favorite vegetable - Leeks
Superhuman power – Pausing time

TV game show - Who Wants to Be a Millionaire
Pizza toppings - Green Olives and Pepperoni
Ethnic food – Lamb gyro
Most unique place you've ever visited – Beijing, China