By Bob Lesher on
5/23/2022
Faces of JBC: Getting to Know Kaley Lucien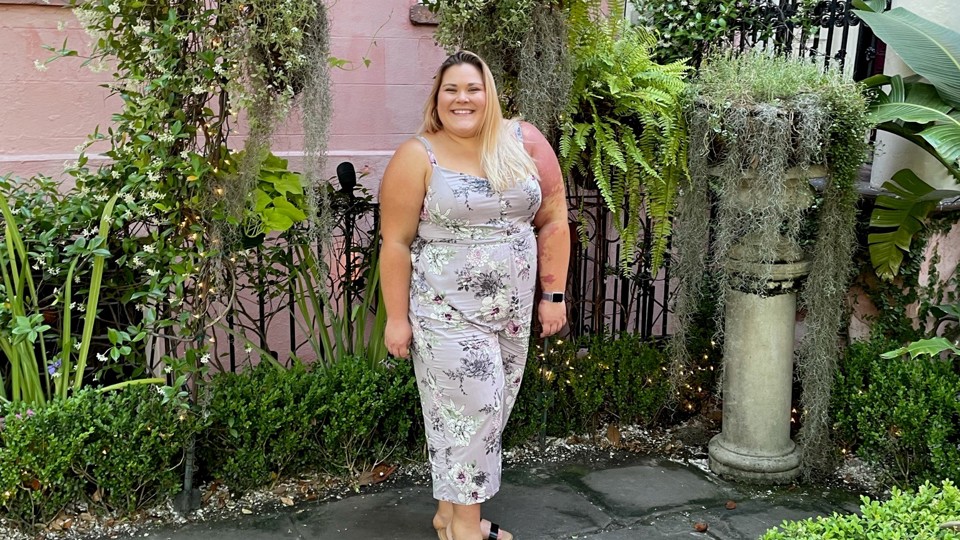 Welcome to the May 2022 edition of our "Faces of JBC Technologies" blog series. It's the award-winning series of posts that features the dedicated and talented people behind the scenes at America's favorite flexible materials converter, JBC. We learn about the very people that make up the fibers from which the fabric that is our amazing company is woven. They're the group solely responsible for ensuring that our happy customers continue to remain delighted and that those that are less than pleased don't remain so for long.

Today it is our pleasure to introduce to you Kaley Lucien. Kaley is a newish addition to Team JBC, and one whose interview required us to journey behind the wall and into the land of human resources. Kaley joined JBC in the Fall of 2021 as a Senior Human Resources Generalist.

1. What Were You Doing Professionally before joining JBC?
The short answer is human resources. Before coming to work for JBC Technologies, I spent about 5 years as a human resources generalist at Western Enterprises. I started there a couple weeks before I graduated from Baldwin Wallace University. During my time there I earned my SHRM-CP certification and my responsibilities while there were pretty people-focused with things like benefits plans, recruiting, promotions, and performance reviews.
Prior to starting in the human resources field, I worked retail while in college. My first job while in high school was at a dry cleaner.
2. What Did You Like Most About Your Last Job? The Least?
My last position was my first after graduating from college. I learned a lot and it was interesting to be able to see what I learned in college being put to use in real life - there are some things that books just cannot teach you. Unfortunately, I found myself liking least the fact that my last employers were also old-fashioned and very based on tradition.
3. What's Your Favorite Ice-Breaker Question?
What's your sign? And once I get to know someone a little better, I like to take a deeper dive into their birth chart. You could say that I'm a bit of an astrology nerd, for sure.
4. What Attracted You to JBC?
I had the good word from Terri A., the HR manager at JBC, that it was a cool place to work. It just so happened that Terri was my boss at my prior company and to this day she swears she didn't poach me. After she had left our prior company, I started looking for a new position. I called her asking for a reference and there just happened to be an opening here. I'm happy to be working with her again!
What are some of your favorite things to do outside of work?

I like to read Young Adult novels, brunch, yoga, hang out with my cat

Where are you from originally?

I was born in Akron, Ohio and I moved to Wadsworth when I was 10.

Describe Your Current Job In One Sentence?

Something new every day and certainly never boring.

How do you approach solving a difficult problem?

With lots of overthinking, and talking it through with someone I trust.
5. What's The Most Rewarding Part About Your Current Position?
I love being a part of a growing organization like JBC. Even though it's hard work it's exciting to be a part of it. JBC is great about wanting to try new ideas and different ways of doing things. I feel as though my opinion really matters here, too.
6. What Would You Do With Your Life If Money Were No Consideration & Why?
I would travel around the world with my parents and my girlfriend. Specific spots on my bucket list are Greece, Italy, Spain, and Ireland.
| | | | |
| --- | --- | --- | --- |
| | | | |
7. Would you share a little bit about your family with us?
My girlfriend Colleen and I have been together for about 5 years. We live together in Berea with my 7 year-old cat Ollie in the house we just bought earlier this year. I'm also an only child and I'm very close with my parents.
8. Are There Special Causes That Are Important To You?
I'm very passionate about anything that has to do with animal rescue, and I'm an advocate and support of LGBTQ+ and Women's Rights.
Quick Hits & Faves
Color

Pink

Movie

Last Book Read

The Atlas Six by Olivie Blake

Pizza Toppings

Cheese and more cheese

Superhuman Power

Mind-reading

Season

Summer

Game Show

Hogwarts Tournament of Houses

Strangest Place Visited

 
We'd like to send out a special thank you to Kaley for taking the time to do this with us and for being so open and accommodating whilst doing it. It would have been a lot less fun without you, Kaley. We're happy to have you as a member of our team.