By Abbigail Orwig on
2/28/2020
Faces of JBC: Yancy Walker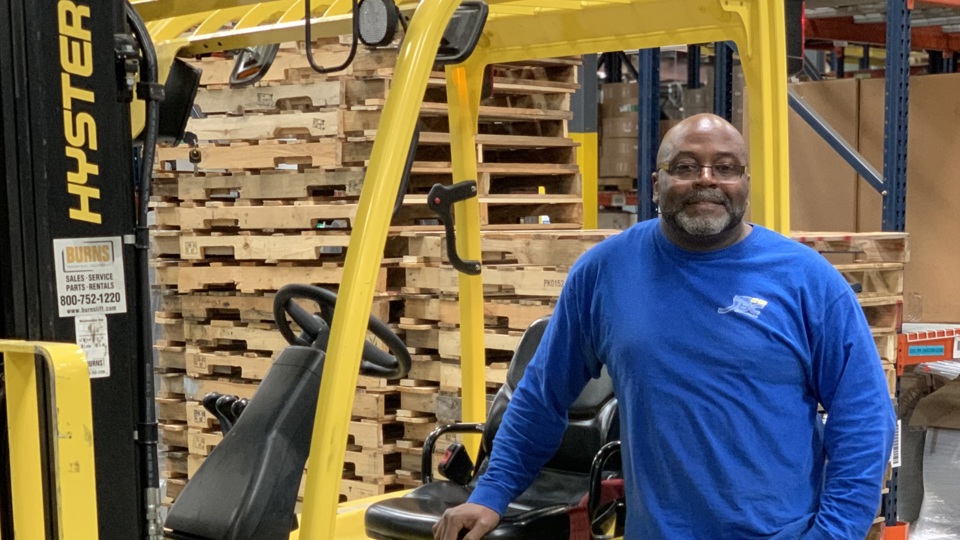 Welcome back to the latest edition of Faces of JBC, the blog series where we take a moment to shine the spotlight on the people that work hard every day to help serve our customers' needs. Last time we introduced you to one of our Production Associates, Alex Williams. Today, we are heading to the back of the Warehouse to feature one of our Receiving Clerks that is always there to lend a helping hand: Yancy Walker.
What is your current position at JBC?
I'm a Receiving Clerk.
What did you do before joining JBC?
I got my Commercial Artist Degree and worked as a Commercial Artist in Computer Graphics as well as other various warehouse jobs.
What was your biggest accomplishment while working as a commercial artist?
I won the Michelson-Morley Award contest for the experiments I did with prisms for Case Western University, this is definitely one of my proudest moments.
How long have you been with JBC?
I've been with JBC for about 13 years now.
Looking back on those 13 years, what have you enjoyed most about working at JBC?
The thing I like about JBC is my ability to help people succeed. As I stated before, I enjoy solving problems and have enjoyed some of the bonds that I have created with people. Over the years, I have had the pleasure of working with dynamite team members that have the same work ethic as I do.
When you have a good team, it creates an enjoyable work place. It is important for all of us to be winners.
What do you do with your free time? Do you have any hobbies?
I work a lot, but besides working I like to work design Computer Graphics and utilize my Commercial Artist Degree.
What motivates you?
Seeing a job through its completion. So getting to see it in full from beginning to end.
What is your favorite genre of music?
Wow, that's a hard one! I would probably have to go with Funk or Rhythm and Blues.
Who is your favorite singer or songwriter?
I would definitely have to go with Prince!
What is a song you could listen to on repeat?
I could listen to Do It Again by Terrance Green on repeat.
Who is your favorite sports team?
I was born and raised in Cleveland so by default I should be a Cleveland Browns fan. However, once Mike Tomlin went with the Steelers, I've been a fan ever since!
If you could go anywhere in the world right now, where would it be?
I would go to Paris. My Grandfather is Creole and my Mother told me stories of her childhood growing up in New Orleans. I've always been fascinated with that part of my ancestry.
If you could only eat one food for the rest of your life, what would it be?
This is a hard one, I would say Pizza!
What is a JBC-related accomplishment you are proud of?
I'm proud that I was able to develop and implement the work floor for the warehouse.