By Bob Lesher on
9/12/2022
Guide to Adhesive Tapes & Automotive Electronics (Exterior)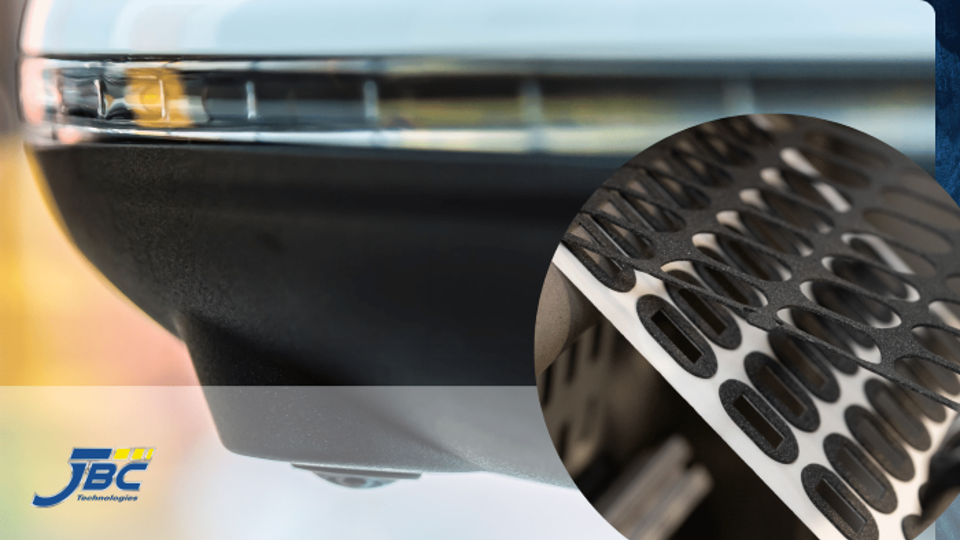 PSA Tapes & Exterior Automotive Electronics
All of us want safer transportation, and this extra vehicle safety usually comes at a cost: more electronics. Electronics located on the vehicle's exterior, like rearview mirror displays, backup cameras, and advanced driver assistance systems (ADAS), can all add weight and complexity to the vehicle.
How do the automotive and transportation OEMs attach, bond, and seal these electronic devices without adding weight, noise, or even more safety concerns?
Precision die-cut adhesive tapes.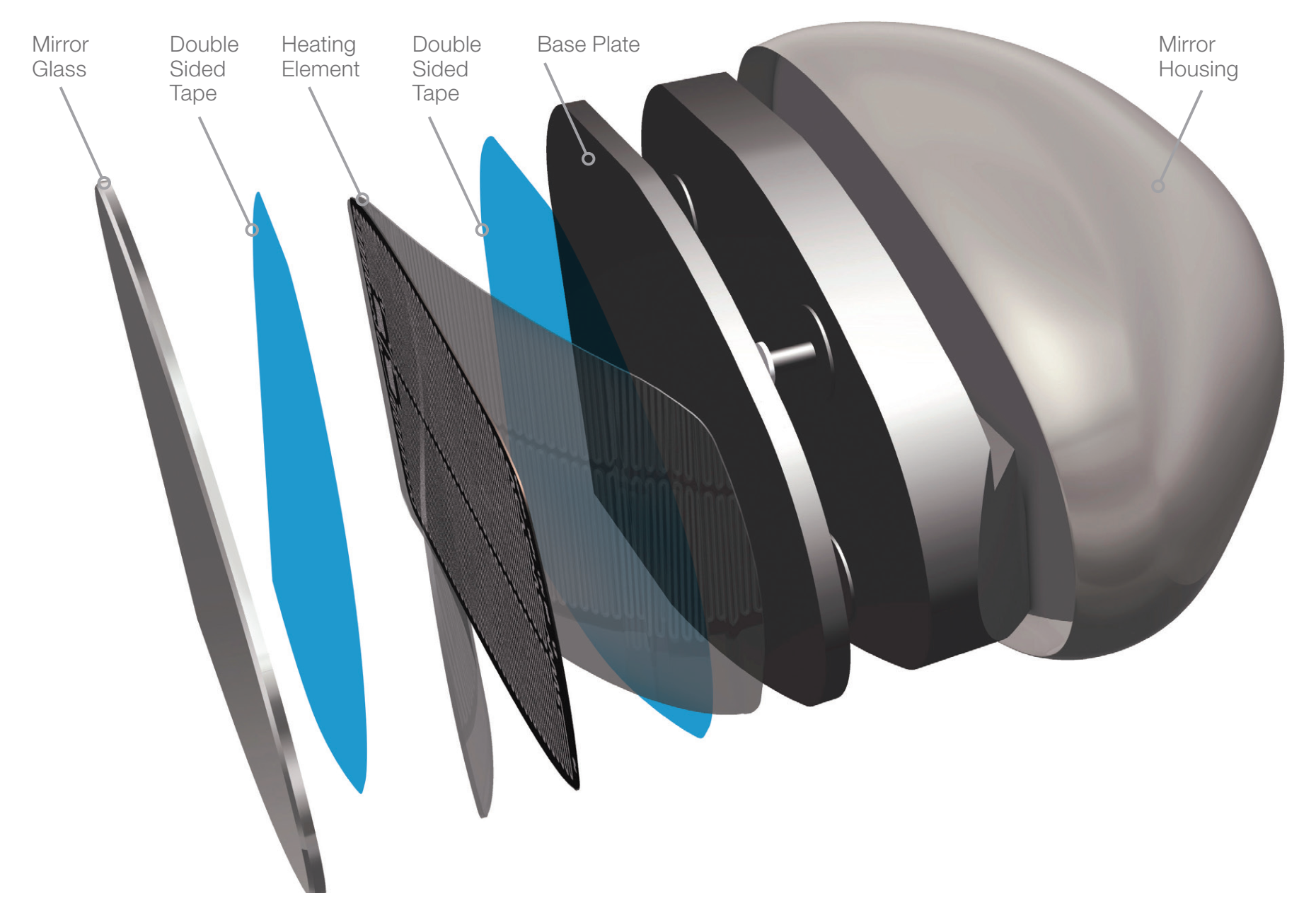 We spoke with Scott Krusinski, Automotive Product Manager for Avery Dennison Performance Tapes, to get the skinny on their new automotive adhesive tapes portfolio.
What can you expect here? How Avery Dennison adhesive tapes can benefit external automotive electronics applications and how custom die-cut parts from JBC bring it all together.
You can read the companion post here if interested in adhesive tape applications for interior automotive electronics.
Now, if you're ready to dive into adhesive tapes and exterior automotive electronics, let's jump in.
Adhesive Tapes for Automotive Applications: Just the Basics
Pressure-Sensitive Adhesive (PSA) tapes used in automotive applications must be durable, withstand high and low temperatures, and resist UV light. And often, they must be able to bond to low surface energy (LSE) materials like paint systems and polyolefin plastics.
We'll also learn more about Avery Dennison's portfolio of Automotive Electronics adhesive tapes and their history of use within the automotive industry.
Adhesive Tapes for Exterior Automotive Electronics: Typical Applications
PSA tapes can attach sensors, cameras, and electronic components to the vehicle or even bond them. There are several typical applications for precision die-cut components made using specialty adhesive tapes, including exterior automotive electronics. Let's take a closer look at some of these applications.
Avery Dennison: Adhesive Tapes for Automotive Electronics
How do Avery Dennison's automotive electronics adhesive tapes help transportation OEMs to produce easy-to-assemble, lightweight, durable electronic components?
According to Krusinski, the Avery Dennison automotive electronics tapes portfolio addresses these issues and the other emerging applications born as our vehicles evolve.
The portfolio includes 12 applications, 13 adhesive technologies, 24 tape products, and nine construction styles.  It was built to provide solutions to several common challenges, including:
Speed of Assembly – repositionable and with an instant bond
Lightweighting – replace mechanical fasteners with thin profile lightweight tapes
Durability – seal and fill gaps for ingress protection
Noise Reduction – mitigate buzz, squeak, and rattle (BSR) and unwanted noise, vibration, and harshness (NVH)
Vision and Sensing – reduce glare, manage light, and bond PTC heaters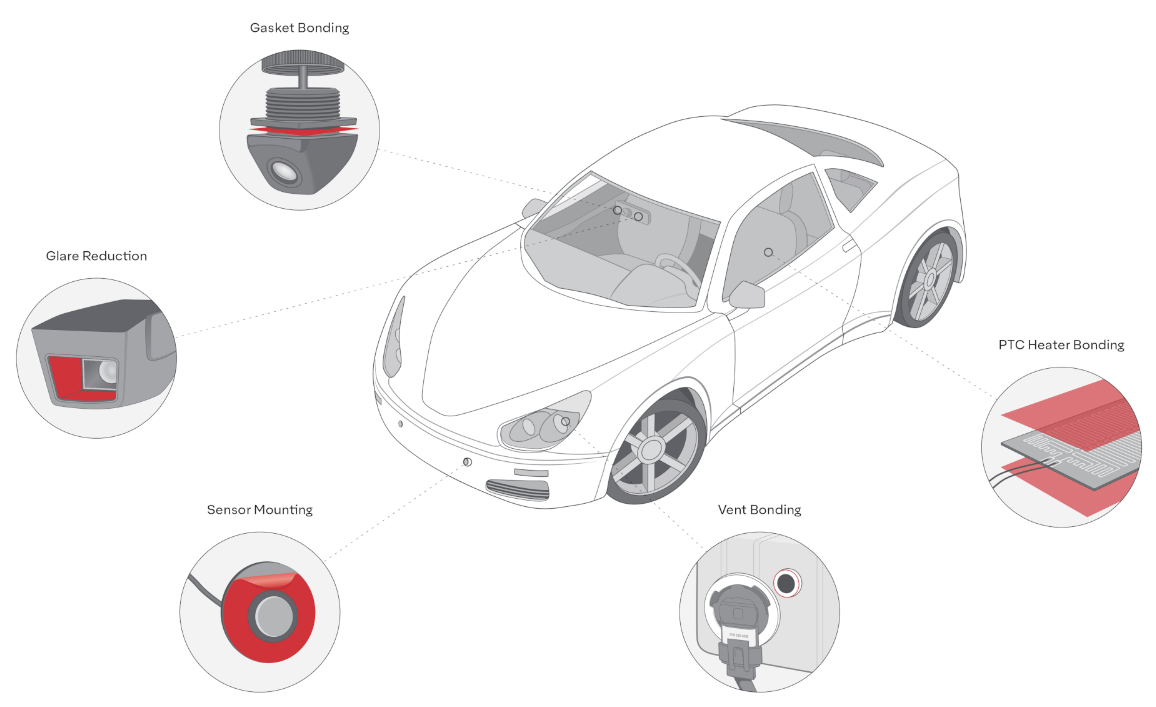 Avery Dennison Automotive Adhesive Tapes: Product Spotlights
Avery Dennison FT0900X is a single-coated flock tape used for glare reduction with ADAS cameras. It can be placed in front of the camera lens on the plastic housing around the camera to reduce glare.
"It is a great combination of an existing automotive-specified material being used for a new application," said Krusinski. "It is a high-performance low VOC acrylic adhesive and meets many OEM specifications. It performs well against extreme temperatures and bonds to low surface energy materials."
Avery Dennison FM2132 is a general-purpose acrylic adhesive tape with excellent temperature resistance, durability, and bond strength with low surface energy (LSE) plastics.
Check out the complete Avery Dennison Automotive adhesive tapes portfolio, or try the Avery Dennison product selector.
The Converter Partner Advantage
When you partner with an industry-leading materials converter like JBC Technologies, we can add value to Avery Dennison Automotive Electronics Tapes in several ways:
Our value-added solutions include:
Laminating different performance materials to Avery Dennison tapes
Creating multi-material composites with Avery Dennison tapes
Die-cutting custom shapes
Custom part presentations for assembly and automation
Rapid prototyping and quick turnaround sampling
Here are a few specific application advantages you'll get when you choose to work with JBC Technologies:
The backup camera often needs an EPDM foam gasket to form a watertight seal. JBC can laminate an adhesive to the EPDM foam and then die-cut it into the right shape to speed up assembly.
Ultrasonic sensors often have a circular perimeter design. A converter can die-cut the exact shape needed to achieve a strong bond and a clean appearance.
We are experts in materials selection and can help you match the best materials for your application.
"If an OEM needs assistance selecting the right material to meet their application's temperature and humidity resistance requirements, converters can work with multiple material manufacturers to help recommend the right material."
- Scott Krusinski, Avery Dennison.
The JBC Technologies Difference
Since 1988, we've used our engineering expertise and vertically integrated materials converting capabilities to transform rolls of flexible materials into custom die-cut parts.
JBC Technologies provides its customers with the highest quality, most innovative materials for their custom die-cut products. We do this with the help of partners like Avery Dennison Performance Tapes and other industry-leading material manufacturers.
Contact JBC Technologies today to learn more about how our custom solutions can help you convert your design concepts into reality.
What do you think are some of the biggest challenges facing the automotive industry?