By Kate Gluck on
8/17/2022
Guide to Adhesive Tapes & Automotive Electronics (Interior)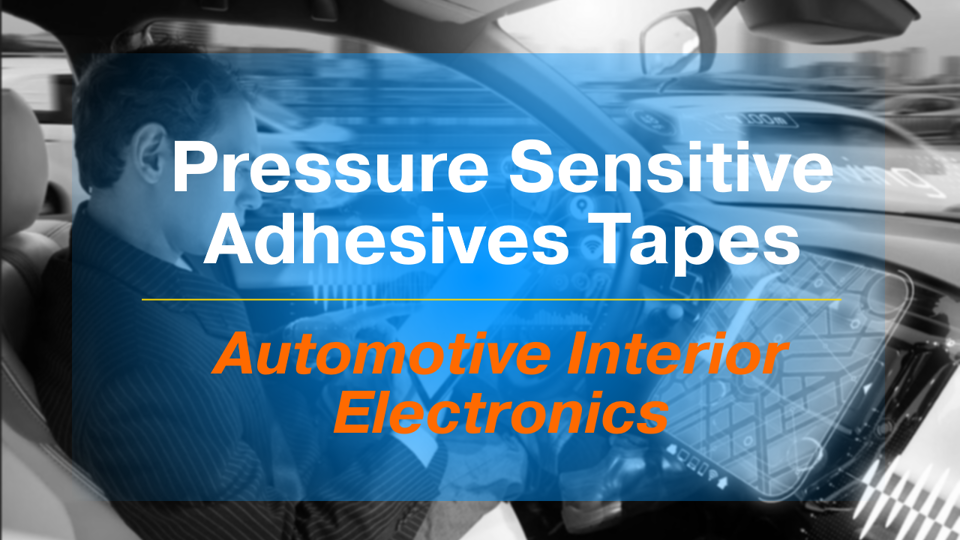 Pressure-Sensitive Adhesive (PSA) Tapes for Automotive Interior Electronics
Automotive passenger comfort and convenience are accelerating rapidly, and consumers want their vehicles to provide more than just transportation. From complex infotainment systems to heated steering wheels, the evolution of interior automotive electronics from luxury items to expected standard equipment leads manufacturers to seek new ways to bond, seal, and attach them.
In this post, we'll discuss how automotive OEMs are now more than ever looking to high-performance adhesive tapes to use within the vehicle's electronics systems because of their ease of assembly, low weight, and extended durability. We'll also highlight the Avery Dennison Performance Tapes automotive adhesive portfolio and its intended applications within the car's interior electronics environment.
Automotive Pressure-Sensitive Adhesives: The Key Characteristics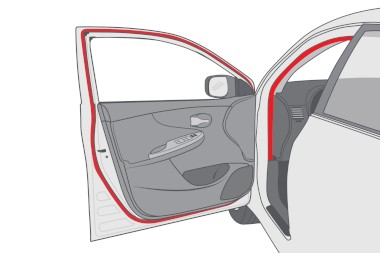 Before we dive into the specifics of the new Avery Dennison Performance Tapes automotive electronics portfolio, however, we'd first like to provide some background on the essential characteristics of pressure-sensitive adhesive tapes for general automotive applications.
Key performance characteristics to look for in an automotive adhesive tape include:
Avery Dennison's General-Purpose Acrylic is a tackified, solvent acrylic adhesive that is well-balanced in various properties. It has the temperature resistance and durability to last the life of the vehicle, but it also is very tacky and able to bond to low surface energy plastics that are common in the vehicle interior.
Often, OEMs have requirements for volatile organic compounds (VOCs) and fogging, so Avery Dennison's High-Performance Low VOC Acrylic would be recommended as an alternative product. It has similar properties as the General-Purpose Acrylic but is emulsion-based and therefore meets low VOC requirements. Additionally, rubber-based adhesives, such as Avery Dennison's General Purpose Rubber, are lower-cost options for a simple assembly that is mechanically retained.
Avery Dennison Performance Tapes: New Solutions for Interior Automotive Electronics
As a longtime member of the Avery Dennison ADVantage Converter Network, JBC Technologies is pleased to share information about a new adhesive portfolio from Avery Dennison Performance Tapes specifically designed to address the needs of the automotive electronics market.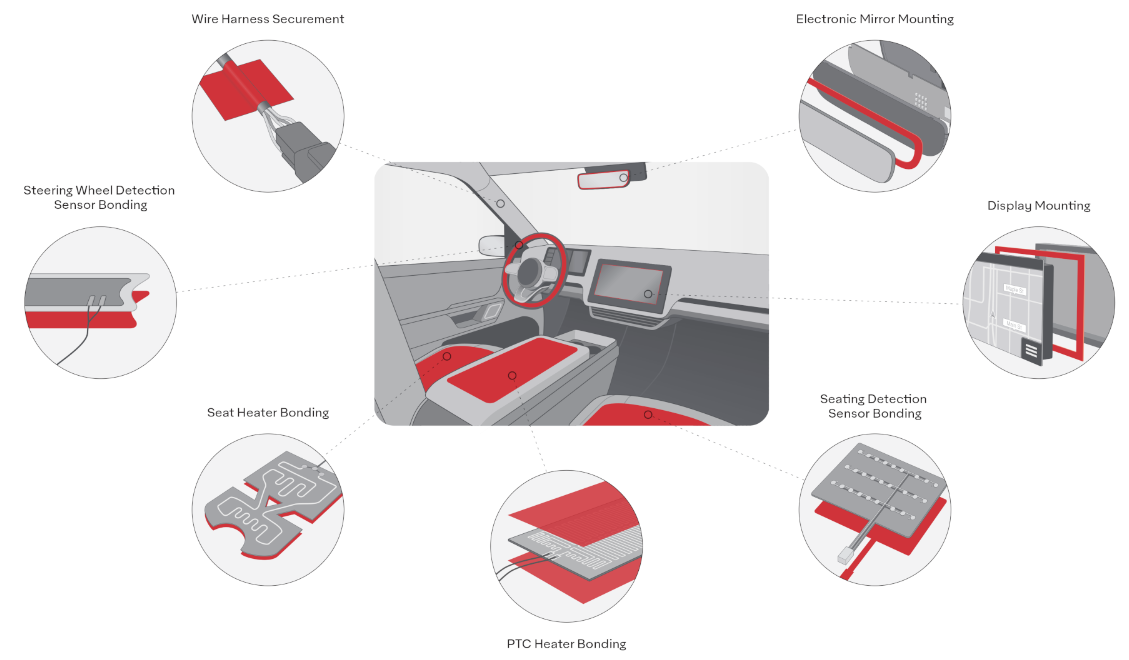 This new adhesive tape portfolio features 12 applications (including the interior electronic applications illustrated above), 13 adhesive technologies, 24 tape products, and nine construction styles.
Check out the complete Avery Dennison Performance Tapes automotive adhesive tape portfolio, or try the Avery Dennison Performance Tapes product selector.
The Avery Dennison Performance Tapes automotive portfolio also has exterior automotive electronics applications solutions. Check out our blog post on Exterior Automotive Electronics Adhesive Solutions for this and some typical exterior applications where die-cut adhesive tapes are an ideal solution.
Die-Cut Adhesive Tapes for Automotive Interior Electronics: 6 Applications
1. Heated Seats

Seat heaters have been around for a while, especially in the driver's seat, but they are now more common in passenger and back seats. Transfer tape is used to help hold the seat heaters to the seat cushion before the seat trim is completed.

2. Heated Steering Wheels

Luxury vehicles often include steering wheel heaters, quickly becoming standard equipment across all vehicle models. Transfer tape secures the flexible heating elements to the steering wheel underneath the string wheel trim.

A self-driving car needs to know whether or not the driver's hand is on the wheel. A thin film sensor is bonded to the steering wheel with a transfer tape to detect touch and alert the vehicle to the presence of a driver.

4. Occupancy Detection Sensors

If a sensor detects a front seat passenger, it often reminds them to fasten their seatbelt and turns the airbag on or off when activated. The sensor is typically a thin, flexible material secured with transfer tape to the cushion and other parts of the seat.

5. Infotainment Systems

Touchscreens are now a common feature in many vehicles. Double-coated foam adhesive tapes are often used to bond the touchscreen displays to the vehicle cockpit base assembly.

6. Rearview Mirrors

Automotive rearview mirrors now often double as information display units, with many of these "smart" mirrors allowing you to toggle between screen and mirror on the fly. This dual functionality can add much more weight to the overall unit, requiring a higher shear-resistance tape to bond the overall mirror/screen assembly.
JBC Technologies + Avery Dennison = Precision Value-Added Solutions
As effective as these and other adhesive tapes and pressure-sensitive adhesives are, they can be even more effective when die-cut or converted into a custom, precision part.  JBC Technologies offers precision die-cutting, lamination, rapid prototyping, and custom part presentations like sheets and rolls that are perfect for automation on your production line.
For over 30 years, JBC Technologies has used our engineering expertise and unparalleled breadth of vertically-integrated converting capabilities to transform rolls of thin, flexible materials into custom die-cut parts. JBC Technologies partners with industry-leading material manufacturers like Avery Dennison to provide our customers with the most innovative materials to make their custom die-cut parts.
Contact JBC Technologies today to learn more about how our custom performance material solutions can help you convert your design concepts into reality.