By Tim Weiss on
11/10/2016
Is Your Die Cutter Using the Right Equipment?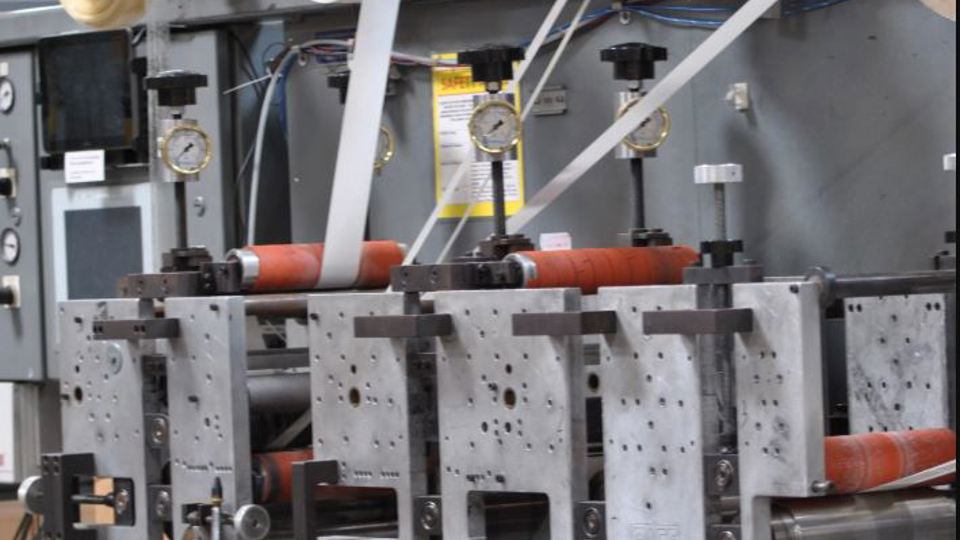 Sourcing managers want to know if their parts are die cut with the right type of equipment. In this blog entry, the second in a series called "Three Questions We Challenge You to Ask Your Current Die Cutter," JBC Technologies examines the importance of equipment selection on part quality and manufacturing costs. Depending on your project requirements, the right type of die cutting equipment may be a rotary, automated belt-fed, traveling head, or automated flat-bed press.
Rotary Die Cutting 
Rotary die cutting is a fast, accurate, and efficient way to produce large volumes of die cut products. As webs travel between rotating cylinders, cutting speeds are measured in feet per minute. Rotary die cutting isn't just fast, however. Rotary die cut parts can feature complex shapes with tight tolerances. In addition, rotary presses can cut cleanly through multiple layers of materials, or produce kiss cut parts where the liner remains uncut for peel-and-stick application.
Automated Belt-Fed Presses
Automated belt-fed presses are fast and powerful. They feature a fully-automatic cutting cycle for reduced operator input and labor costs. With this type of clicker press, the cutting head remains stationary and the belt's movement is controlled electronically. Depending on your project requirements, automated belt-fed presses can be used to die cut sheets or rolls with one or more layers. Large die cut parts are possible, but large metal dies with multiple cavities are expensive.
Traveling Head Presses
As their name suggests, traveling head presses feature a moveable cutting head. They support the production of nested parts and typically use small-to-medium dies in the production of industrial gaskets. With their relatively high cutting force, traveling head presses are ideal for use with die cut foams, composites, and other high-resistance materials. Manual machinery requires an operator to move and position the cutting head, however, and to then pick the die cut part.
Automated Flatbed Die Cutting
Automated flatbed die cutting equipment is hydraulically-operated with a smaller die cut footprint and adjustable cutting pressures. Typically, they feature a four-post design and integrate with modular accessories to support manufacturing efficiency. For example, an automated flatbed die cutter with a knockout table can automatically strip parts from the waste web. Often, automated flatbed die cutting equipment is used with die cut gaskets, PSA materials, metal foils, and paper stock. 
Ask JBC about Die Cutting for Your Next Project
By balancing production efficiency with tooling costs, part costs, and part tolerances, sourcing managers can make the right choices about die cutting equipment. Do you need a rotary, automated belt-fed, traveling head, or automated flat-bed press for your next die cutting project?
For more information, or to get answers to application-specific questions, contact JBC Technologies.