By JBC Technologies on
2/23/2022
JBC Adds Waterjet Cutting Services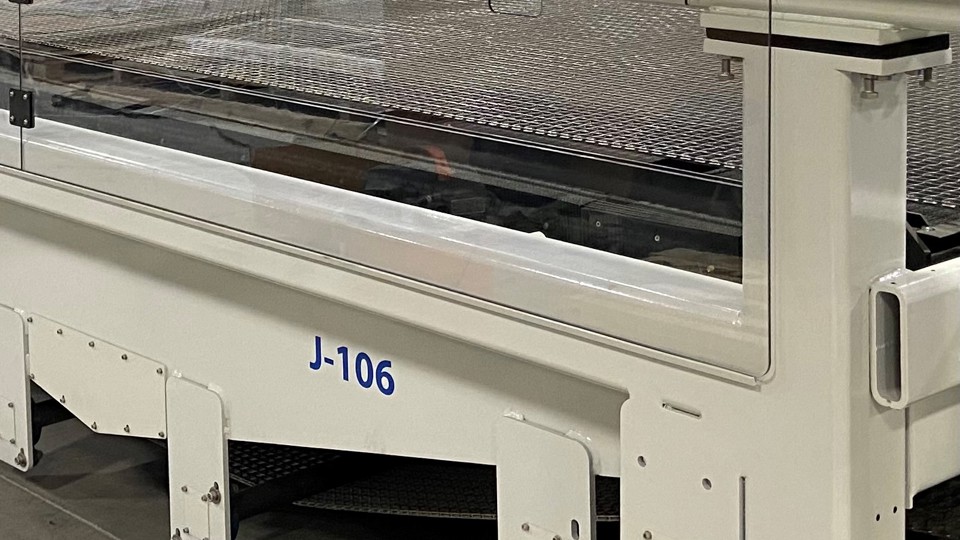 JBC Technologies is proud to announce the addition of waterjet cutting to our already expansive list of converting capabilities.  Not only does the addition of waterjet cutting services enable us to offer our customers a broader range of converting solutions for high volume production, but it also arms us with yet another method to create quick turn prototypes, building on our digital cutting capabilities that include laser cutting, flashcutting, multi-cam CNC router, and an Eastman static table cutting system.
Here are a few reasons to consider waterjet cutting and a brief overview of JBC's new equipment:
Waterjet Cutting Advantages
No tooling required — Perhaps the biggest advantage of waterjet cutting is that you can cut complex parts without the need for tooling. CAD software is used to determine the cut path, speed, and depth.
Pinpoint accuracy — A high level of accuracy can be achieved with waterjet cutting. Tolerances of +/- 0.010" positional and +/- 0.005" repeatability can be achieved.
Cut a wide variety of materials — Waterjet cutting machines have the ability to cut very dense, stiff, and thick materials that traditional die cutting cannot handle. Materials cut with a waterjet include rubber, plastic, foam, thin gauge metal, fabricated wood, and more.
No heat affected zone — Cold cutting with a waterjet does not change the properties of the material eliminating distortion. This also makes it the perfect solution for cutting heat sensitive materials.
Environmentally friendly — No hazardous waste is produced during waterjet cutting. Only pure water is used which is recycled via a closed loop system. In addition, material waste is reduced by closely nesting parts and minimizing kerf.
JBC Waterjet Technical Specifications
Water only J series single head water jet with Acculine cutting head
10' x 6' x 10" cutting table (10 feed outfeed table and 6' infeed table)
Handles sheets or rolls
Driven by stainless steel belt system that drives all three tables
Maximum cutting envelope 120" x 72"
Tolerances: +/- 0.010" positional +/- 0.005" repeatability
One Company, Multiple Cutting and Converting Solutions
In addition to digital cutting services, JBC has an extensive stable of rotary die-cutting equipment, including a brand new Dorey Converting Systems press, multiple Delta Modtech presses, and 18" and 24" wide web-rotary presses. Over 20 narrow and wide web platen presses that cut parts up to 72" wide complete our cutting department. We also provide a variety of ancillary converting capabilities including hot roll and cold pressure laminating, slitting, embossing, microperforating, ultrasonic welding, and dot-matrix printing.
"It is an exciting time for us here at JBC," said CEO Todd Wright. " With the acquisition of Die Cut Technologies we added laser cutting, our new clean room with the Dorey Converting Systems press expands our rotary cutting solutions, and waterjet cutting yet another capability that enables us to be a one-stop converting partner for our customers. We now have even more options available to us to enable us to select the best, most cost-effective precision cutting technology to meet our customers' converting challenges."
Let Us Help You Convert Your Design Concepts Into Reality
For over thirty years JBC Technologies has utilized our engineering expertise and breadth of vertically integrated converting capabilities to turn rolls of flexible materials into custom die-cut parts – helping manufacturers turn their design concepts into reality. The addition of waterjet cutting capabilities enables us to provide another solution for your most complex challenges.
Contact JBC Technologies today to learn how we can help you with your next project.