By Kate Gluck on
9/8/2023
Material Spotlight - Avery Dennison Volt Tough™ Portfolio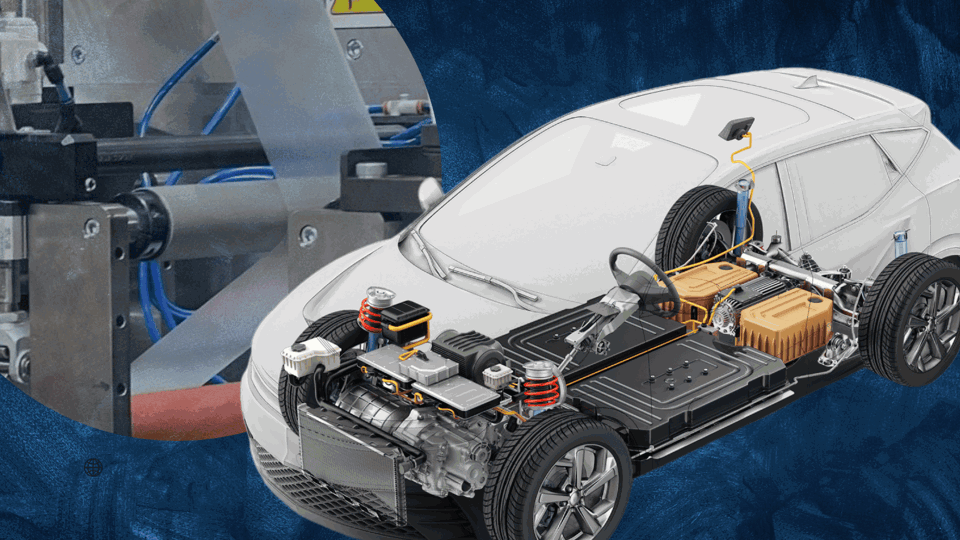 EV Battery Packs: Optimizing Electrical Insulation with PSA Tapes
The electrification revolution is upon us. World governments are pursuing green agendas that seek to mitigate climate change and a variety of industries are working hard to keep up. The automotive market is no exception. Most of today's automakers are electrifying their cars and actively working to design next-generation EV battery pack systems to meet more stringent emissions standards.
As manufacturers explore low-cost EV battery pack solutions that can accomplish large-scale manufacturing goals, they are confronted with common challenges. As a result of high voltages, the risk of electrical arcing has risen as one of those common challenges. Electrical arcing between cells and conductive componentry can result in shorting, damaged cells, and even fire. 
To that end, today, as part of our material spotlight series, we are highlighting Volt Tough™ tapes,  a new product line that is being introduced at the September 2023 Battery Show by one of our strategic suppliers, Avery Dennison.
Volt Tough™, the newest addition to the company's EV portfolio,  was designed for automakers and OEMs seeking to address challenges with electrical insulation. 
An Expanding Product Portfolio
"Avery Dennison has products suitable for a variety of electric vehicle battery applications including electrical insulation," said Scott Krusinki, Market Manager, EV Battery, for Avery Dennison Performance Tapes.

 "We offer adhesive and film technologies that reduce flammability, boost dielectric strength, protect pack materials, and optimize design and assembly. Our Flame Tough™ line, for example, includes both single and double-sided tapes that feature flame-retardant properties. The addition of the Volt Tough™ portfolio broadens our solutions focusing on the rising need for electrical insulation."
Durable Dielectric Tapes for EV Battery Pack Applications 
The Volt Tough™ portfolio offers a wide range of single-sided dielectric tapes designed to help automakers meet electrical insulation requirements within EV battery packs. The portfolio's products range in dielectric strength, thickness, color, flame retardancy, and conformability. The Volt Tough™ products are applicable for a variety of applications, including cooling components, structural components, busbars and cell connection systems, and heat spreaders within a battery pack system. 
Some of the key features and benefits of Volt Tough™ products include:
Thin, consistent profiles, which provide high dielectric strength and enable higher energy density in a battery pack 
Instant bond, eliminating the need for curing time, enabling OEMs and tiers to achieve faster production times 
Conformable options that are able to form to complex geometries.
Tear and abrasion-resistant options to protect against sharp corners, burrs, and external impacts that could cause other tapes and coatings to fail
Flame-retardant versions that enable composites to meet UL®94V-0 and other flame requirements within a battery pack
Currently, Avery Dennison offers four different product families within the Volt Tough™ portfolio: Volt Tough™ PET,  Volt Tough™ UHMW, Volt Tough™ Stretch, and Flame Tough™ PET.   Please reach out to your JBC Technologies representative to help determine which is best suited for your needs. 
---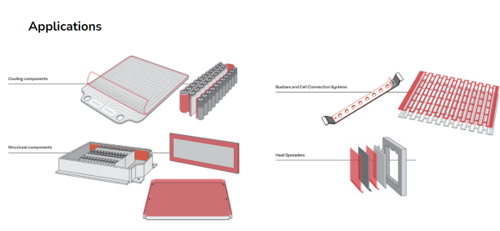 ---
Image compliments of Avery Dennison Performance Tapes

The Benefits of PSA-Backed Films & Tapes versus Spray Coatings for EV Battery Pack Applications 
When comparing PSA-backed films and tapes to spray coatings for EV battery pack applications, PSAs are a clear winner. Most pressure-sensitive adhesives and tapes achieve immediate bond strength while curing times required for liquid adhesives delay production. Adhesive-backed films and tapes also provide high dielectric strength evenly throughout a film or tape. Dielectric spray coatings require high-quality control to ensure consistent application. This directly impacts the material's ability to insulate and withstand high voltage—a central issue when it comes to thermal runaway.
Messy liquid adhesives and spray coatings also waste material, require clean-up time and must be applied by elaborate brushes, nozzles, dispensers, and other expensive equipment. In contrast, pressure-sensitive adhesive tapes can be die-cut to exact sizes and shapes and are a quick, conformable peel-stick-and-press solution for even the most complex geometries. 
JBC Technologies, Custom Die-Cut Solutions for EV Batteries
| | |
| --- | --- |
| As a specialized die-cutter and flexible materials converter, JBC Technologies is a go-to partner for converting your EV battery concepts into reality, by taking rolls of performance materials and specialty adhesives and transforming them into custom parts that solve critical performance issues.  | |
 Whether you need to prevent thermal runaway propagation, seal out air, spread heat, shield heat, fill gaps, or cushion EV battery cells, JBC Technologies can help. We convert performance materials into custom components.
Contact us today to get started on your next custom die-cutting project.