By Kate Gluck on
4/27/2021
10 Best Selection Criteria for 3M™ Shielding & Grounding Tapes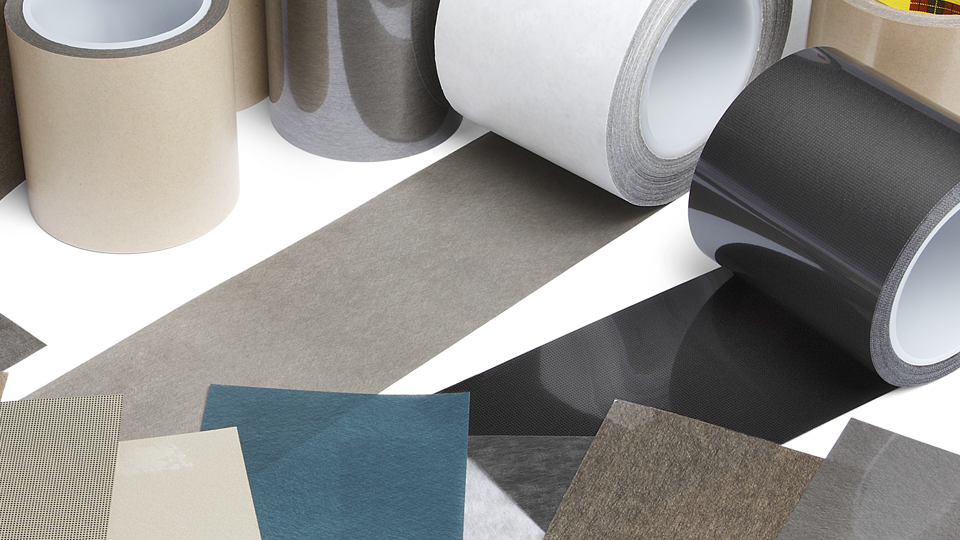 Choosing the Right 3M™ EMI/RFI Shielding Tape -10 Key Questions
Electromagnetic Interference (EMI) and Radio Frequency Interference (RFI) can cause EMI noise, crosstalk, low signal-to-noise ratio, poor signal reception, higher error rates, and slower communication speeds, negatively impacting sensitive analog circuits and sensors. Higher frequencies, electronic components in closer proximity, and increasingly complex products compound the challenge.
The 3M Electronics Materials Solutions Division offers a selection of electrically conductive tapes and adhesives that minimize EMI noise and crosstalk and provide EMI protection from a wide range of frequencies. JBC Technologies can convert these tapes to the specific size, shape, and configuration needed to solve your challenge. 
Yet, due to their complex nature, choosing the right EMI/RFI shielding or grounding tape for your application is not a simple process. This post will walk you through some basic questions to help you determine which 3M Electrically Conductive Tapes & Films will work best for your application.
1. Are you looking for EMI shielding, grounding, or both? 
The first question may seem basic, but in our experience, it is a critical starting point, as even seasoned engineers sometimes confuse the two terms. You don't need EMI shielding to ground signals but grounding to shield EMI. 3M has tapes that perform both functions, so the answer to this question is the first step to narrowing down your options.
2. What is your contact/electrical resistance target?
3M™ Electrically Conductive Tapes offer solutions to address a range of applications with 0.01 - 10 Ω (ohms) electrical resistance on the Z-axis and 0.01 – 50 Ω electrical resistance on the XY-axis.
As a general rule, lower electrical/ Contact R will improve EMI shielding.
3. To what substrate will you apply the adhesive tape?
Because the Contact R required can vary depending on the substrate, we must know the material makeup and surface characteristics you are working with.  This will help our team, and our partners at 3M identify how easy or hard it will be to conductively ground to that surface.
Gold, for example, is a suitable substrate for grounding signals.  Stainless steel can be more difficult, depending on the oxide layer thickness. As a rule, anytime there is an extra layer to protect a substrate, it will be harder to bond to and sufficiently ground signals, so a higher level of adhesion will be needed.
As for surface characteristics, a flat, smooth, or hard surface will have different requirements than a rough, wavy, or bendable surface.
4. How big is the bond line gap/slit between the two substrates?
Even a microscopic gap at the bond line between two substrates can cause EMI energy to escape and lead to EMI noise and crosstalk, which results in poor signal, higher error rates, and slower communication speeds.  The right die-cut 3M™ Electrically Conductive Tape can fill the gap, providing a 100% seal that significantly reduces these issues.
To optimize EMI shielding effectiveness, particularly at high frequencies, the tape must wet-out adequately to fill the gap between the two substrates and create a stronger bond.  This is where knowing the substrate's flatness and/or surface imperfections comes into play. Surface characteristics can impact the tape's ability to conform, fill gaps, and bend around curves.
5. What is the primary frequency of interest? / What level of shielding performance (dB) do you need?
As discussed above, to achieve EMI shielding with a die-cut 3M™ Electrically Conductive Tape is to have a bond line that is 100% sealed. The next step is to ensure you are using the proper tape for the frequencies you are working with. You also want to ensure you have good shielding performance at that frequency.
This comes down to the conductive filler type and particle density. Each conductive filler type has attributes that allow for more or less performance in different areas. We can help you choose the right tape for your application if you provide the frequency range and shielding performance requirements.
 6. Does your application require a Z or XYZ conductivity path?
The conductivity path is another factor that must be considered. 3M™ Electrically Conductive Tapes are available with XYZ or Z axis conductivity.
XYZ-Axis Tapes provide an interconnection between substrates through the adhesive thickness (Z-axis) as well as electrical conductivity in the plane of the adhesive (XY-axis)
7. What operating temperature range, environmental conditions, and chemicals will your product be subject to?
As with all tapes and adhesives, other key considerations are the long and short-term min/max operating temperatures and other environmental conditions like storage temperature and the possibility of coming into contact with chemicals that could alter the performance of the tape.
Be sure to share your desired operating temperature with your JBC Technologies representative. We'll use this information to work with the 3M team to help narrow down which samples to send you.
8. What is the grounding area size?
The answer to this question will help our team select a tape that can make a reliable electrical connection within the available grounding area. This also helps our team estimate the Contact R and adhesion needed to create a strong bond – both of which are critical to identifying the right tape to use for your application.
For example, you would need a lower Contact R if you have a small contact area (grounding area), whereas if you have a large contact area, a higher Contact R will work.
9. What is your desired adhesion level?
Adhesion, measured by tensile strength, is the ability of an adhesive to stick and bond two surfaces together. It does not involve any chemical bonding. Bond strength, on the other hand, is a permanent chemical attachment. It is achieved when the adhesive wets out the substrate.  
Both are important to consider when choosing a tape.  Tapes and adhesives with high adhesion, for example, can harm sensitive, thin substrates but are ideal in other circumstances.  With electronically conductive tapes, bonding is critical to make an electrical connection because, without a strong bond, the electricity cannot transfer through the tape.
10. Where and how will the tape be applied?
When it comes to adhesive science, where and how the tape is applied can impact the performance of the tape and should be factored in during the selection process.  The four core elements to consider are temperature, application, time, and pressure, all of which are covered in more detail here.  
Ready to Get Started?
Turn to JBC Technologies for Custom Die-Cut EMI/RFI Shielding and Grounding Tapes
This Go-To Electrically Conductive Tapes & Films Selection Guide provides insight into "good, better, best" solutions and identifies the high-performing products considered go-to tapes for many applications.   
As helpful as this guide is, though, it is no substitute for expert guidance.  Contact or call us at 440-327-4522 and we'll get to work on your next project. JBC Technologies is a 3M Preferred Converter with over 30 years of experience turning rolls of performance materials into custom die-cut parts in the automotive, appliance, HVAC, medical, and electronics industries.