By Mark Swanson on
2/4/2016
Why Appliance Manufacturers Like Die Cut Parts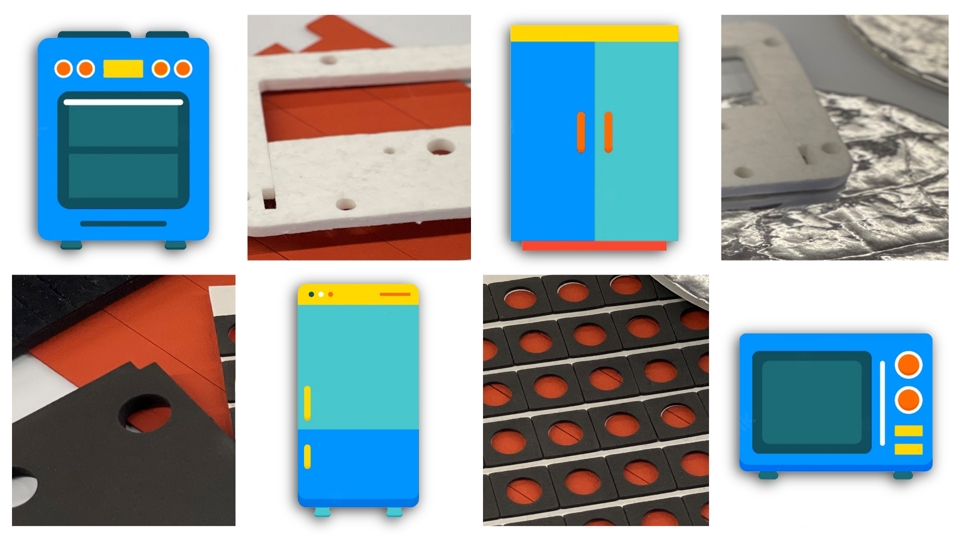 Appliance manufacturers need parts that are cost-effective to make, easy-to-install, and that support larger product designs. Dishwashers, ovens, and other appliances contain numerous components made of foams and elastomers, thermal and acoustic insulation, and rubber and plastic materials. Consumers don't buy appliances because of these parts, but engineers and sourcing managers need to specify them. Is die cutting the right production technique for your sealing or insulation application?
Advantages of Die Cutting
Die cutting is more precise than the hand cutting that's done with tools such as scissors or shears. Die cut gaskets are also more uniform, and feature crisp, clean cuts every time. As a manufacturing technique, die cutting is suitable for hard or soft materials in small-to-large production runs. Metal dies are relatively inexpensive, too. Importantly, die cutting supports more efficient material usage because of the way that parts are laid out on sheet materials. This means less material usage and waste, and lower overall costs.
Die Cut Appliance Parts
Engineers who work for appliance manufacturers know that it's better to produce a part correctly the first time. Sourcing managers understand that manufacturing defects can result in costly rework, expensive field repairs, or time-consuming warranty work. Die cut thermal insulation, acoustic insulation, and vibration dampening materials must all support a positive customer experience. These parts aren't as noticeable as appliance touchpads or digital displays, but they affect perceptions of quality and durability.  
Die Cut Thermal Insulation
Appliances generate significant amounts of heat. Unless this heat is dissipated, problems such as fan, pump, or motor failure may result. The unwanted transfer of heat from an appliance such as an oven can also decrease its energy efficiency and raise room temperatures. Thermal insulation reduces or prevents these heat transfers, which eliminates potential problems and promotes product performance. In addition to kitchen and restaurant ovens, die-cut thermal insulation is used with dishwasher heating elements.   
Die Cut Acoustical Insulation and Vibration Dampening
Appliance components such as fans, pumps, and motors can also produce significant amounts of noise. This can present a problem since appliances are usually located near a household's living space, or are used in busy environments such as restaurant kitchens where employees need to communicate. Die cut acoustical insulation dampens unwanted sounds from appliances and may also isolate vibrations. In dishwashers, die-cut insulation blankets are used around the tub. Die-cut mats are also used on the floor.
Custom Die Cutting for Appliance Parts
Do you need die cut appliance parts for acoustic insulation, thermal insulation, or vibration dampening? Are you ready learn more about the advantages of die cutting over other part production methods? Would you prefer a manufacturing partner that you can trust instead of just a parts provider? For die-cut parts that meet all of your appliance manufacturing requirements, contact JBC Technologies.