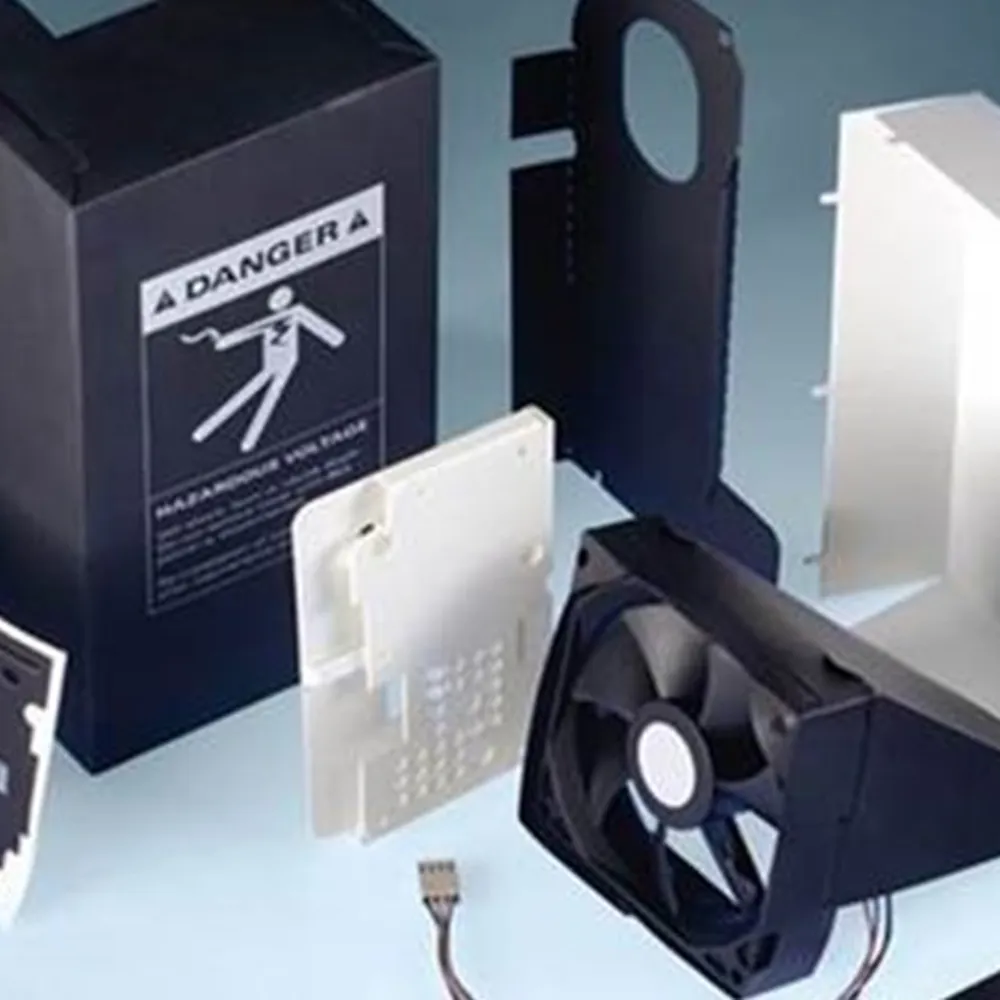 Frequently Asked Questions
ITW Formex
Thermal & Electrical Barrier
ITW Formex™ is a flame-retardant electrical insulation and barrier material. Flame retardant materials provide superior electrical insulation in industrial and consumer electronic equipment. No other flame retardant, electrically insulating material can match the flexibility and performance of Formex™ for cost-effective fabricated parts.
JBC Technologies uses precision die cutting, lamination, and other converting methods to manufacture custom components made with Formex™ materials, all designed to help manufacturers and engineers with their thermal management and electrical insulation applications.
You probably have questions about ITW Formex™ and may be curious about what makes this unique performance material such a great thermal and electrical barrier option for industries from electronics to automotive. Just look through this list of questions and answers - we're sure it'll help. And if you've still got some Formex™ questions when you're done, please let us know.
ITW Formex™ Thermal & Electrical Barrier | Frequently Asked Questions
Formex™ is a proprietary plastic (polypropylene) that combines dielectric strength with UL-94 flame resistance. Formex™ can resist moisture absorption, making it a good choice for outdoor applications, such as IP cameras and access control systems.
Download the ITW Formex brochure to learn more.
Formex™ is manufactured by ITW Formex in Carol Stream, IL. The company has operations in 57 countries that employ more than 50,000 people.
Formex™ is typically made in bulk rolls and large sheets and can be die-cut into a wide range of shapes.
Formex™ has successfully replaced a variety of electrical papers and thermoplastic materials and injected molded parts like fabricated internal parts, such as airflow baffles and wire harness organizers
Compared to electrical insulation like aramid paper and fishpaper, alternative materials like ITW® Formex™ have characteristics that can reduce cost and improve design performance.
Unlike fishpaper (cellulose) and aramid paper (aromatic polyamide), Formex™ polypropylene electrical insulation is non-hygroscopic, meaning that Formex™ retains its structural integrity and dimensional stability even in demanding outdoor applications.
Formex™ also has greater dielectric strength than traditional electrical insulation papers meaning that thinner sheets of insulation material can be used to save cost and weight.
There are (4) different grades of Formex™ available — Formex™ GK, Formex™ GL, Formex™ GS, and Formex™ N3.
Formex™ GK
Extruded Sheets – thickness 0.005 in - 0.062 in (0.127 mm to 1.57 mm)
Temperature Rating 239°F/115°C
Water Absorption <0.06%
Dielectric Strength 2,200 Volts/mil @0.005 in
UL Recognized File E121855
Formex™ GL
Thicknesses of 0.010 in, 0.017 in, and 0.026 in (0.254 mm, 0.43 mm. and 0.66 mm)
Temperature Rating 239°F/115°C
Water Absorption <0.06%
Dielectric Strength 1,683 Volts/mil @0.010 in
Flame retardant
RTI temperature of 257°F/125°C
UL Recognized File E121855
Formex™ GS
Thicknesses of 0.010 in, 0.017 in, and 0.030 in (0.254 mm, 0.43 mm. and 0.76 mm)
ESD (ElectroStatic Discharge) Protection
Flame Retardant
RTI temperature of 239°F/115°C
UL Recognized File E121855
Formex™ N3
Thicknesses of 0.008 in and 0.010 in (0.20 mm and 0.25 mm)
Halogen-Free
Excellent Dielectric Strength
Flame Retardant
Multi-Layer Polycarbonate Sheet
UL Recognized File E121855
ITW Formex™ is a cost-effective UL 94 V-0 flame retardant electrical insulator for applications in
Automotive
Computers & Peripherals
Power Supplies
Consumer Electronics
Power Distribution Systems
Electric Vehicle (EV) Batteries
Lighting
Medical Devices
Formex™ can be machined and cut into nearly any shape using a variety of traditional manufacturing and converting methods. These methods include (but are not limited to):
Die Cutting – Including steel rule/flatbed, high-speed rotary, and male/female dies.
Heat Forming - A simple process using low-cost tooling to produce parts with permanently formed angles.
Laser & Waterjet Cutting – Production of samples, maintenance volumes, rapid prototyping, and high-speed production
Machining - Fabrication with conventional machining techniques
Thermoforming - Produces complex, rigid, three-dimensional shapes.
*JBC does not provide all the manufacturing services listed above. Consult your JBC Technologies sales or customer service representative for additional information.
Chemical Resistance – Maintains mechanical/electrical properties under exposure to common cleaners and household chemicals.
Cost-Effective & Lightweight – Lower overall part cost with thinner materials
Excellent Score & Fold – Parts resist cracking/splitting.
Non-Hygroscopic – Does not attract water for ultra-low moisture absorption
UL 94 V-0 Flame Class Rating – Meets global fire safety standards
Static Dissipative (Formex™ GS) – Quickly dissipates static charge to ground
Superior Dielectric Breakdown Strength – Protects electronics from electric surges
Formex™ is RoHS Compliant, meaning that it has been tested for ten banned substances by an independent authority and that the tests confirmed levels of these substances are below the RoHS threshold.
ITW Formex® polypropylene and polycarbonate electrical insulator materials meet the requirements of the following global standards:
North America: UL, CSA, METI
Europe: IEC, VDE, TUV, BSR
Formex™, Formex™ GK, in particular, is ideal for various EV battery applications. It offers superior dielectric strength, an elevated temperature rating, and exceptional moisture and chemical resistance. Formex provides mechanical protection, electrical insulation, EMI shielding, contact corrosion resistance, and more.
Specifically, Formex GK is suitable for EV:
Battery covers, brackets, busbars, and cell spacers
Battery management systems (e.g., DC/DC converter, onboard charger, and energy management systems)
Charging stations (e.g., electrical storage systems - the charger and the power bank)
Read more about why ITW Formex is a great material for EV batteries.
 Formex helps design engineers overcome concerns regarding:
Fire and flame retardancy: Formex achieves a UL94 – V0 rating and has an ability to self-extinguish in under 30 seconds.
Temperature tolerance: Formex has an RTI of up to 130℃.
Performance degradation: As an insulation material, Formex still achieves its original electrical/mechanical specifications after 50% performance degradation.
Short circuits due to arcing: Formex can withstand greater than 120 arcs and provides superior static dissipative ESD protection.
Moisture: Formex is non-hygroscopic, achieving water absorption rates as low as .06%.
Chemical erosion and resistance: Formex maintains its mechanical/electrical properties when exposed to chemicals.
Weight/space: Formex is a lightweight solution that can be cut as thin as 0.005".
UV proofing: Formex is very durable in different conditions and exposures. Following rigid UL 746C test protocol, UL granted Formex GK black electrical insulation material its f1 rating as a certified product for use in outdoor environments.
Formex™ GK can be scored and folded into three-dimensional shapes, making it a highly versatile product that substantially reduces the costs associated with fabricating, warehousing and shipping.
Die cut parts fabricated from Formex™ are cost-effective replacements for injection molded or sheet metal parts used inside electrical equipment. In these applications, Formex֭™ parts not only are easier to use, they also reduce tooling and fabricating expenses and cut inventory and warehousing costs.
JBC Technologies can process Formex™ using many different manufacturing methods as well as our precision material converting processes
Lamination - Laminating with aluminum or copper foil provides EMI/RFI shielding
Welding - Formex™ can be bonded to itself using conventional plastic welding techniques.
Marking/Printing - Materials may be embossed or printed to display product identification, part numbers, safety messages, or technical information.
Thermal & Electrical Barrier
ITW Formex
Custom Solutions
ITW Formex™ is a cost-effective UL 94 V-0 flame retardant electrical insulator that is effective in various industries, from automotive and electric vehicles (EVs) to lighting, consumer electronics, and medical devices. The insulating material is available in rolls and sheets, and we can fabricate it into a wide range of shapes and sizes.
Learn more by reading our Formex™ Frequently Asked Questions, and when you're ready to get started on your next custom die-cut Formex project, click the Contact Us button below.
Contact Us