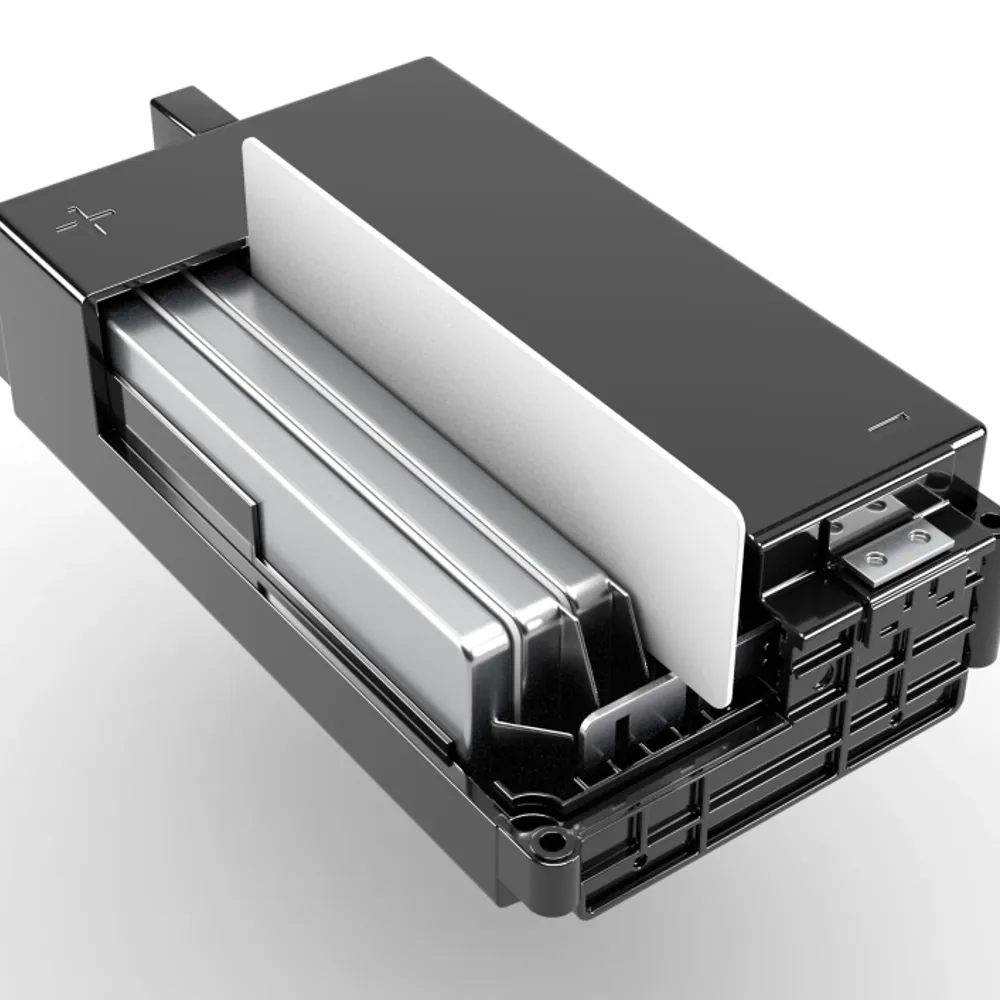 Frequently Asked Questions
EST™ Compression Papers
EV Battery Thermal Management
EST™ Compression Papers from Morgan Advanced Materials are designed to accommodate the cyclical expansion experienced by the pouch and prismatic battery cells during the routine operation of an electric vehicle.
JBC Technologies can die-cut these specialized ceramic papers into custom shapes and laminate them into multi-material stack-ups — pretty much convert them into whatever EV battery manufacturers need to help them in their fight against EV battery thermal runaway.
EST™ Compression Papers | Frequently Asked Questions
EST Compression Papers are a family of thin, flexible, and compressible insulating papers of varying thicknesses (up to 0.24 in/6mm) specially designed to accommodate the cyclical expansion experienced by pouch and prismatic rechargeable battery cells during routine operation.
EST™ Compression Papers are manufactured by the Thermal Ceramics division of the Morgan Advanced Materials.
EST™ stands for Energy Storage Technology. The EST portfolio at Morgan was developed specifically for lithium-ion battery thermal runaway management in automotive, stationary storage, or other applications. The Compression papers are part of the Morgan Thermal Ceramics EST™ product family.
The EST™ C30 and EST™ C310 Papers take advantage of Morgan Thermal Ceramics low biopersistent Superwool® fibers, combined with a proprietary formulation to control the overall compression forces within targeted ranges while keeping the solution UL94 V-0 compliant.
As part of the strategic sourcing process outlined in the Morgan Advanced Materials Conflict Minerals Policy, Morgan conducts due diligence risk assessment of all their suppliers. Morgan also makes a large portion of the raw materials used to make EST™ Compression Papers, and that vertical integration helps contribute to their green initiatives by reducing their carbon footprint.
Morgan also uses alkaline earth silica (AES), a low biopersistent ceramic fiber, to eliminate any possible health and safety concerns from carcinogens found in other ceramic fibers, and they recycle most of the water used in the manufacturing process.
EST™ Compression Papers are commercially available in two types: EST™ C30 and EST™ C310. The pressure (in kPa) required to reduce the thickness of the paper by 20% is represented in the product name — i.e., EST™ C30 requires 30 kPa (4.4 psi) to reduce the paper thickness by 20%.
This represents a range of current capabilities; if an application requires customization of the compression force, Morgan can accommodate it within this range.
EST™ C30 compression paper is available as rolls and sheets.
EST™ C310 compression paper is available in rolls up to 2mm (0.079 in) in paper thickness. Due to the material stiffness, EST 310 paper thicker than 2 mm (0.079 in) is provided in sheet form only.
EST™ Compression Papers are available in thicknesses from  0.03 in - 0.24 in (0.8 mm – 6 mm). Custom thicknesses may be available upon request.
EST™ Compression Papers are available in densities ranging from 15 to 31 lbs/ft3 (240 to 500 kg/m3). Material density will vary depending on material type and application need.
The material is designed to be cut and placed between the pouch or prismatic battery cells found within a typical EV battery pack. This offers a dual-use solution that acts as the cells' compression pad and thermal barrier.
EST™ Compression Papers are non-flammable UL94 V-0 rated substitutes for the polymer foam inserts normally found between battery cells in an EV battery pack. EST Compression Papers act as a thermal insulators designed to delay thermal propagation in the case of a runaway thermal event.
EST Compression Papers are good thermal insulators and compression pads on the market. High performance in both categories is unique to the EST Compression Paper product portfolio.
An additional differentiator for the EST™ Compression Paper product line is the ability to tailor a compression curve to the customer's needs. It could also be soft and squishy for a pouch cell or more robust for a module or prismatic cell.
Passive fire protection within lithium-ion rechargeable battery systems is the most common use for EST™ Compression Paper. It is also suitable for any application that requires passive fire protection and is especially useful in applications that require the solution to breathe with the system.
Compared to traditional foam battery compression pads, EST Compression Papers are lighter-weight, have a higher usability temperature, and have much lower thermal conductivity.
Compared to a standard insulating ceramic fiber paper, the critical performance improvement offered by EST™ Compression Paper is cyclic compression. Traditional ceramic fiber papers can't "breathe" with the battery cell on charge and discharge, which is crucial for cell health.
The goal is to keep the battery cells healthy for as long as possible. In the event of thermal runaway, however, EST™ Compression Papers are designed to mitigate the event by isolating the system with low thermal conductivity better than any foam can at the required temperatures.
EST Compression Papers are comprised mainly of Superwool low biopersistent ceramic fiber manufactured by Morgan Advanced Materials. This material is not classified as carcinogenic by IARC or under national global regulations. They have no requirements for warning labels under GHS (Globally Harmonized System for the classification and labeling of chemicals).
In Europe, Superwool fiber meets the requirements specified under Note Q of European Regulation EC/1272/2008 (on Classification, Labelling, and Packaging of substances and mixtures). Handling material with safety glasses is recommended to protect the eyes from dust.
EST™ Compression papers have a classification temperature range of 2010 – 2370°F (1100 – 1300°C).
EST™ Compression Papers can be customized using various converting methods, including slitting, laminating, and die cutting. The CFD (Compression Force Deflection) curves of the compression papers can also be customized for specific applications.
They are designed to mimic the cyclic compression of most polyurethane foams or some stiffer silicone. Cyclic compression and keeping force and pressure in the right amount on the battery from beginning to end-of-life conditions is critical to cell health.
The EST™ compression papers are ceramic fiber materials with endothermic and organic material. The organic material allows it to meet compression requirements, while ceramic fiber, endothermic, and off-gassing fillers assist if something goes wrong. So now you have dual-use material with a thermal barrier, as well as that cyclic compression. The combination helps save space and cost while increasing safety all at the same time.
Flexible, Lightweight, Effective
EV Battery Compression
Thermal Management
EST Compression Papers from Morgan Thermal Ceramics are highly customizable and can be surface-laminated to minimize dusting or supplied with peel-and-stick pressure-sensitive adhesive (PSA) backing. Custom die-cut solutions made with EST Compression Papers are the ideal solution for combating localized thermal hot spots and extending EV battery lifetime and safety.
Contact Us