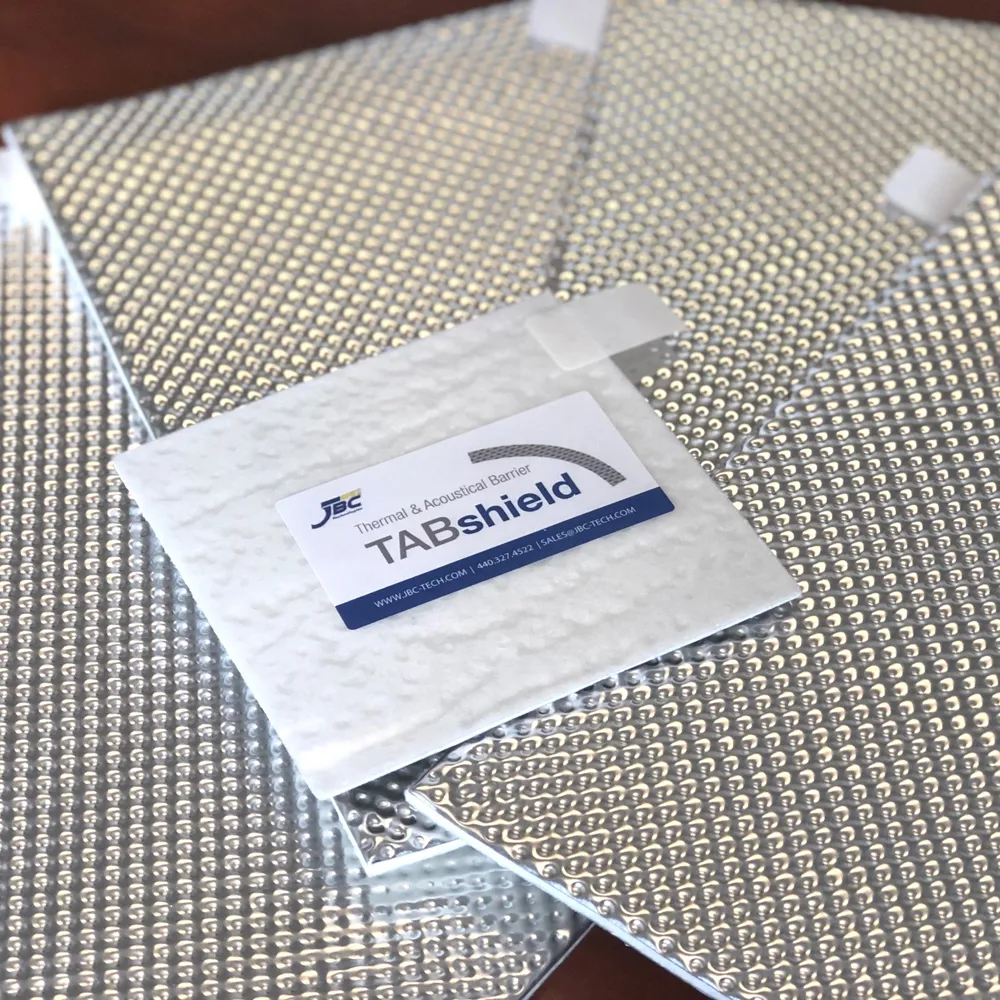 Frequently Asked Questions
TABshield™
Thermal and Acoustic Insulation
TABshield from JBC Technologies is a lightweight alternative to traditional metal heat shielding. It's easy to install, conformable to most shapes, and an ideal solution for various targeted noise and heat suppression applications.
Some other things you may know about TABshield are that it's available in sheets and rolls and can be die-cut into custom shapes and geometries. You may not know, however, that TABshield patches can be customized with pull tabs for easier liner removal, different adhesives, embossing, and microperforating for improved acoustical performance.
We've compiled a list of the most commonly asked questions about TABshield and their answers. Hopefully, these will answer most of your questions, but if you've still got more when you're done reading through them, don't hesitate to give us a call or contact us.
TABshield | Frequently Asked Questions
TABshield™ is a lightweight, easy-to-apply thermo-acoustical composite shielding material comprised of a thin aluminum foil facing laminated to an insulation core with a peel-and-stick adhesive tape backing. TABshield generally consists of a thin aluminum foil facing up to 10mil thick, fiberglass:polyester blend insulation core, and pressure-sensitive adhesive backing.
TABshield customization options include aluminum thickness, insulation blend, and adhesive backing type.
JBC recommends that TABshield™ is installed using its integrated peel-and-stick, pressure-sensitive adhesive backing. TABshield may also be installed using mechanical fasteners, but this installation method should be evaluated by the end user for proper fit and performance. TABshield can be cut to shape using scissors (thin gauge foil facing) and tin snips. Better yet, JBC can custom die-cut your TABshield to your exact size and shape specifications. 
If you want to shield something from excess heat or noise, TABshield makes an excellent choice. TABshield is a thermal/acoustic barrier material that acts as both a heat and sound barrier. TABshield offers targeted protection against heat and noise, and because it can be cut to shape, it can be placed precisely where it's needed with minimal waste.
Before using the integrated pressure-sensitive adhesive to apply TABshield to any substrate, it's essential to recognize that the surface's condition will significantly impact the performance of the adhesive and, therefore, the performance of the TABshield itself. Adhesion factors to consider – the type of material to which you plan to adhere TABshield, the surface cleanliness and level of contamination, moisture, external temperature, and application pressure/time.
The maximum indirect/ambient air temperature exposure limit (continuous use) recommended for installations of most constructions of TABshield™ is 400°F (≈200°C). The end-user should evaluate TABshield installations with planned exposure to temperatures above 400°F.
Please consult your JBC Technologies technical service or sales representative for information regarding high-temperature insulation and adhesive backing options.
TABshield™ does not have a standard constriction. TABshield represents a family of products represented by three different product series:
TABCORE: Insulation only (with or without pressure-sensitive adhesive)
TAB100 Series: Aluminum Foil + Insulation available with or without pressure-sensitive adhesive backing
TAB200 Series: Aluminum Foil + Insulation + Pressure-Sensitive Adhesive backing
Unless otherwise requested, TABshield series products have a 50:50 fiberglass:polyester blend insulation and adhesive-backed options feature a peel-and-stick high-temperature acrylic PSA. Other customization options are available upon request.
Depending upon your volume requirement, the core series of TABshield products can be customized in several ways to suit your application. You can tailor TABshield to your performance requirements by choosing the
Aluminum foil thickness
Core insulation
Pressure-sensitive adhesive backing
Foil surface embossing (texturizing) and/or microperforating (tiny holes)
TABshield meets the requirements of Ford OEM specification WSS-M99P32-E6.
Some typical automotive applications for TABshield™ thermal acoustic barrier material include:
| | |
| --- | --- |
| | |
| Tunnel and dash insulator | |
| | |
| | |
| | |
| | |
TABshield isn't offered in a standard or base construction, but as an example, the average thickness of a TABshield construction consisting of a 3-mil aluminum foil, fiberglass:polyester blend insulation core, and high-performance pressure-sensitive adhesive backing is approximately 0.16 in (4mm).
You can use TABshield™ thermal and acoustic barrier material outside automotive applications in marine engine shielding, industrial machine noise and thermal reduction, HVAC, and even appliances. We recommend you test TABshield in all applications to ensure applicability and performance.
Cold temperatures can negatively affect the adhesive tapes used on TABshield™ thermal acoustic barrier material. For best results, we recommend an installation temperature of at least 60°F (about 16°C).
TABshield is available for sale in sheets, roles, or custom die cut to your exact specifications, through your local JBC Technologies sales representative, by calling our main number at 440-327-4522, or contacting us through our website. You can also email us at sales@jbc-tech.com.
TABshield is available as rolls at 48-in (122-cm) by up to 300-ft (92-m) long and in (3) standard sheet sizes:
Full – 48-in x 42-in (1,219-mm x 1,067-mm)
Half – 42-in x 24-in (1,067-mm x 610-mm)
Quarter – 24-in x 21-in (610-mm x 533-mm)
Rolls may be purchased with either trimmed or untrimmed edges. Please consult with your JBC sales representative for additional details.
The standard JBC foil embossing pattern is called "pebble" and features a repeating pattern of raised bumps approximately 0.063 in (1.6 mm) in height with a density of 31 bumps/in².
The standard JBC foil microperforating pattern features a repeat of tiny holes (microperforations) approximately 0.016 in in diameter (0.4 mm) spaced 0.08-in (2 mm) apart with a density of 325 holes/in².
Embossing the foil facing of TABshield™ imparts stiffness to the thin metal foil and supports vehicle lightweighting efforts while helping to control design costs.
Compared to flat, feature-less substrates, embossed sheets are easier to form into larger, 3D-formed pieces such as engine dash insulators, hood insulators, and tunnel shields for underbody systems. Embossing also supports smoother transitions across rough corners and enhances noise reduction by disrupting sound waves.
Micro-perforating creates tiny holes in the aluminum foil facing of TABshield™. These holes or micro-perforations improve acoustical performance by absorbing noise across a specific frequency range. Micro-perforating, particularly for automotive heat shielding applications, also complements manufacturing processes like embossing and lamination.
JBC Technologies can make TABshield™ with aluminum foil thicknesses up to 10mil (0.25mm). Foil types other than aluminum and thicknesses above 10-mil may be available upon request.
Yes. TABshield™ can be applied to low surface energy (LSE) materials using the optional LSE adhesive. LSE adhesive tape backing is available for an upcharge upon request.
Some common examples of low surface energy (LSE) materials include powder-coated metals, high-density polyethylene (HDPE), Teflon, polypropylene, and Nylon.
New and unused TABshield™ sheets and rolls should be stored in a climate-controlled environment free from wide swings in temperature and humidity. The ideal storage temperature for TABshield is between 50 – 70°F (10 – 21°C) and away from moisture and direct sunlight.
TABshield has qualified for FMVSS302 flammability requirements with a self-extinguishing rating (FMVSS302 & SAE J369) and a UL-94 V-0 vertical burn rating.
TABshield adhesion performance and durability measured and qualified to:
Heat Aging (up to 400°F / ≈200°C)
Environmental Cycling (heat, humidity, cold cycling)
Corrosion Resistance (Salt Spray Chamber, 500 Hours)
Fluid Immersion (water, salt water, acids, & common automotive fluids)
Qualified to various interior requirements for odor, fogging, and mildew
Physical Strength Maintained (tensile, tear, laminate strength)
Flexible, Lightweight, Affordable
Targeted Heat Shielding
Solution
TABshield's easily-customizable multi-layer construction with optional peel-and-stick pressure sensitive adhesive (PSA) backing is simple to install and highly conformable to complex surface geometry making it the ideal solution for combating localized thermal hot spots and post-design build noise/vibration/harshness acoustics.
Contact Us