By Bob Lesher on
4/13/2023
10 Medical Uses for Differential Double-Sided Adhesive Tape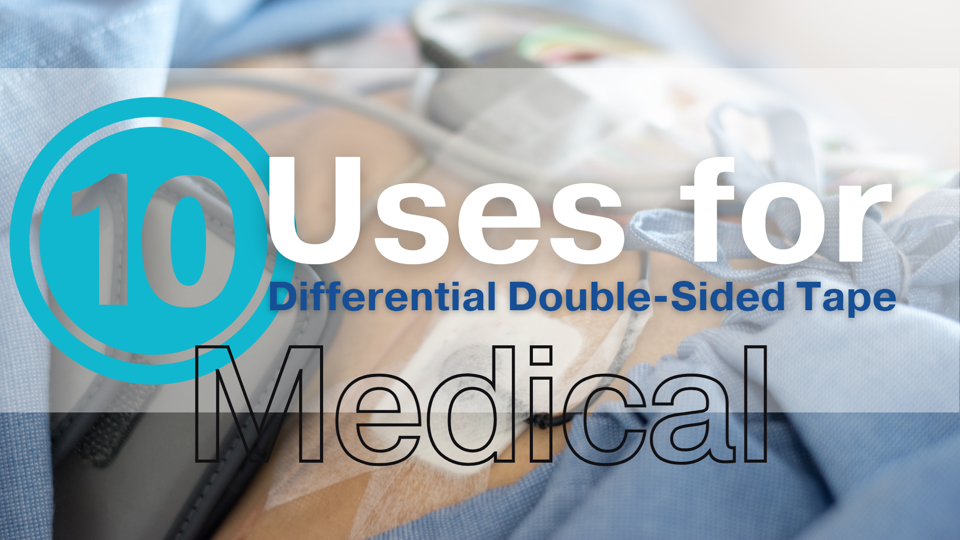 Differential Tapes: The Dual-Adhesive Double-Sided Tape
As we outlined in our earlier post, Differential Double-Sided Tapes Defined | The Basics, a differential adhesive tape is a particular variety of double-sided tape. Whereas your everyday double-sided tape has the same adhesive on both sides of the tape liner, a differential adhesive tape has different types of adhesive on each side.
This two-faced approach to adhesive tape bonding makes differential tape the perfect choice for bonding two materials with significantly different surface characteristics. It's also the main reason you'd probably choose to use a differential tape in the first place.
In our post, 10 Uses for Differential Double-Sided Tape | Automotive, we covered how differential adhesive tape is commonly used in the automotive industry. Here, we turn our attention to its medical applications.
Why Use Differential Double-Sided Tapes for Medical Applications?
The main reasons that differential double-sided adhesive tapes have grown in popularity for medical and healthcare applications are essentially the same across all industries: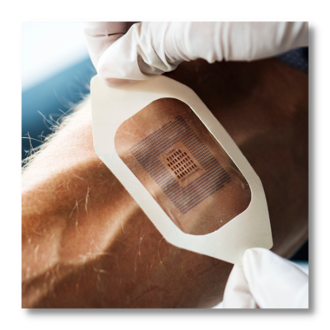 Versatility - Widely used across many medical applications for both patient care and devices
Reliability - Excellent bonding strength and resistance to failure from moisture and heat exposure
Efficiency - Peel and stick adhesive tapes are easy to apply, can be repositionable, and reduce waste
Often, medical tape applications require a balance of two adhesives - one for strong bonding to devices and equipment and one for gentle bonding to patient skin.
Their double-sided tape benefits and dual-adhesive technology provide a secure and long-lasting hold while remaining gentle on the skin. This makes differential double-sided tapes an ideal choice for medical applications where patient comfort and safety are paramount.
The unique properties of differential double-sided tapes make them an ideal choice for various medical applications. They provide a secure and reliable hold while remaining gentle on the skin, which can lead to improved device performance, better patient comfort, and more ideal healing outcomes.
Medical Applications & Differential Double-Sided Tape
Differential double-sided pressure-sensitive adhesive tapes are widely used in the healthcare and medical industries because they have all of the benefits of a standard double-sided tape and can bond well with many different materials, including  low surface energy (LSE) plastics and painted surfaces.
These performance characteristics and adhesive flexibility are why medical applications for differential tapes have been a growing segment of this overall market.
Medical Uses for Double-Sided Differential Tape
Applications for differential adhesive tape within the medical industry are everywhere. From bonding sensors and probes to wearable medical devices, bond materials like plastics, metals, and fabrics in the medical device industry. It's also commonly used to attach sensors, electrodes, and other components to medical devices and attach them to patient skin.
10 Common Medical Uses for Differential Adhesive Tapes
A differential tape's ability to form a strong bond with different materials and conform to complex shapes makes it an ideal choice for medical devices requiring precise placement and long-term adhesion.
High-Performance Differential Adhesive Tapes for Medical Applications
JBC Technologies partners with the industry's best medical adhesive tape manufacturers. When you partner with us on your medical adhesive tape application, you're guaranteed a selection of the world's best medical tapes.
Here are a few examples of differential adhesive tapes for medical applications from three of our valued adhesive tape manufacturers: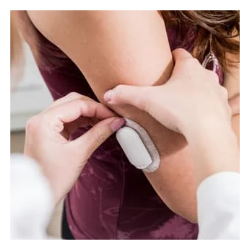 3M™ Medical Tape 1577: A hypoallergenic, non-woven, medical-grade tape that is gentle on the skin, easy to apply and remove, provides a secure hold for dressings, bandages, and other medical devices, and is water-resistant.
Avery Dennison MED 6506SI: A double-coated, transparent polyurethane film with a soft silicone adhesive (SSA) to adhere to the skin and a synthetic rubber adhesive with good initial tack and adhesion that is suitable for a wide variety of materials.
Polyken® 3577C from Berry Global: A double-coated foam tape with a non-sensitizing acrylic adhesive on the air side and a high-shear rubber-based adhesive on the liner side. Conformable and easily adaptable to medical devices and body contours.
JBC Technologies for Custom Die-Cut Differential Double-Sided Adhesive Tape & Medical
With our 30+ years of experience, cleanroom manufacturing capabilities, and state-of-the-art production in four states, JBC Technologies can provide our customers with high-quality, tailored solutions that match their unique needs.
Our internal team and medical adhesive tape manufacturing partners collaborate with our clients to understand their requirements and, if necessary, build custom adhesive solutions to maximize performance, decrease costs, and improve efficiency. Contact us today for your next custom medical adhesive tape die-cutting project.