By Mark Swanson on
1/6/2017
Die Cut Ceramic Papers: Vendors and Trade Names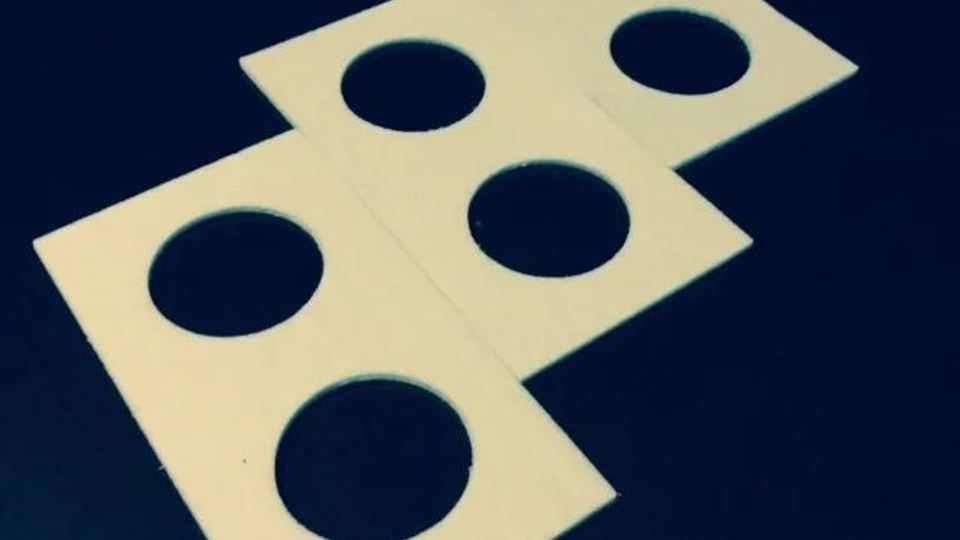 Thermal insulating materials are like snowflakes. They may all seem the same, but no two are alike. That's why as part of our winter-long blog series about materials for die cutting, JBC Technologies is taking a closer look at vendors and trade names for die cut insulation.
JBC works closely with leading suppliers, and can help you to select ceramic papers, wet laid insulation, and needled materials for your high-temperature application. This week, we'll examine die cut ceramic papers. They fall into two basic types, but there's a blizzard of vendors and trade names.
Two Types of Die Cut Ceramic Papers 
JBC die cuts two main types of ceramic papers: refractory ceramic fibers (RCF) and alkaline earth silicates (AES). RCFs are amorphous synthetic fibers made of calcined kaolin clay or a combination of alumina, silica, and other oxides. They're used mainly in furnaces and kilns. AES papers consist of mineral-based raw materials instead. They're used mainly in domestic appliances and for fire protection.
Refractory Ceramic Fibers (RCF)
Many different RCFs are available. Minseal makes CeraTex®, which offers excellent corrosion resistance and good dielectric strength. Unifrax makes Fiberfrax®, a family of strong, lightweight, and flexible materials. Lydall® makes LyTherm®, a group of ceramic papers with excellent dimensional stability. Grades of LyTherm® range from utility papers to high-purity alumina papers.
Morgan Advanced Materials makes Kaowool®, a ceramic paper which provides good resistance to tearing; and Cerablanket®, Cerachem®, and Cerachrome®, types of refractory fibre blankets. All three grades have excellent chemical stability and provide good sound absorption. Applications include furnace door seals and thermal barriers for the automotive industry. JBC die cuts ceramic papers from Johns Manville, too.
Alkaline Earth Silicates (AES) 
JBC can also provide die cut parts made of AES papers. Morgan Advanced Materials supplies Superwool®, a low bio-persistent fibre with low thermal conductivity and minimal linear shrinkage. The Superwool® family contains two fibre grades: Superwool® Plus and Superwool® HT. JBC also die cuts Insulfrax® and Isofrax® blankets and boards from Unifrax. Both materials have low bio-persistence.
Learn More Next Week
We hope you've found this blog entry to be helpful, and invite you to keep coming back as we continue our winter-long series about materials for die cutting. Next week, JBC will examine wet laid paper and needled materials. In the meantime or at any time, please contact JBC Technologies to request a quote or to receive more information.