By Mark Swanson on
6/28/2017
Die Cut Foam Materials: Trade Names for Open Cell and Closed Cell Foams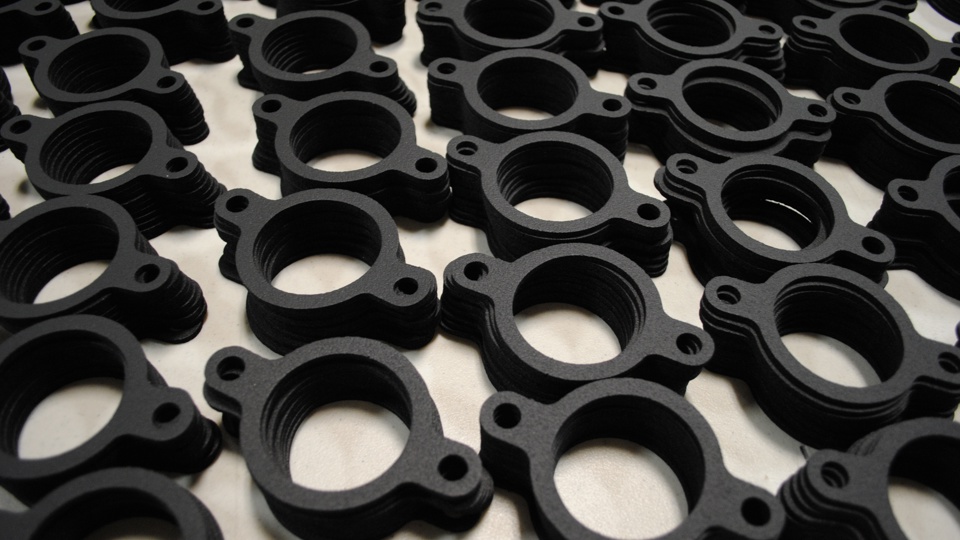 Die cut foam materials are used for sealing, cushioning, shock absorption, insulation, noise control, and vibration dampening. Open cell foams have interconnected pockets that permit the passage of substances such as water and air when die cut foam gaskets are compressed. Closed cell foams prevent the passage of these substances even at low pressures.
Understanding the differences between open cell foams and closed cell foams is important, but getting the right die cut gaskets doesn't stop there. Engineers and sourcing managers need a die cutter with a strategic supplier network. When you ask JBC Technologies for die cut foam products, we can source foam materials from leading suppliers, converters, and distributors.
Gaska Tape, Inc.
JBC sources materials from Gaska Tape, Inc®, a leading supplier of closed cell foams made of PVC, PE, and other materials. Gaska Tape V710 is low-density PVC foam that's cast-on a 7 mil clay-coated paper. Gaska Tape V1510 is a medium-density PVC foam that's cast-on a 5 mil 83# super-calendared kraft paper. Both types of closed cell PVC foams seal-out air, moisture, light, and dust when compressed.  
Rubberlite
JBC also sources foams from Rubberlite, Inc., a converter and distributor of open cell and closed cell foams that are made by leading suppliers. Examples include:
Rubberite Cypress Sponge
Rubberite Cypress Sponge is a master converter and distributor that supplies JBC with silicone sponge and sponge rubber products. Along with Ensolite® foams from Armacell®, Rubberite converts and distributes Rubatex® closed cellular foam from Rubatex International. Rubberite also converts Bondtex® materials. These bonded substrates are produced in part by flame laminating open-cell polyurethane foam. 
Reilly Foam Corporation
Reilly Foam Corporation fabricates polyethylene foam, polyurethane foam, and specialty foam materials that JBC die cuts with speed and precision. Volara® foam from Sekisui Voltek is smooth, flexible, and available in FDA grades. HyFonic 1® foam and Aerofonic foam from FXI are ideal for noise reduction and noise control. Pyrell® foam from FXI is a flame-retardant material for intumescent gaskets that won't melt or drip like conventional urethane foams.
William T. Burnett & Co. and INOAC
William T. Burnett & Co. supplies open cell technical foams such a urethane and polyurethane foams that are used in the automotive and transportation industries. Wm. T. Burnett & Co. also fabricates Ecocell® foam, an environmentally-friendly plastic, that's made by Polyfil Corporation. INOAC  supplies specialty polyurethane foams, polyethylene foams, and sponge rubber that JBC die cuts into gaskets.
Choose Die Cut Foam Materials from JBC Technologies
Do you need die cut foam materials for seals, gaskets, or insulation? Do you have questions about which die cut foams can best meet your application requirements? The Sales Team at JBC Technologies is ready to help. Contact us for more information. 
Gaska Tape, Inc.® is a registered trademark of Gaska Tape, Inc.
Armacell® and Ensolite® are registered trademarks of Armacell International S.A.
Fostek™ is a trademark of Fostek Corporation.
Durofoam™ is a trademark of Monmouth Rubber & Plastics.
Rubatex® is a registered trademark from Rubatex International.
Bondex® is a registered trademark from Bondex, Inc.
SOFTLON® and Volara® are registered trademarks of Sekisui Voltek.
HyFonic® and Aerofonic® are registered trademarks from FXI
Ecocell® is a registered trademark of Polyfil Corporation.
All other trademarks cited herein are used for identification purposes only and are the property of their respective owners.