By Mark Swanson on
6/23/2017
Die Cut Foam Gaskets: Applications and Industries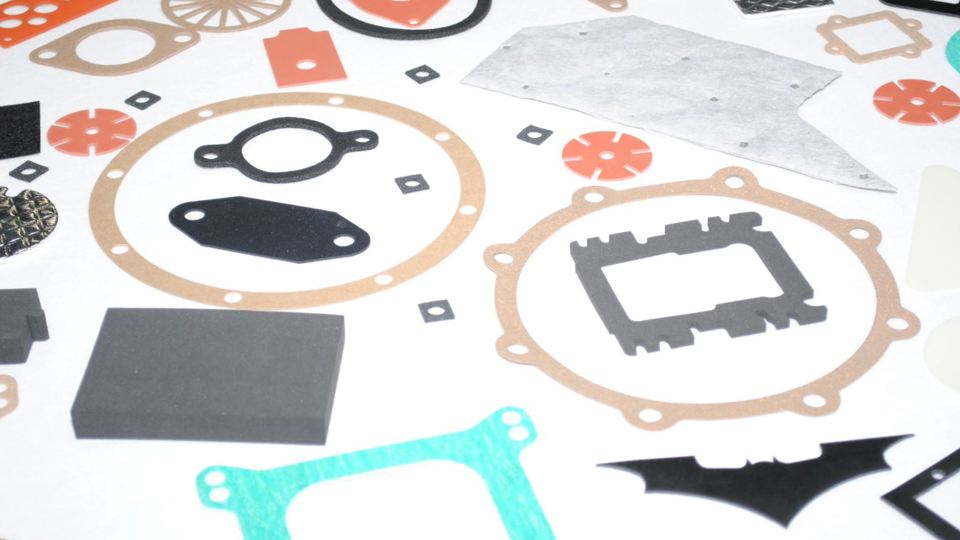 Die cut foam gaskets conform to irregular surfaces to form a seal. They can also provide shock absorption, cushioning and insulation, and noise and vibration damping. In mechanical assemblies, die cut foam gaskets fill the small spaces between mating surfaces such as flanges. To prevent leakage, these die cut seals flow into the gaps and support compression, such as when the flanges are bolted together.  
Die cut gaskets that are made of closed cell foams prevent the passage of substances such air, water, and chemicals at low pressures. Open cell foams have open, interconnected pockets that permit the passage of these substances when the die cut gasket is not compressed. Both types of foam materials support custom die cutting and are used in automotive, HVAC, pump, LED lighting, and electronics applications. 
Automotive Gaskets 
Die cut foams for automotive gaskets are used with tail lights, headlights, rear view mirrors, and dash panels. Tail light gaskets or tail light housing seals prevent water from leaking into rear of the vehicle and causing rust or corrosion. Headlight gaskets or headlight assembly seals perform a similar function at the front of the vehicle. Both types of die cut foam gaskets resist sunlight, ozone, and a range of temperatures. 
Rear view mirror seals and dash panel gaskets aren't exposed to the elements, but these die cut products can withstand hot and cold temperatures inside of vehicles. Rear view mirror gaskets also support the use of adhesives that bond dissimilar substrates (such as rubber and glass). Dash panel vibration dampening gaskets help to reduce noise, vibration, and harshness (NVH) inside of vehicles. 
HVAC Systems, Pumps, and LED Lighting 
Die cut foam gaskets for heating, ventilation, and air conditioning (HVAC) systems are used with blower motors, heat exchangers, burner boxes, collector boxes, intakes, and combustion chambers. Die cut foams are also used in pumps and LED lighting systems. With pump gaskets, leak prevention is critical. With LED lighting, non-outgassing lens cover gaskets are used to promote optimum luminosity. 
In HVAC systems, different types of foam HVAC gaskets are used for sealing and insulation. Blower motor gaskets seal the gap between the motor and housing. Combustion chamber gaskets, burner box gaskets, and heat exchanger gaskets all need to withstand higher temperatures, but over different temperature ranges. Furnace air intake gaskets and collector box gaskets provide tight seals for efficient HVAC operation. 
Electronics Seals and Gaskets 
The electronics industry also uses die cut foam gaskets for sealing, cushioning, vibration control, and insulation. For example, control panel gaskets and display panel gaskets absorb shock, control vibrations, and prevent water from reaching sensitive electronic components. Access panel gaskets seal metal surfaces and support repeated opening and closing without compression set. 
Would you like to learn more about applications for die cut foam gaskets, or get answers to your application-specific questions? JBC Technologies is ready to help. Contact us to get started.