By Bob Lesher on
11/26/2019
Faces of JBC: Cassie Caputo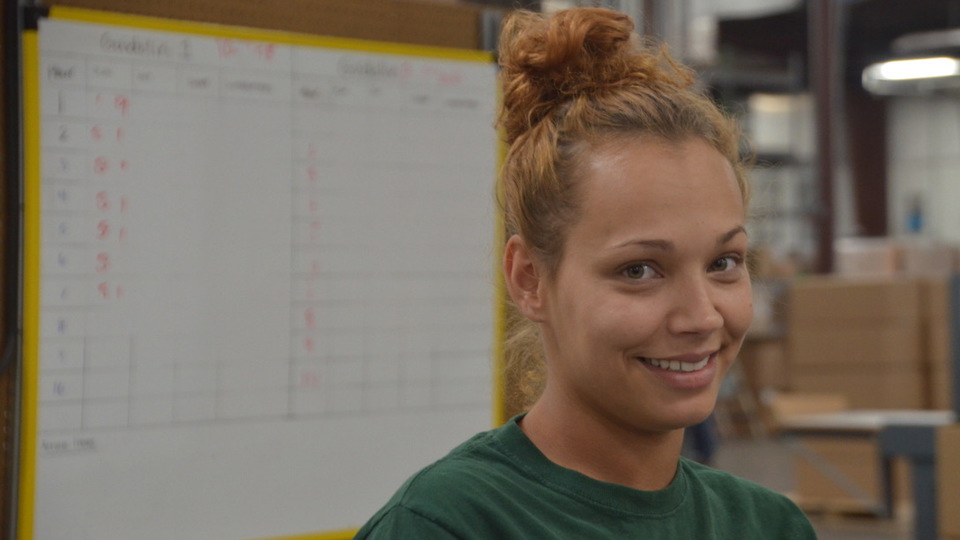 Welcome to the latest  edition of Faces of JBC, the blog series where we showcase the people that contribute to our success every day. Today, we're going from the warehouse–where last we met Wes Sechrist, our Warehouse Manager/Production Supervisor–out to the production floor where, some might say, the real magic happens.
Introducing our featured JBC team member, Cassie Caputo. Cassie is the first shift production supervisor for the East Wall area and she's part of the reason JBC has such happy customers. Now, let's get to know a little more about Cassie, shall we?
What did you do before joining JBC?
Before coming to JBC, I was working for another manufacturing company. There I was responsible for order processing and for receiving and allocating materials across various jobs.
What drew you to JBC?
I was working with a temporary agency and my current assignment was coming to an end. JBC was looking for operators and the job sounded interesting so I accepted the assignment. Apparently I really liked it because I'm still here.
What position did you start out in at JBC?
I started as a press operator.
How long have you been with JBC?
I've been with JBC just about three years now.
What are your responsibilities as a production supervisor?
As a production supervisor it's my job to keep things running smoothly. I make sure orders are sent up to inspection and ready to ship. It's also my responsibility to support my operators and make sure they have everything they need to be productive all day and help us get our orders out the door.
What do you enjoy most about working at JBC?
One of the best things about working here is that it's never the same thing every day. There's always something different going on throughout the day. It keeps things very interesting and keeps me on my toes.
What do you like to do for fun?
I like to hang out with my kids and I like to watch Netflix shows like Orange is the New Black and Wentworth. 
What motivates you?
Money is always a good motivator, right? I'm also very motivated by the need to do better for myself–to be the best at what I do every day and to never stop wanting to get better. If I don't do things to the best of my abilities, it kinda eats me up inside.
What was the last movie you saw?
Good Boys.
How do you describe what you do here at JBC to your family and friends?
Basically I just tell people that I'm the one who helps to make sure things are getting done in my department. That I try to keep everything running smoothly.
How many different states have you lived in?
Growing up I was a Navy brat, so we moved around quite a bit. I even lived in Panama for a while when both of my parents were stationed there. As for different states, probably close to a dozen - Off the top of my head - MD, VA, OH, PA, TN, NJ, and CA.
If there was one song you never had to hear again, what would it be?
Right now it would be Truth Hurts by Lizzo. This song seems to be played relentlessly.
How does your position fit in with the big picture at JBC?
I pride myself in being one of the go-to people at JBC, one of the people that makes sure things are flowing naturally, at least when it comes to the East Wall. So if anyone has any questions or concerns about anything going on over there I'm the person you can come to.
What's your favorite season and why?
My favorite season is definitely Summer. I don't like to be cold. Unless it's 80 degrees outside I feel like I'm always cold.
What was your first job?
When I was 16 years old I worked as a cashier at a Giant Eagle.