By Bob Lesher on
4/27/2022
JBC Technologies to Present at 2022 EV Battery Thermal Management Conference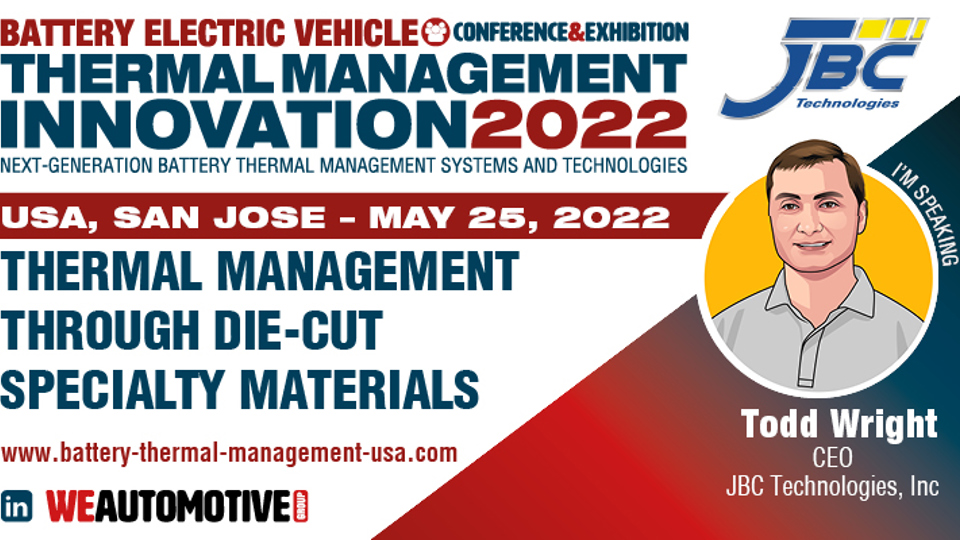 Did you know that managing the temperature of an electric vehicle's battery and power system is a big deal? Seriously, there's an entire sub-segment of R&D devoted to EV battery thermal management and its systems and products. And that's why we're here with you chatting about it...mostly. You see, there's a trade show coming up - Battery Electric Vehicle Thermal Management Innovation 2022 - and JBC's involvement with it is kind of a big deal. Spoiler...we'll be speaking there!
At JBC Technologies, we're a huge proponent of using lightweight, custom die-cut solutions as a part of the EV battery thermal solution package. After all, it's what we do and it's a big part of the reason we decided to support the event as a featured speaker. Shows like this drive innovation within the EV space and their support helps drive the growth of all of the industry's members. Win-win all around, right?

What You'll Learn at the 2022 EV Battery Thermal Management Conference
How to Improve Energy Density and Performance of EV Battery Packs with Thermal Management Materials and Coatings
Battery Pack Design & Material Selection
Advanced Materials and Solutions to Limit Thermal Runaway
Ultra-Fast Charging Systems: Increasing Voltage and current for achieving higher charging power
---
Thermal Management Through Die-Cut Specialty Materials
But the best part of the conference, at least in our opinion is that our CEO, Todd Wright, will be presenting at the show. His presentation, titled, Thermal Management Through Die-Cut Specialty Materials will highlight materials that can be used to shield, spread, and isolate heat. It will also  provide insight on how a converter like JBC can add value by laminating multiple materials together to combine the performance benefits of each into a single part that can help  reduce weight, cost,  range, and safety of EVs.
Note to attendees: come for the wit, charm, and breezy approach to flexible materials converting subject matter. Stay for the easily accessible technical knowledge and actionable information.
Here's a little taste of what to expect:
Cost-effective EV battery thermal management through custom solutions and performance materials
High-performance heat spreaders for temperature uniformity
Ceramic papers and blankets in and around the battery pack
Pressure sensitive adhesives and thermal runaway barrier design
Value-added benefits of multi-layer specialty material stack-ups for thermal management

The features & benefits of components made using materials from our A-list manufacturers like 3M, Aspen Aerogels, DuPont, NeoGraf Solutions, Rogers Corporation, and Morgan Advanced Materials.

Contact us so we can talk about how our custom solutions, based on your thermal management requirements and made using specialty materials, can make a big impact on your EV battery thermal management system.