By JBC Technologies on
10/16/2023
Resources to Help Select the Right Adhesive for On-Body Medical Devices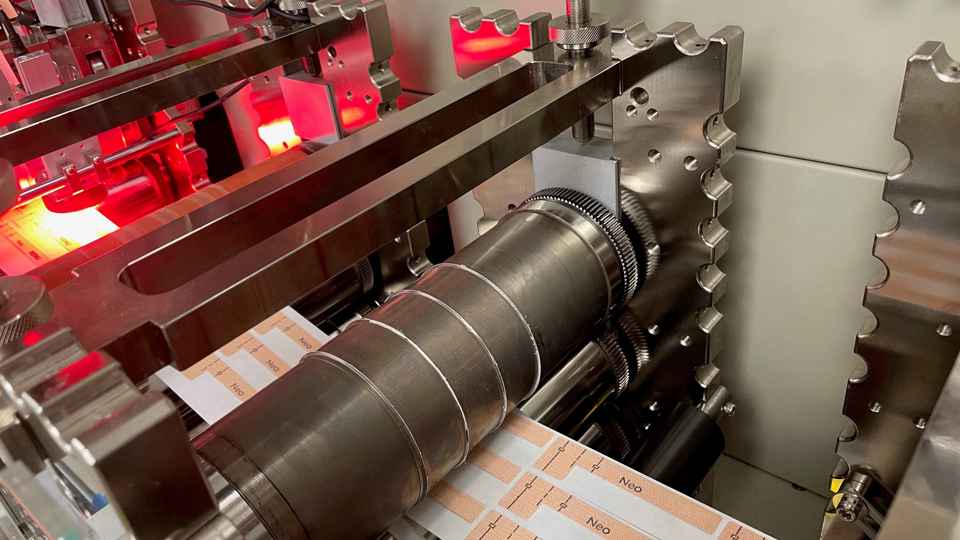 If you are involved in the design and development of medical wearables that require a die-cut skin contact adhesive, you've come to the right place. 
Over the last several years, JBC Technologies has made it a point to use our blog to feature helpful information for medical product design engineers. Today, we want to share a compilation of resources offered by one of our trusted suppliers:  3M™ Medical Materials & Technology.  
While resources like these can help you get started on the journey to selecting the right material for an on-body wearable device, it's never too early to talk to your converting partner. As a 3M™ Medical Select Converter, JBC has access to cutting edge adhesives and expert design and applications engineers to help you identify the best solution for each unique application.
Medical Adhesive Selection Tools from 3M™
---
WHITEPAPER: Designing Wearables that Win Skin in the Market
A variety of today's on-body medical technologies require long-term monitoring and liner-free storage stability. This whitepaper, "Designing Wearables that Win Skin in the Market" highlights the latest iteration of 3M™'s skin-friendly extended-wear medical tapes–a product that features wear time of up to 28 days at 90% survivability.

 Why we like this: 

Highlights 3M's latest innovative,  28-day wear product, that is changing paradigms in terms of preconceived wear time limits.  
---
GUIDE: The Engineer's Guide to Wearables: Lessons Learned from Design Mishaps
Engineers are experts at learning from their mistakes (or the mistakes of others). Information brought into the light by errors helps produce a better product. It's no different when it comes to designing and developing medical wearables. In this guide, Lessons Learned from Design Mishaps, 3M™ offers an in-depth look at some of the most common mistakes engineers encounter when bringing a medical wearable device to market in it's whitepaper. 

Why We Like This: 

This paper provides a first-hand look at some of the biggest challenges that medical design engineers face (and recommendations on how to overcome them) as seen through the lens of a company that has a culture of innovation and over 3,500 patents to its name. 
---
WHITEPAPER: Designing Wearable Devices for Fragile Skin
The ever-changing and varied nature of skin is an important factor in the design and performance of a wearable device, and one that, if overlooked during the design phase of a product can have repercussions down the road.

Many factors can affect whether a device is both comfortably and securely attached to human skin, particularly fragile skin. Features of the device itself, components, the application, end-user requirements, and more will inform which adhesives are suitable for this demographic. Characteristics of medical grade adhesives themselves can also make certain adhesive solutions a better fit. 

In this whitepaper, Designing Wearable Devices for Fragile Skin, 3M™ provides an in-depth look at the most important factors to consider when  fragile skin is involved in the design application. 

Why We Like This

This paper explains the differences between acrylic and silicone adhesives and how they affect the skin when removed. It also shares important questions to ask at the beginning of a design project to help you succeed.
---
VIDEO: Making Skin Your Friend
In this video  3M™ educates viewers on MARSI, Medical Adhesive Related Skin Injury. MARSI is what every design engineer wants to avoid when developing on-body wearable devices that require stick-to-skin adhesives. 

WHY WE LIKE THIS

It's clear, concise, and straight to the point. Use this video to quickly educate yourself on the common warning signs of irritated skin.
SELECTION TOOL: Find My Adhesive Tool for Medical Device Components
Selecting a pressure-sensitive adhesive for wearable medical devices requires that manufacturers consider many factors. When the pressure-sensitive adhesive tape is being used to attach a device directly to human skin, it becomes even more complex. Not only does the adhesive need to achieve a balance of adhesion and ease of removal; but it also needs to meet specific conformability, breathability, and moisture resistance specifications. Demographics and use cases, on-body placement, exposure to moisture or contaminants, and wear duration will also inform which adhesives are suitable. 
In short, adhering medical devices to the skin can be challenging. That's why 3M™ offers this online search tool to help you identify the best adhesive solutions for your device.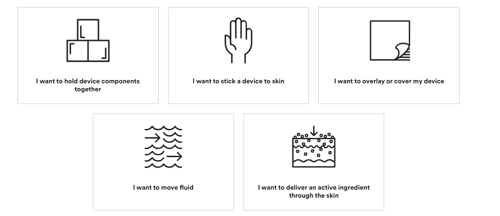 Why We Like This
This is a simple, intuitive tool to use to help narrow down your adhesive choices, so when we begin conversations with you on the adhesive requirements for your device, we have a good starting point.  
JBC Technologies, a 3M™ Medical Select Converter that Delivers High-Quality Die-Cut Solutions
When it comes to medical device manufacturing, OEMs need a converter who can deliver high-quality and reliable die-cut solutions to meet even the most rigorous standards. The right converting partner can align with ISO9001, clean room requirements, and more. 
As a 3M™ Medical Materials & Technologies Select Converter, JBC Technologies is a leader in providing the highest-quality die-cutting, material converting, and contract manufacturing solutions for the medical industry. We help medical device OEMs optimize every step of the production process, from material selection and design for manufacturability to prototypes and long-term high-volume production solutions. We also leverage our relationships with many key suppliers to help you solve medical device design challenges. Contact us today to learn how we can help you with your next project.