By Mark Swanson on
11/2/2018
Spotlight on Silicone: Featuring BISCO ® Silicone Success Stories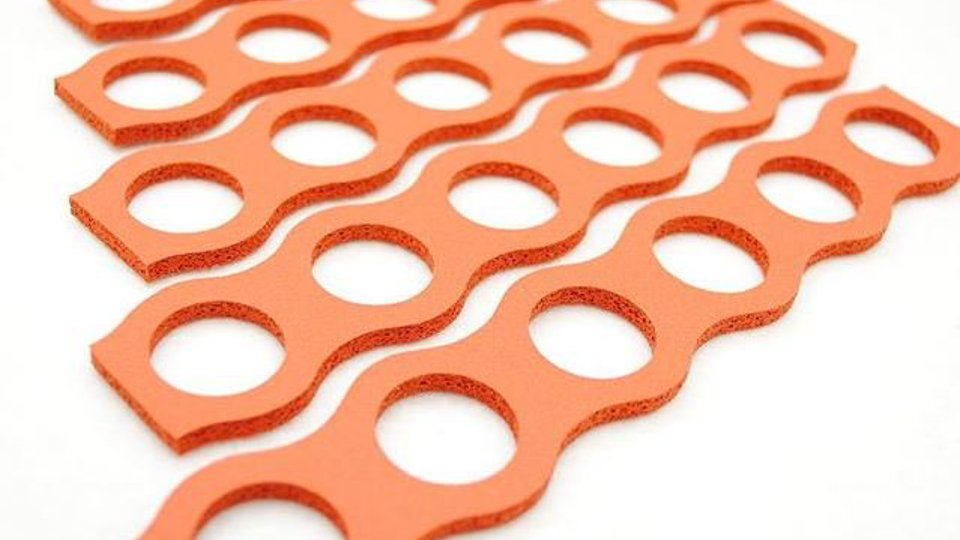 Silicone foam rubber, (currently the subject of an ongoing materials shortage), is one of the higher performing foam materials we die cut at JBC. Used in gaskets, seals, heat shields, fire stops, and more, it has a very strong (low) compression set and extremely effective resistance to heat, cosmic radiation, weathering, and other environmental factors. As a result, silicone gaskets and seals typically see a longer shelf life and better product durability than less costly alternatives.
 Yet, for those tasked with selecting the "right" material for a gasket that will need to withstand high heat and temperature extremes, it is not quite as simple as saying, "use silicone."
 There are many variations of silicone foam, not only in composition (open cell vs. closed cell), but in color, weight, thickness, density, presentation, and chemistry.   And, as a product design engineer,  those are only a few of the choices you have to make when choosing the right material for your application.
 Rather than dive into the specific details of the myriad of options available, today's post uses real-life stories to demonstrate the benefits of silicone -- or, more specifically, the benefits of one of the more popular families of silicone rubber products: BISCO ® Silicone,
Check out the following stories, all of which were published on the Rogers Corporation website:
Holding Strong in Harsh Environments
Automotive engineers were concerned about the ability of an EPDM automotive battery pack seal to maintain its integrity when exposed to freezing temperatures. Without the proper seal protection, dust and moisture could infiltrate the battery pack, leading to premature failure and potential driver harm. Subsequent frost tests proved their concerns to be valid and they were left looking for an alternate solution: BISCO® HT-800 material. Read the full success story here. 
Maintaining a Leak-Tight Seal in Automotive Gasket Applications
An automotive OEM had experienced challenges with the deterioration of EPDM gaskets used to seal around the brake light.  Water was leaking into the brake light, increasing the chances of short circuits and even fires. After reviewing several alternative materials, engineers landed on Rogers'. BISCO® HT-800 silicone. Read the full success story here.
Increasing Rail Passenger Comfort With Better HVAC Gasket Seal
The  polyvinyl chloride and nitrile rubber blend gasket material used to seal this customer's train HVAC units was collapsing, allowing pollutants into the units and causing them to malfunction. This failure was the result of poor compression set.  The solution?   Rogers BISCO® BF-2000 ultra-soft silicone material. Read the full success story here.
Sealing out Moisture in LED Lighting Applications
In yet another instance, a manufacturer of specialized LED lighting for greenhouse applications was struggling to find a reliable solution to the challenge of keeping moisture from entering the electronic components of their lights. They needed a material that would not only be leak-tight for an extended period of time, but could also do so on uneven surfaces. They landed on BISCO® HT-800 silicone.  Read the full success story here.
Silicone is just one of the many materials we source and convert at JBC.  Whether you are looking for silicone, other Foams & Elastomers, Thermal & Acoustical Insulation, Technical Papers, or other flexible material, JBC is your solution. And, because we have a diverse array of equipment onsite, we are able to do everything from prototypes to large volume runs in house, keeping costs down, and eliminating supply chain risk.  Contact JBC Today.
Related Reading:
/blog/posts/foams-elastomers-automotive-transplant-market