By Kate Gluck on
9/13/2018
Types of Pressure-Sensitive Adhesives (PSAs)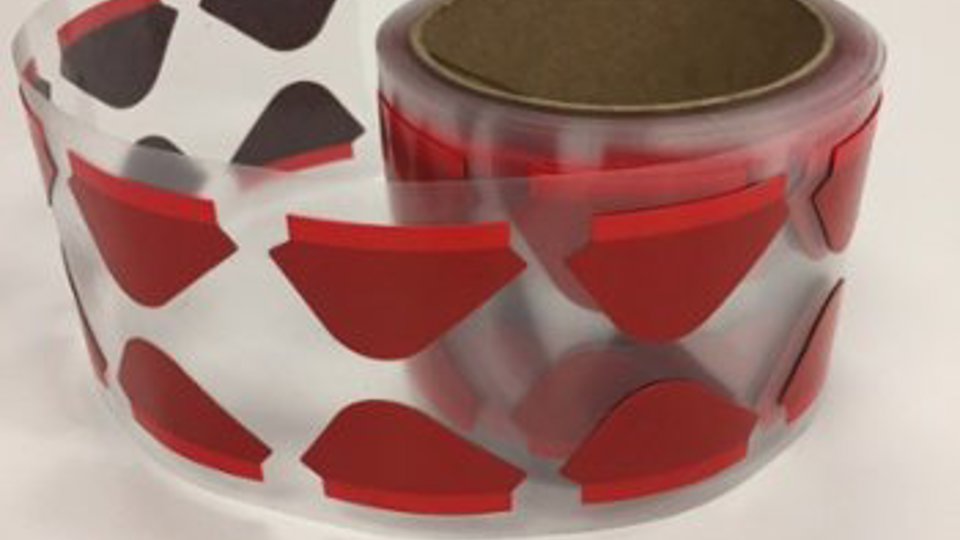 Pressure-sensitive adhesives (PSAs) contain adhesive components that impart different properties in support of joining or fastening. By evaluating an adhesive's advantages, disadvantages, and typical uses, you can make the right choice for your application. As previous articles in this series have explained, you also need to perform some preliminary steps and learn about peel adhesion, tack, and shear.
There are four main categories of pressure-sensitive adhesives:
Natural rubber

Synthetic rubber

Acrylic

Silicone
There are also different adhesives within each category. For example, there isn't just one type of synthetic rubber adhesive. 
1 – Natural Rubber PSAs
Natural rubber-based pressure-sensitive adhesives contain natural rubber (NR) and a tackifying resin.
Their advantages include:
good initial adhesion properties and high peel strength
temporary or permanent fastening for a range of substrates
high green strength for fastening that starts with first contact
lower-costs, including support for inexpensive backing tapes
Their disadvantages include:
poor resistance to UV and moisture
weak resistance to chemicals and high temperatures
sensitivity to oxidation
Natural rubber PSAs are typically used for indoor applications with lower surface energy substrates. They're also suitable for applications where the adhesive is subjected to low shear stress.
2 – Synthetic Rubber PSAs
Synthetic rubber-based pressure sensitive adhesives contain styrene-butadiene (SBR), or a styrenic block copolymer (SBC) like polystyrene-polyisoprene-polystyrene (SIS) or polystyrene-polybutadiene-polystyrene (SBS). These PSAs also contain a tackifying resin.
SBR PSAs have better heat-aging properties than natural rubber, but can't match NR's strength, resilience, and low-temperature properties. SBC PSAs are extremely versatile and can be formulated to provide aggressive tack or tailored peel strength.
3 – Acrylic PSAs
Acrylic pressure-sensitive adhesives are made of synthetic resins and are inherently tacky. Advantages include:
good resistance to oxidation
lower costs than silicone PSAs
good clarity and color stability
resistance to high temperatures and plasticizers
specialized formulations with tailored properties
Acrylic PSAs provide better heat and oxygen resistance than rubber-based adhesives. They can be used at low temperatures and resist moisture and weather. Applications include outdoor signage and decorative trim. Acrylic pressure sensitive adhesives that are applied to thick, high-bond foams provide gap filling and can join dissimilar substrates (such as metal and glass).
4 – Silicone PSAs
Silicone pressure sensitive adhesives are made of synthetic elastomers that provide high-temperature resistance and adhere to low-energy substrates. Their advantages include:
resistance to chemicals - especially solvents
resistance to moisture, UV, and outgassing
high-temperature resistance to 500° F
low temperature resistance to -100° F
The main disadvantage of silicone PSAs is that they cost more than other types of pressure-sensitive adhesives. Typically, silicone adhesives are used to bond substrates made of silicones or silicone-coated materials such as release liners.
JBC Technologies Can Help
The JBC team has vast expertise in material selection and product design. Pressure-sensitive adhesive selection is just one of the many ways we add value for our customers.  Contact us today to discuss how we can assist you from design to delivery of custom engineered die cut gaskets, seals, and more.
Related Reading
UNDERSTANDING PRESSURE SENSITIVE ADHESIVE (PSA) PERFORMANCE PROPERTIES
HOW TO CHOOSE THE RIGHT PSA FOR YOUR DIE-CUT COMPONENTS 
DO YOU REALLY NEED A SILICONE PRESSURE-SENSITIVE ADHESIVE? 
PART 1: THE BASICS OF PRESSURE SENSITIVE ADHESIVE (PSA) FAILURE 
PART 2: THE BASICS OF PRESSURE SENSITIVE ADHESIVE (PSA) FAILURE