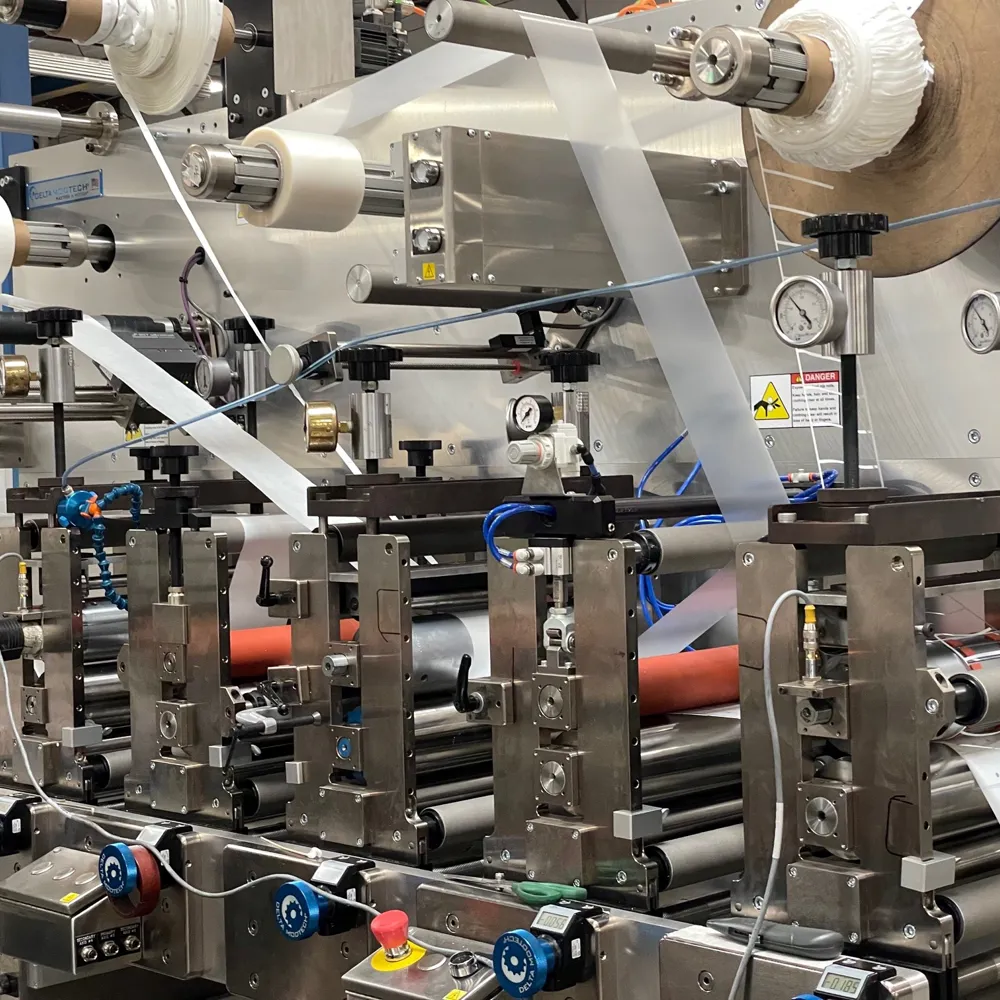 Frequently Asked Questions
Rotary Die Cutting
JBC Technologies uses high-speed rotary die cutting to manufacture custom gaskets, seals, heat spreaders, attachment tapes, and a multitude of stick-to-skin medical products and components. We make these from hundreds of different materials designed to help manufacturing and design engineers solve their product performance problems.
You may have questions about rotary die cutting. You may be curious about what makes this specialized manufacturing technique an excellent fit for medical devices, automotive, and other industries. JBC is here to help. Look through this list of the most common questions and answers. And if you've still got questions about rotary die cutting or how JBC Technologies can help you with your next project, we'd love to hear from you.
High-Speed Rotary Die Cutting | Frequently Asked Questions
Rotary die cutting is a high-speed industrial manufacturing process that uses a cylindrical cutting head called a die to cut large volumes of identically shaped parts out of rolls of thin, flexible materials.
A long and narrow sheet of material, often referred to as the "web," is fed through the rotary die-cutting press and through multiple stations that perform various material converting activities like printing, perforating, slitting, sheeting and, of course, die-cutting.
The word rotary is used to describe the method by which the material is fed through the machine and the cylindrical shapes of the different feed rollers and cutting dies. Rather than using a flat cutting surface, a rotary die cutting press uses multiple cylinders to perform the different material feeding, processing, and part cutting operations.
A rotary die cutting press uses two main types of cylindrical cutting die:
Solid Die – A solid rotary cutting die is a bit like a rolling pin with cookie shapes cut into it. The die cylinder is solid metal, and the part shapes and cutting surfaces are machined permanently into the die surface.
Flexible/Magnetic Die – A flexible rotary die (often called a mag-die) is a magnetic cylinder around which a thin, metal cutting sheet is wrapped. The cutting sheets have the part cutting blades embossed into the surface and can be quickly swapped out for flexibility with multiple jobs.
Among the most significant advantages offered by a rotary die cutting press are speed and accuracy. Most custom die cutters will choose to use a rotary when they must make very large volumes of intricate/tight-tolerance parts in a short amount of time.
There are some other rotary advantages worth noting:
Large production rates
High precision and accuracy
Multiple in-line functionalities (printing, slitting, laminating, scoring, etc.)
Increased packaging speed
In-line inspection
Less material waste during production
If rotary die cutting isn't suitable for your parts, your JBC technical advisor will work with you to find the perfect manufacturing method for your specific requirements. Rotary die cutting is for every job and some of the reasons why can include
Dies can be expensive and require routine maintenance
Require large production runs to offset higher set-up/tooling costs
Not well-suited for most thick/dense materials
Not suited for material sheets and very wide rolls
Part set-ups can be lengthy and require large amounts of material
Our goal is to find the best match between part and press. So whether it's a wide-web flatbed or a semi-automatic PRECO, you can be confident that we've selected the right die cutting method for your project.
Rotary tooling can vary greatly in initial cost. Relatively simple rotary tooling may start around $1,000 with more complicated set-ups featuring vacuum slug removal, multiple processing stations, and intricate part designs reaching as high as $5,000.
Rotary tooling costs can vary greatly depending on many variables including part size, part design complexity, material, slugs/cutouts, and part presentation.
There are a number of value-added capabilities available during in-line processing with rotary die cutting, including:
Island placement
Kiss-cutting
Part gapping
Multi-material laminations
Printing
Ultrasonic welding
This is a tough question to answer without saying, "It depends." Some rotary cutting dies can last years or tens of thousands of linear feet of material and some may need to be resharpened or reconditioned every few months. The lifetime of a rotary die is dependent upon
The type of material being cut (hardness, density, abrasiveness, etc.)
Operator error
The durability of the die metal
How often the die is used
Your JBC technical advisor will help you to understand the lifetime of the tooling needed for your job and how it may impact the final cost of your parts.
The speed of a rotary die cutting press is typically quoted in linear feet of material per minute (X lf/min). Average rotary speeds can be as low as 30 ft (9.14 m) per minute and as high as 300 ft (91.44m) per minute.
The production speed of a rotary die cutting press depends on many factors. Some questions to ask when considering rotary die cutting speed include:
How complicated is the part design (small cutouts, tight radii, complex external geometry)?
Is the material difficult to handle?
Does production require constant attention by the operator?
Do the material rolls need changed out frequently due to short rolls/breaks?
The speed of a rotary press doesn't mean much until you've had an experienced die cutting estimator at JBC put it into terms of pieces/min. This requires careful consideration of all parts of the process, especially the part design and material.
Rotary die-cutting can convert a wide variety of thin, flexible materials with a few significant caveats – the materials typically need to be in a roll that's not wider than the rotary press can handle and less than 1/8" thick.
If the material to be cut isn't too thick (≤ 1/8") and comes in a roll, rotary die-cutting will generally work. Typical materials that can be cut with rotary die cutting are
Fabric
Foam Rubber
Insulation
Silicone Rubber
Adhesive Tapes
Plastic Sheet
Multi-layer Laminations
Material thickness is one of the main reasons someone will opt to go with flatbed over rotary die cutting. For rotary die cutting to work its best, the maximum material thickness is around 1/8" thick.
A rotary die-cutting press nearly eliminates the use of materials that typically come in sheets, or that cannot be converted readily into rolls that will fit into the rotary press. Size can also be a limitation with rotary die cutting, with the maximum material width being the constraint in part design.
Rest assured, if rotary die cutting isn't the best manufacturing option for your custom parts, your JBC technical advisor will work with you to find one. With our broad range of vertically integrated die cutting presses and converting equipment, we've got you covered. 
Cost is a relative term with die cutting. Suppose your JBC estimator and engineering team help you to choose the proper manufacturing method during the quoting phase of your project. In that case, it will be optimized to produce your parts in the most cost-effective manner possible.
Here's a quick answer: Rotary die cutting is best suited for the rapid, cost-effective production of very large quantities of tight-tolerance parts. Compared to alternatives like flatbed or laser cutting, parts that fit these general requirements tend to cost much less to produce using rotary die cutting.
The short answer is yes. Some parts are better suited to be made on a rotary. A rotary die cutting press is often the best option for making parts that have the following traits in common:
Relatively thin finished thickness (<1/8")
Tight tolerance requirements
A multi-material/laminated construction
Large volumes (hundreds of thousands to millions a year)
Relatively narrow widths (10-15 in)
A presentation that requires kiss-cutting, scoring, and slitting
About any part can be cut on a rotary die cutting press, but not every part should be cut on a rotary die cutting press. It's best to work with your JBC estimating team to determine the best manufacturing method for your parts.
JBC Technologies uses its rotary die cutting presses to make parts for various industries. Some of the parts and industries we service with rotary die-cut parts include:
Rotary tools can hold tolerances between 0.003 - 0.005 in (0.076 - 0.127mm). In the diameter, 0.0002 in (0.005mm) is the grind tolerance on those tools.
Our team may recommend using our rotary presses to produce your parts if you are looking for precise parts and your material widths are in that 10 – 24 in (25.4 - 60.96 cm) range.  Our goal is always to maximize the potential of the die cutting method for your parts.
JBC Technologies has over a dozen rotary die cutting presses including:
Dorey Converting Systems (DCS) 10-station, 10 in (25.4 cm) width high-speed press with 6-camera in-line vision inspection. 
Delta ModTech 7-station, 13 in (33 cm) width presses
PACE Converting Equipment 3-4 station rotary presses with widths ranging from 7 in (17.8 cm) – 30 in (76.2 cm)
JBC Technologies has one of the industry's largest selections of custom die cutting machinery. Our goal is to find the best press for the job. So whether it's a high-speed rotary or semi-automatic PRECO platen press, you can be confident that we've selected the right die cutting method for your project.
A rotary die-cutting process may be the right choice for your next custom die-cutting project if you answer Yes to most of these questions
Does your part require thin (<1/8") material(s)?
Are the materials your part needs available in rolls?
Do you need parts kiss-cut on rolls?
Do your parts have tight tolerance requirements?
Does your part have an intricate design?
Are your parts relatively small (≤12" for the widest dimension)?
Do you require multiple processes to make your part (laminating/printing/slitting/cutting)?
Is your expected production volume very large (500K to 1+ million per year)?
Custom Solutions
High-Speed Rotary
Precision Die Cutting
Rotary die cutting is a versatile fabrication process suitable for applications ranging from simple die-cut labels and gaskets to complex, multi-layered parts. It can be used on hundreds of performance materials, including metal foil, plastic sheeting, foam and silicone rubber, and multi-material laminates. It offers a host of value-added die cutting capabilities, too, like kiss-cutting, part gapping, and in-line printing and lamination.
Learn more about rotary die cutting and the rotary die cutting capabilities we have here at JBC in our Frequently Asked Questions, and when you're ready to get started on your next custom project, we'd like to talk with you about it.
Contact Us