By Brenda Doskocil on
4/26/2019
Aluminum Foil Heat Shielding for Automotive Applications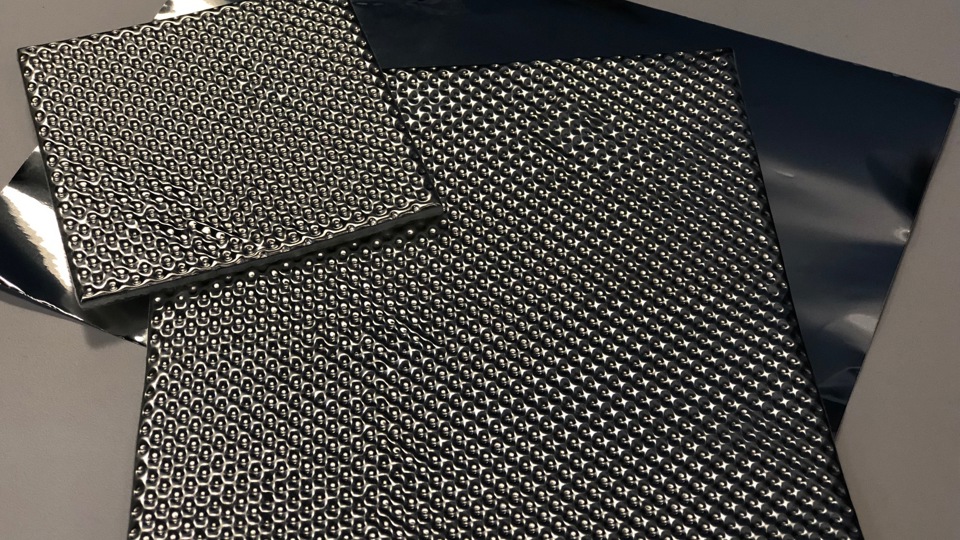 Heat shielding provides thermal and acoustical solutions for automobiles. Automotive tier suppliers can source rolls of embossed and/or micro-perforated aluminum foil heat shield materials, or specify die cut foil that meets specific part geometries. In addition, aluminum heat shielding can be supplied with or without a heat-activated adhesive system. Engineers have plenty of options, so it's important to understand all of the ways that material conversion and automotive die cutting supports heat shield designs.  
Automotive Heat Shield Experience
As an experienced provider of die cutting, converting, and value-added solutions, JBC Technologies supplies automotive companies that manufacture thermal and acoustical heat shields such as dash insulators, tunnel absorbers, hood liners, and wheelhouse inner absorbers (just to name a few) to OEMs. We specialize in working with thin-gauge flexible aluminum, and have the application knowledge and technical expertise to meet your design and production requirements. Our engineering team can support your efforts to integrate the aluminum foil heat shield with your components, providing the perfect balance of thermal and acoustical performance needed for any vehicle.
Embossing, Converting and Value-Added Solutions
JBC Technologies' portfolio of capabilities includes wide web embossing and micro-perforating of aluminum foil up to 60" wide. Automotive tier suppliers can then incorporate aluminum heat shielding into larger 3D-molded pieces such as engine compartment firewalls and underbody systems. In this way, embossing and micro-perforating are more than just converting services. They're value-added solutions that support production operations while reducing noise, vibration, and harshness (NVH). 
Embossing also adds a Z-axis to your aluminum heat shielding. This converting process puts more heat shield material into a given area which provides for better formability during the molding process. Micro-perforating creates very small holes in the aluminum heat shield material which helps improve acoustical performance.
Precision Die-Cutting for Automotive OEM applications
JBC Technologies offers precision die cutting for aluminum heat shields in a wide range of part sizes and production volumes. Although some automotive heat shields are as small as 5" x 8", others are as large as 2' x 5'. Regardless of part size, JBC Technologies has the converting capability to die cut low to high volume for mass production.
JBC Technologies is an experienced provider of die cut heat shields for automotive applications. To discuss how we can support your design and production requirements with converting, die cutting or other value-added solutions, contact us today.