By Brenda Doskocil on
5/9/2018
Embossing (Kalotte) for Automotive Heat Shields: Value-Added Die Cutting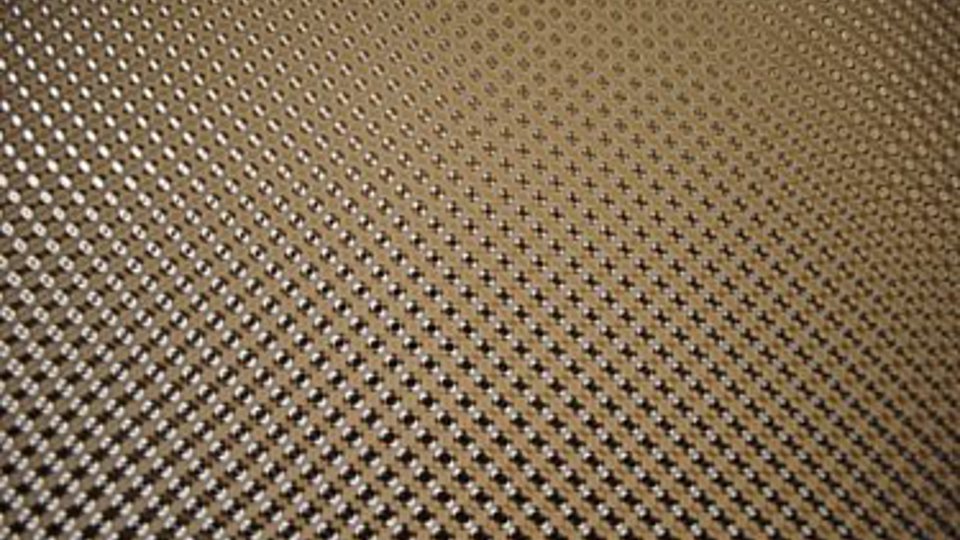 Embossing for automotive heat shields in noise, vibration, and harshness (NVH) applications creates raised, three-dimensional features on aluminum foils. By adding a Z-axis to these flat, flexible substrates, embossing provides for better formability during product manufacturing. Embossing also provides benefits in terms of material thickness, structure, design, noise reduction and aesthetics.
During the embossing process, aluminum foil is fed into an embossing machine that creates raised pebble features along the surface of the substrate. With heat shields, embossing also supports micro-perforation and lamination. These value-added solutions are part of what separates JBC Technologies from other automotive die cutters.
Embossing (Kalotte) Advantages
Embossing imparts stiffness to flat, flexible materials like aluminum foils. This allows heat shield designers to select thinner substrates that support vehicle lightweighting efforts. Compared to thick metal sheets, thin-gauge aluminum foils contain less material. This helps designers control costs while reducing the risk of a sudden increase in metal prices.
Embossing for die cut heat shields also provides benefits in terms of structure and design. Embossed sheets support both single-layer and multi-layer constructions. Compared to flat, feature-less substrates, embossed sheets are easier to form into larger, 3D molded pieces such as engine dash insulators, hood insulators and tunnel shields for underbody systems. Embossing supports smoother transitions across rough corners, too.  
Importantly, embossing supports noise reduction. The three-dimensional structure of an embossed sheet disrupts sound waves that are reflected and transmitted. Embossed foils also reduce vibrations that can produce unwanted sounds. For automotive designers who need to limit (NVH), embossing is an important part of a complete thermal-acoustic solution.  
Embossing (Kalotte) and automotive die-cut Solutions
JBC Technologies provides wide web embossing and micro-perforating of aluminum foils up to 60" wide. Micro-perforating creates very small holes in the aluminum foil heat shielding, which helps to improve acoustical performance. JBC can also laminate aluminum foil to high-temperature insulation to create foil-faced structures that absorb high heat and reduce temperatures quickly.
JBC provides precision die cutting for aluminum heat shields in a range of part sizes and production volumes. Some automotive heat shields are as small as 5" x 8", but others are as large as 2' x 5'. Regardless of part size, JBC Technologies has the converting capability to die cut low to high volume for mass production. Our Ohio and Wisconsin facilities are also near the heart of the U.S. automotive industry.
Embossed Heat Shields for your applications
If you need aluminum heat shields such as dash insulators, tunnel absorbers, hood liners, or wheelhouse inner absorbers for your automotive application, the team at JBC has the capabilities to help. Contact us for more information or submit your project today.