By Kate Gluck on
9/21/2018
Six Ways Acrylic Foam Tapes Outperform Mechanical Fasteners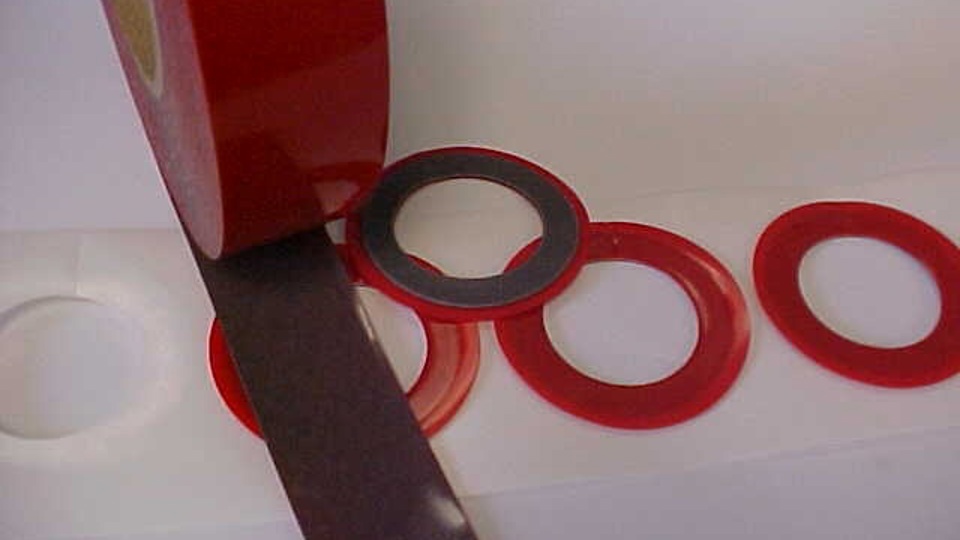 Acrylic foam tapes are pressure-sensitive adhesive tapes (PSAs) that provide high-strength bonds. They adhere to a variety of substrates and can be die cut into a wide variety of shapes and sizes, making them ideal for many fastening and joining applications.  
For many people, it would be hard to imagine "tape" as an alternative to screws, rivets and other mechanical fasteners. The reality, however, is that tapes often outperform more traditional joining methods.
Here are a few of the benefits of acrylic foam tapes as an alternative to mechanical fasteners:
1 – Smoother, Cleaner Surfaces
Unlike mechanical fasteners, acrylic foam tapes don't penetrate the surfaces of metal parts or panels. Instead, they attach directly to surfaces. Because tapes don't require drilled holes, moisture can't enter and cause rust. Tapes also lead to smoother lines since there aren't any raised fastener heads.
2 – No Parts Loosening
Mechanical fasteners move over time. Sometimes, the holes even become elongated. Acrylic foam tapes, on the other hand, provide reliable, permanent bonds. If taped parts require removal, there are no holes to fill or surfaces to repaint.
3 – Less Noise and Vibration
Vibrations can cause noise and loosen mechanical fasteners. By contrast, acrylic foam tapes hold firm and contribute to noise reduction through vibration dampening. In the automotive industry, these assembly tapes help to reduce noise, vibration and harshness (NVH) and buzz, speak, and rattle (BSR).
4 – Faster Cycle Times and Easier Installation
Mechanical fasteners are installed individually with hand tools–which can be time intensive. By contrast, acrylic foam tapes can be custom die cut to create production efficiencies.
5 – Gap Filling for Sealing and Insulation
Both acrylic foam tapes and mechanical fasteners can join similar or dissimilar materials. Unlike fasteners, however, these PSA tapes flow into the gaps between joined surfaces. They also provide environmental sealing and insulation.  
6 – Less Stress at the Bond Line
Fasteners are subjected to combined stresses. Acrylic foam tapes are subjected to shearing, a type of joint stress that pushes parts of the tape in different directions. Instead of retaining the stress at the bond line, however, acrylic foam tapes transfer the stress to the tape's core.
JBC Technologies Can Help
The JBC team has decades of expertise in material selection and precision die cutting. We work with 3M™ VHB™ high-bond tapes and AFTC™ SilverTape™ products. Both types of tapes are approved for use by the automotive industry. Contact us today to learn more.
3M™ and VHB™ are trademarks of the 3M Company.  
AFTC™ and SilverTape™ are trademarks of the AFTC Group.
Related Reading
Acrylic Foam Tapes:  Top Suppliers and Trade Names
Die Cut Acrylic Foam Tapes: Advantages and Applications
Case Study: Acrylic Foam Tapes for Enclosed Utility Trailers