By Mark Swanson on
9/14/2017
Acrylic Foam Tapes: Material Suppliers and Trade Names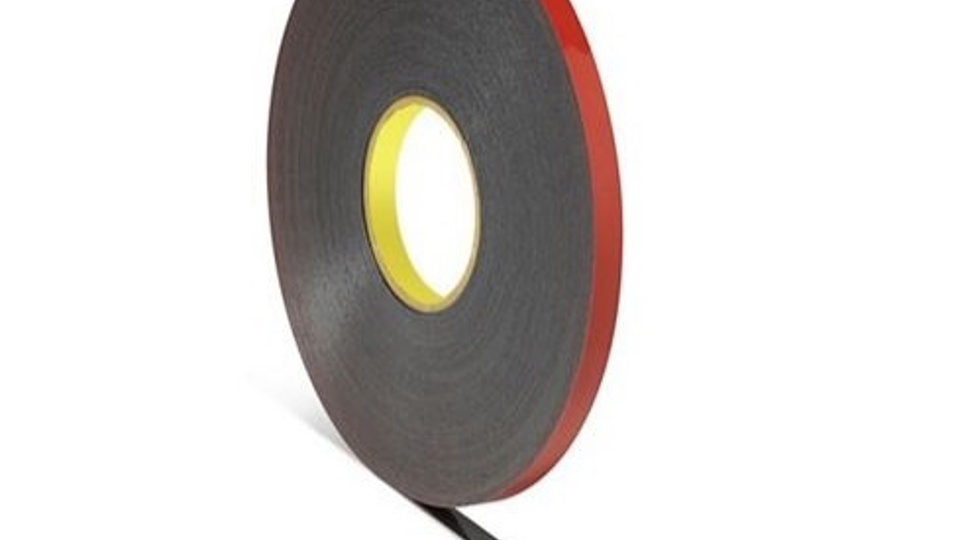 Acrylic foam tapes (AFTs) provide permanent, high-strength bonds that adhere to a variety of substrates. They provide numerous advantages over metal fasteners and support cost-effective conversion via roll slitting. There are many types of slit tapes, but only six manufacturers of AFTs worldwide. At JBC Technologies, we die cut and slit AFTs from two of the world's leading suppliers. 
Die Cut 3M™ VHB™ Tape
3M VHB tapes are high-strength, double-sided acrylic foam tapes that quickly and easily create long-lasting bonds. These assembly materials are used to join substrates such as bare metal, wood, plastic, glass, and painted and powder-coated surfaces. They can be grouped by the types of surfaces to which they adhere.
RP series tapes bond to wood, metals, painted surfaces, and plastics that have low surface energy. Examples include 3M RP45 tape and 3M RP62 tape. 3M VHB Tape RP45 can bond laminate paneling; dampen noise, shock, and vibration; and resist moisture, solvents, and ultraviolet light. 3M VHB Tape RP62 adheres to bare metal, bonds to polycarbonate and ABS, and is a good choice for sealed wood surfaces.        
Conformable 3M VHB tapes mold to irregular surfaces and stick to painted metals and polymers. 3M VHB Tape 5952 bonds well to painted and powder-coated metals. 3M 5952 Tape also adheres to polymers like polyethylene plastic and silicone rubber. 3M VHB Tape 4941 combines conformability with excellent shear strength, surface adhesion, and temperature resistance.
Die Cut AFTC™ USA SilverTape™
AFTC USA SilverTape is a family of double-sided acrylic foam tapes that are strong, durable, and flexible. They use a 100% solid acrylic adhesive and maintain a low internal tension when under pressure. Slit tapes in the company's 53 series can absorb the differing thermal expansion rates of dissimilar substrates. These tapes also provide high impact resistance even at low temperatures.
AFTC SilverTape 5305 and 5310 are used to bond materials with medium and high surface energy. They combine a high-performance acrylic adhesive with a conformable, closed cell acrylic foam. SilverTape 5305 and 5310 are both optically clear or transparent. SilverTape 5341 is gray, white, or black in color. Like AFTC 53 series tapes, AFTC USA SilverTape 5347 has high initial tack and good plasticizer resistance.  
Do you have questions about die cut acrylic foam tapes? Would you like to discuss whether these assembly tapes are right for your specific application? Maybe you have questions about roll slitting for industrial tapes instead. The JBC Sales Team is ready to help. To get started, contact us.   
3M™ and VHB™ are trademarks of the 3M Company.  
AFTC™ and SilverTape™ are trademarks of the AFTC Group.