By Mark Swanson on
6/16/2016
Die Cut Felt for Automotive and Industrial Applications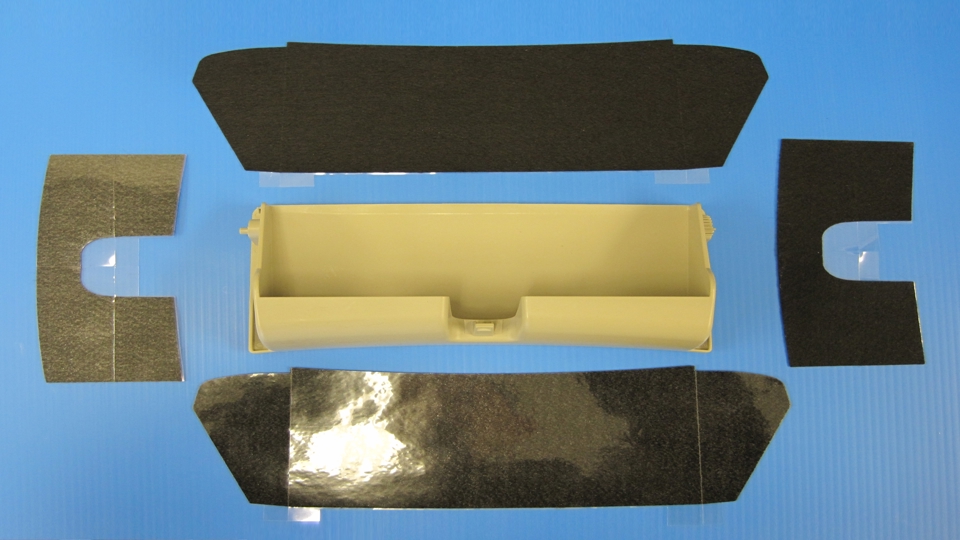 Die cut felt is a reliable, cost-effective solution for buzz, squeak, and rattle (BSR) problems in automotive applications, and for reducing noise, vibration and harshness (NVH) in industrial machinery. Additional applications for die cut felt materials include oil and grease retainers, wicks, filters, and anti-scratch padding for furniture.  A type of textile, felt is made of natural fibers such as wool, or synthetic fibers such as acrylic or polyester. Depending on the application, felt can be die cut into gaskets, liners, pads, or strips.
Many different kinds of felt are available, and potential uses are specified by SAE number, NTA number, or commercial standard grade. For engineers, it's important to choose a custom die cutter who understands these specifications – and your application. JBC Technologies is part of the automotive supply chain and works with many different industrial customers. We offer expert assistance with felt selection, provide precise die cutting and converting services, and offer value-added solutions that are backed by vertical integration.
Felt Selection, Die Cutting, and Converting
The die cut felt that's used with seatbelt assemblies and in lumbar support systems isn't the same type of felt that's used in fluid delivery and storage systems, lubricator wicks, or oil seals. Felt applications vary, even among materials that meet different groups of SAE specifications. In general, however, die cut woven felt is thick, dense, and flexible. Die cut polyester felt comes in different densities and thicknesses, and has a higher maximum temperature resistance than woven felt. Die cut pressed-wool industrial felt is available in fire-resistant grades that meet the FMVSS-302 automotive standard.
By understanding all of your requirements, JBC Technologies can recommend the right die cut felt for your specific automotive or industrial application. Our technical expertise includes material selection, of course, but we can also provide precision die cutting and converting services that help you to reduce labor costs and speed part installation. For example, by laminating industrial or automotive felt with a PSA and then kiss cutting the material, we can create peel-and-stick felt strips that are easy-to-install by hand.
Value-Added Solutions and Vertical Integration
JBC Technologies also offers value-added solutions such as assembly automation. By understanding how die cut felt parts move through your facility, we can create packaging and delivery systems that work with your automated equipment and speed part deployment. Because we're vertically-integrated, JBC Technologies also has greater control over material and production costs. We can buy felt in the most cost-effective dimensions, convert the materials efficiently, and then pass the savings along to you.
Do you need die cut felt products for automotive or industrial applications? Are you looking for a custom die cutter that can do more than just deliver boxes of die cut felt parts? JBC Technologies offers complete supply chain solutions. From material selection and engineering support to prototyping and production, we add value to your operations. To learn more about our capabilities and how they can help you, contact JBC Technologies.