By Kate Gluck on
8/26/2019
JBC to showcase die cut materials at The Battery Show 2019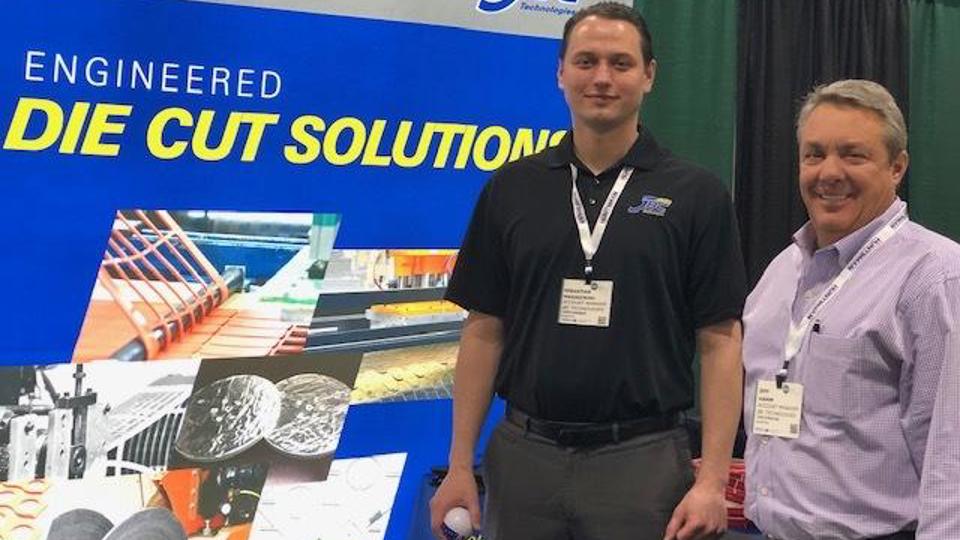 Representatives from JBC Technologies will be attending The Battery Show on Sept. 10-12 at the Suburban Collection Showplace in Novi, Michigan. 
As an experienced converting partner with high-speed, precision die cutting capabilities, and a breadth of available materials, JBC Technologies is an integral partner to manufacturers in need of converted parts that solve battery-related challenges.  
We will be showcasing products from some of our materials partners, many of which will also have booths at the expo. Here are a few of the vendors and materials we'll introduce you to if you stop by Booth 2752.
Much lighter in weight than traditional thermal management materials, NeoGraf's lightweight SpreaderShield® flexible graphite is designed to replace heavy aluminum alternatives. It can be used to cool the battery cells under harsh operating conditions and prevent propagation in the event of cell failure. 
To learn more about NeoGraf's battery solutions, read our post: Overcoming Thermal Management Challenges in EV Batteries with Die Cut eGRAF® SPREADERSHIELD™.
itw formex
ITW Formex comes in a range of different thicknesses, each of which has specific applications in EV power batteries.  
Ultra-thin films are ideal for cell separators, cell covers and module case insulation

Thin films are idea for on-board charger insulation and charging station insulation

Mid-gauge films lend themselves to busbar insulation, module case insulation, charger insulation and charging station insulation

Thick gauge films work best as battery pack covers or battery pack case insulation
To learn more about Formex materials, read our post: ITW Formex®, an Industry Leading Material for Electric Vehicle Batteries.
3M Tapes
Die cut 3M tapes solve a myriad of challenges -- from bonding irregular surfaces to EMI shielding, electrical insulating and more. For more information on 3Ms battery related products, read our post: The Growth of EV Sales & How to Maximize Battery Performance.
TABshield
In addition to the EV material solutions offered by our partners, we will also be showcasing our newly released TABshield product line which has multiple applications in the automotive industry including battery shielding for traditional gas vehicles.   For more information on TABshield, read our product data sheet.
Thermal Insulation
Another area where JBC has extensive converting experience is Thermal Insulation.   Among other things, we die cut an extensive line of materials for heat shielding applications.  We'll be showing samples of these light weight materials which provide low thermal conductivity, high heat reflectance, and excellent corrosion resistance.
Examples include:
For more information on these materials, refer to our material data sheet library.
As a cutting edge flexible materials converter, JBC Technologies partners with many industry leading suppliers to ensure our customers have access to the materials they need to solve their individual product design challenges. 
What sets JBC apart – and provides the most value for our client partners – is the fact that we evaluate each request with an engineering mindset to determine the best, most cost-efficient way to produce and deliver parts. Whether your goals are lightweighting, improved EV battery range or thermal management, we can help.