By Kate Gluck on
12/16/2020
Die-Cutting Specialty Materials: A Vendor Q & A Compendium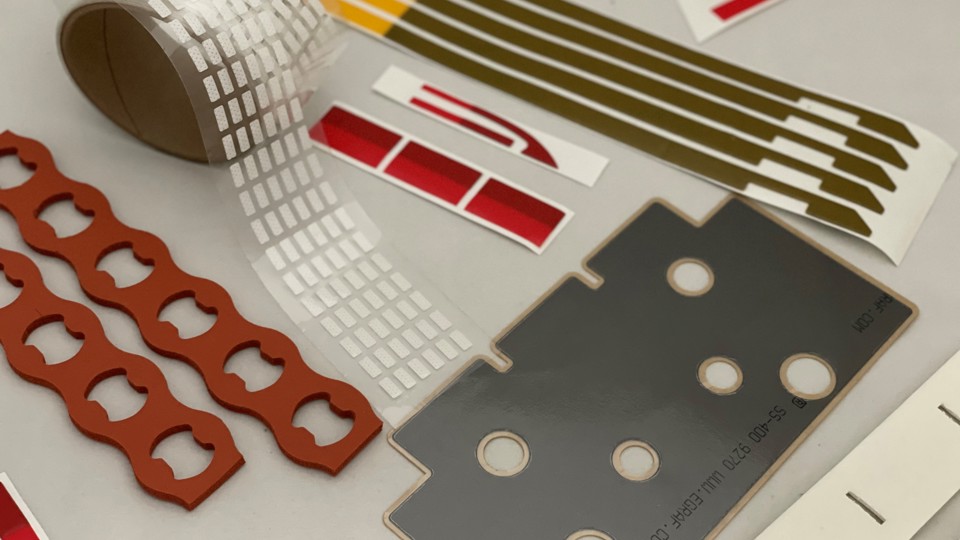 About a year and a half ago, we started our Vendor Q&A blog series with one goal in mind: to provide our customers with in-depth, useful information straight from the experts on some of the more common performance materials that we die cut every day here at JBC.  We covered things like what makes these materials so special, why you'd use them and why you wouldn't, and the challenges that we as a converter may face when attempting to make unique products from them for our customers.
And while those of you that regularly follow our blog are sure to have seen many of these posts, chances are, and it pains us to admit it, there's a few of you out there that haven't yet made them required reading. That's why we've decided to make it even easier for everyone to find and digest all of this great information by putting them all in one place.
Die-Cut Tapes and Adhesives
With so many different adhesives on the market, selecting the right one can be a daunting process.  Not to worry. At JBC we've made it our mission to make doing business easier for our customers. That's why you can always consult our team of technical experts on staff with their ability to tap into the knowledge of our supply chain partner network. We've also got quite a few material data sheets in our resource library and great blog posts like these. 
VERY HIGH BOND (VHB) ACRYLIC FOAM TAPES
Over the course of the last year, 3M applications engineer, Reese Weber has joined us for two different interviews during which he has highlighted the features, benefits and applications of the 3M VHB™ family of tapes and the 3M VHB™ LSE family of tapes.
In the first post, Solving Dissimilar Materials Joining Challenges with Die Cut 3M™ VHB™ Tapes, Reese answers questions regarding surface bond, conformability, and temperature ratings and provides some specific recommendations on product selection.  READ IT HERE
Next, in the post An Efficient Solution for Bonding Low Surface Energy Materials, Reese introduces us to a newer, very high bond acrylic foam tape product line designed specifically for bonding low surface energy materials like polypropylene and similar thermoplastics. He explains why the LSE family not only adheres to more exotic plastics, it can also help reduce the cracking and crazing that occur when such materials are attached using mechanical fasteners, ultrasonic welding, or liquid adhesives. READ IT HERE
CHOOSING THE RIGHT PRESSURE SENSITIVE ADHESIVE (PSA)
Titled simply Pressure Sensitive Adhesives Q&A, and geared towards appliance manufacturers, this blog post is also applicable across a wide range of other industries. It features a Q&A with Avery Dennison Performance Tapes design and applications engineer, Michael Price.  Michael highlights four key questions that need to be answered when determining which PSA you need to use for your applications. He also provides specific recommendations for sealing, noise control, damping, heat shielding, assembly aides, and more.  READ IT HERE
BONDING FOAMS TO CURVED AND ANGLED SURFACES
This post, Taking the Guesswork Out of Bonding Foams to Curved and Angled Surfaces, also brought to us with input from Avery Dennison Performance Tapes, takes choosing the right PSA for your die-cut parts to the next level. It highlights three of the most common ways a foam-over-contour installation can go wrong and provides some suggestions to help you avoid them in the future.  READ IT HERE
Die-Cut Flexible Graphite
We assume that most of our customers are pretty familiar with adhesive tapes and other pressure-sensitive adhesives, but flexible graphite, now this is another matter. This unique and interesting material has made its way into the arena of thermal management, and these next two blog posts are a great introduction to the subject.
THERMAL MANAGEMENT IN EV BATTERIES
In, Overcoming Thermal Management Challenges in EV Batteries with eGRAF® SPREADERSHIELD™, Bret Trimmer, Application Engineering Manager for NeoGraf Solutions, LLC. Discusses how Neograf's eGRAF® SPREADERSHIELD™ flexible graphite heat spreaders can help electric vehicle designers and battery manufacturers improve both the safety and performance of lithium ion batteries.   READ IT HERE
FLEXIBLE GRAPHITE HEAT SPREADERS FOR APPLIANCE APPLICATIONS
In Die-Cut Flexible Graphite: Thermal Management in Next-Gen Appliances Jon Taylor, Product Manager at NeoGraf Solutions, discusses how NeoGraf's flexible graphite products—long used by the consumer electronics industry—are an ideal thermal management solution for today's high-tech home appliances.
While this post is appliance-focused, the takeaways are similar for any manufacturer struggling with an electronic thermal management challenge. READ IT HERE
Die-Cut Insulation
While it may not be as glamourous as the high-end acrylic foam tapes and flexible graphites of the world, die-cut high-temperature insulation is just as critical for many manufacturers, especially those dealing with noise and heat abatement challenges. In, How isoGLAS® Needle Mats Outperform Bio Soluble Ceramic Materials for Thermal Insulation, we feature a Q&A with Roy Smith, Sales Manager, Industrial Textiles for Frenzelit, highlights a high-temperature needle mat product that's ideal for thermal insulation in large appliances.  READ IT HERE
Die-Cut PVC Foam
PVC gaskets provide excellent sound and vibration absorption, helping to address buzz, squeak, and rattle (BSR), noise, vibration, and harshness (NVH), and thermal insulation issues. John Berchulc, Regional Sales Manager for FoamSeal, Inc. joined us for two Q&A sessions, both covering some of the more interesting aspects of high-temperature PVC.
In Why High Temperature PVCs are an Ideal Replacement for Crushed EPDMs, John highlights some of the more important performance properties of high-temperature PVC including how it can often out-perform more expensive alternatives like EPDM.  READ IT HERE
In, PVC Foam, An Economical Solution for Die Cut HVAC and Appliance Applications, he takes a more targeted approach to the subject, focusing primarily on HVAC and appliance applications – both areas where quiet and quality go hand in hand.  READ IT HERE
In closing... 
You may have noticed the rather frequent use of "die-cut" in the sub-headers throughout this blog post round-up. We realize, of course, that this may have come across as a tad redundant, but there's a method to our madness. You see, since die-cutting – along with other converting processes like laminating, slitting, assembly, part presentation, and more – is how we at JBC add value to these materials, and through them, to our customer's products. We just figured it was important to drive that fact home. 
As a full-service flexible materials converter, JBC Technologies provides custom die-cut parts to OEMs and Tier 1 suppliers nationwide. By combining our intimate understanding of the problems our customers face with our thorough materials and application know-how we're able to solve a wide range of critical challenges. Gasketing, sealing, sound damping, fastening, joining, heat shielding, insulating, thermal management, NVH – JBC Technologies is all this and more.