By Bob Lesher on
8/25/2022
The Best Pressure-Sensitive Adhesive Tapes FAQ (Part 1)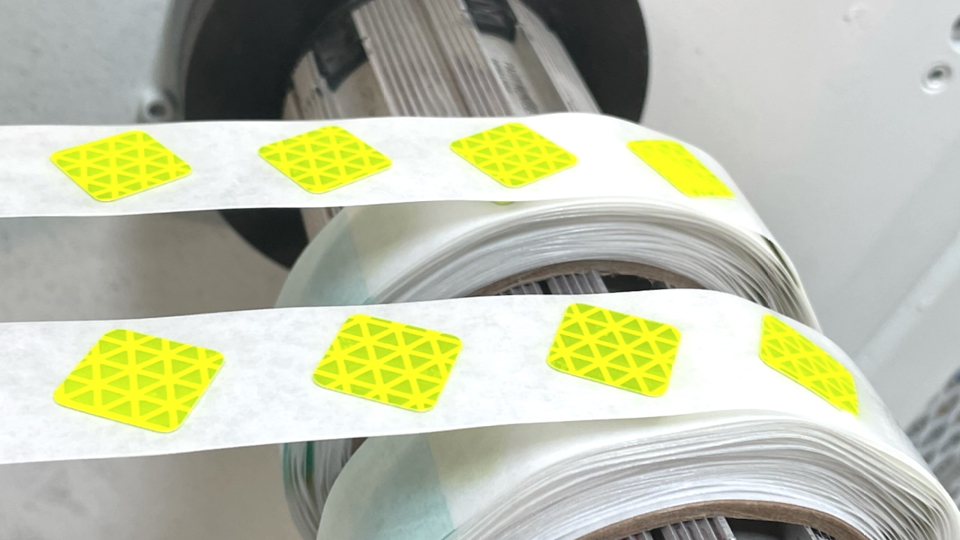 The JBC PSA FAQ (Part 1)
Pressure-sensitive adhesives. PSAs. Peel-and-stick tapes. Sometimes pressure-sensitive adhesive tapes, sometimes simply tapes. Adhesive tapes are designed to stick using surface contact and only the pressure we put on them when applied.
No matter what you call them, pressure sensitive adhesives are all around us.

In this post – Part 1 of what we hope will be a much more extensive pressure-sensitive adhesive tape FAQ – we'll provide short answers to some of the most frequently asked questions about pressure sensitive adhesives their applications.
Don't expect long-winded answers here; just short and sweet. Not to worry, though. We'll link you to additional information wherever we can. We'll also take some time to share with you how a world-class materials converter like JBC Technologies uses adhesive tapes in custom die-cut solutions to convert design concepts into reality for our customers.
So without further ado, let's answer some frequently asked questions about pressure-sensitive adhesive tapes.
What is a pressure-sensitive adhesive (PSA)?
A pressure-sensitive adhesive is any adhesive designed to adhere to a surface without needing heat or extended curing times but with only surface contact and minimal application pressure.
Learn More:
---
What is a pressure sensitive adhesive TAPE?
A pressure-sensitive adhesive tape is any sticky tape - with or without a liner material (think paper or plastic film) - that is coated with a pressure-sensitive adhesive. For example, masking tape is a PSA tape without a liner.
Learn More:
---
Are there different types of pressure-sensitive adhesive tapes?
Pressure-sensitive adhesive tapes are generally grouped into four main construction categories: adhesive tapes, single-coated tapes, double-coated tapes, and transfer tapes. They are broken down even further regarding their end-use applications (i.e., automotive, medical-grade, EMI/RFI shielding).

Learn More:
---
How are PSA Tapes Made?
Making pressure-sensitive tapes involves applying a liquid PSA to a carrier material, after which it is either left open and then rewound onto itself (e.g., Scotch tape) or covered with a protective, removable liner (e.g., stickers and labels) and then rewound.
A great video all about how adhesive tapes are made - Adhesive Tape | How it's Made
There are four main manufacturing processes to make pressure-sensitive adhesive tapes: hot melt, solvent-based, emulsion (water-based), and ultra-violet (UV) cured. Each is dependent upon the type of adhesive being used.
Learn More:
---
What types of adhesives are used on PSA tapes?
PSA tapes typically use one of three main types of pressure-sensitive adhesive: rubber (synthetic or natural), acrylic, and silicone.
Learn More:
---
Why would I choose to use pressure-sensitive adhesive tape?
Most people use a PSA tape instead of a liquid adhesive because they are thin, lightweight, easy to work with and form quick bonds that don't require extended cure times.
Learn More:
---
Are pressure-sensitive adhesive tapes good for die-cutting?
PSA tapes are great for custom die-cutting. Generally, adhesive tapes are easy to cut, and we can often help you find a tape that will work with nearly every material and substrate. PSA tapes are an excellent option for adding bonding and joining capabilities to your custom die-cut parts. 
Learn More:
---
What are the main advantages of PSA tapes?
Pressure-sensitive adhesive tapes have many advantages; most notably, they can reduce assembly time, bond dissimilar materials without incompatibility concerns, reduce vibration and noise, and eliminate the need for mechanical fasteners.
Learn More:
---
What causes pressure-sensitive adhesive tapes to fail?
Adhesive tapes can fail to do their jobs properly for several reasons, but most can be traced back to (1) the application environment and (2) the bonding substrate. Your PSA tape may disappoint you if you don't consider the end-use environment (things like temperature and humidity) or the substrate and its surface energy (Some plastics are difficult to bond to.).
Learn More:

---
Do PSA tapes have a shelf-life?
Like most industrial adhesives, pressure-sensitive tapes have a recommended best-by date, often given by the tape manufacturer. If the tapes are not stored in a relatively cozy environment (free from extremes of temperature and moisture), their performance may suffer.
Learn More:
---
Transforming Pressure-Sensitive Adhesive Tapes Into Custom Solutions
Want to find a creative way to eliminate mechanical fasteners, apply adhesives to your seals, gaskets, and insulation materials to aid with assembly, or mask out an intricate shape to speed production on your line? Or source die-cut components for your remote patient monitoring product? JBC Technologies has you covered.
JBC Technologies is a 3M Preferred Converter and an Avery Dennison ADvantage Converter Network member. We have over 30 years of materials converting experience, 4 locations, and a wide variety of state-of-the-art converting equipment, and we're ready to help create your custom die-cut solution today.
We'll work with you and our adhesive manufacturer partners to determine the suitable pressure-sensitive adhesive tapes for the job, along with the right die-cutting processes and automated assembly systems to enable us to integrate our adhesives onto your die-cut parts in the most efficient manner possible.
Contact us so we can learn more about your custom application. We'd also love to share more about our expertise in adhesive tape and the different adhesive tapes we can use to make custom die-cut solutions for you today.